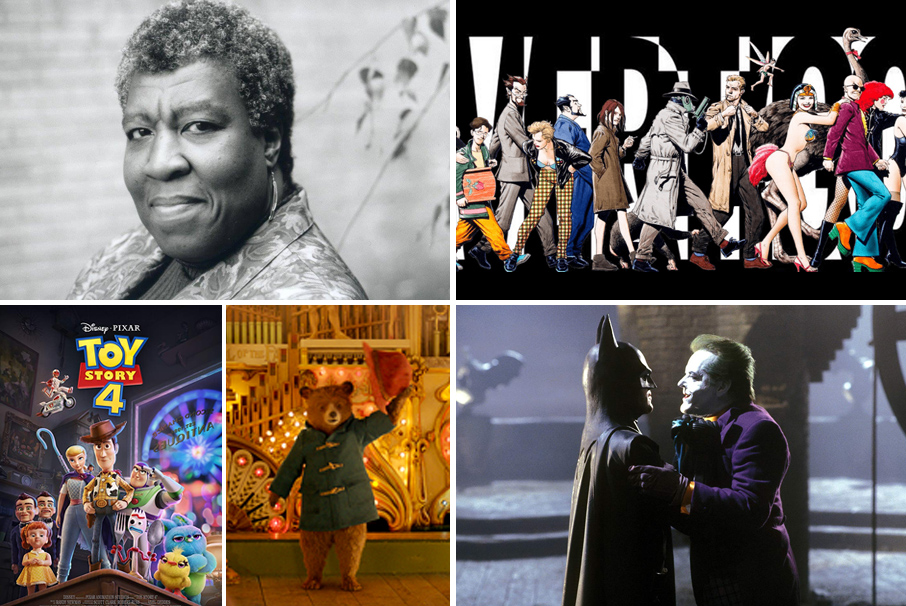 Clockwise from top left: Octavia Butler (photo via Facebook) // Vertigo Comics // Batman 
(photo © 1989 Warner Bros.) // Paddington (photo by Jay Maidment) // Toy Story 4 
This week Geek Girl Riot teams up with Fantastic Forum for an entertainment news episode of epic proportions!
The News According to Geek Girl Riot
Sherin and Alex give you an update on what's been happening in the world. They share some important messages about the current political climate and humanitarian crisis, before shouting out the heroes that are inspiring them onscreen and on the streets.
The detention facilities immigrant children are being held in are disgusting and a breach of human rights. Help to stop this horrific injustice by calling your U.S. representatives at 202-225-3121 and your U.S. senators at 202-224-3121.
Celebrating Octavia Butler + Mourning Vertigo Comics
The Fantastic Forum team join us, hosted by Ulysses E. Campbell and featuring Rioters Sherin Nicole and Drew Bittner along with The Great Geek Refuge's Mike Lunsford. The crew raise a glass to Octavia Butler on the anniversary of her birth—the legendary writer would have been 72. Then they discuss the Vertigo shutdown and why DC is reshuffling its imprints. There's some confusion and a lot of heartbreak over this news and the FF team break down their feelings. Of course, they can't talk about Vertigo without shouting out its creator Karen Berger and longtime executive editor Shelly Bond. Cheers to them!
Holy Anniversary, Batman!
It's been 30 years since the premiere of Tim Burton's Batman starring Michael Keaton and Jack Nicholson. The crew talk about the film's impact on comic book adaptations three decades on. Sherin also shares her dream casting for a Batman Beyond live-action (make it happen DC!).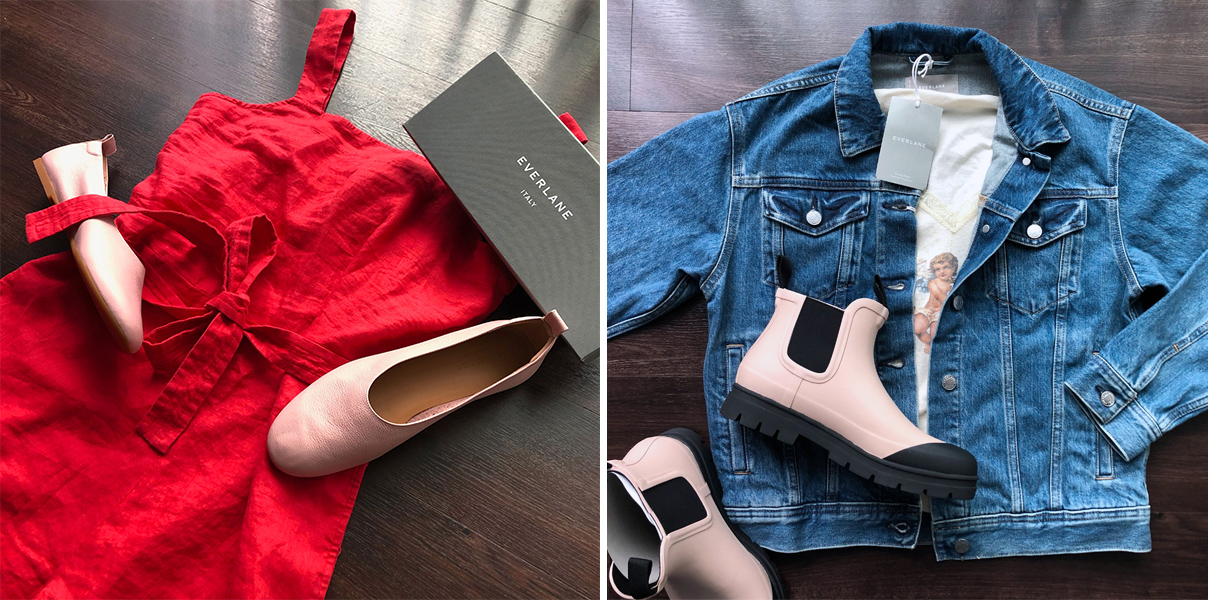 From Geek Girl Riot's Everlane collection: The Linen Jumpsuit (Tomato), The Day Glove (Rose), 
The Denim Jacket (Classic Blue Wash), The Rain Boot (Pink)
Everlane is all about premium essentials made from the finest materials—laid out with transparent pricing—to make sure you look good and feel good. And our special deal is going to make you feel even better! Brought to you by Everlane. Check out our personalized collection at everlane.com/ggriot. Plus, you'll get free shipping on your first order!
Tune in to Geek Girl Riot on idobi Radio every Tuesday at 11pm ET / 8pm PT for your dose of late-night geekery from our team of rioters. Til next time, see a list of everything our Rioters talked about below:
LINKS:
 – Parable of the Sower – Octavia Butler
 – Batman (1989)
 – Veronica Mars
 – The Prom coming to Netflix
 – Euphoria
 – The Wicked + The Devine – Kieron Gillen, Jamie McKelvie
 – When They See Us
 – Toy Story 4
 – Child's Play
 – Wayward Sisters anthology
 – Lilith's Brood – Octavia Butler
 – Kindred – Octavia Butler
 – Bloodchild anthology – Octavia Butler
 – Wild Seed – Octavia Butler
 – Sandman – Neil Gaiman 
 – Preacher – Garth Ennis, Steve Dillon
 – 100 Bullets – Brian Azzarello, Eduardo Risso
 – Y: The Last Man – Brian K. Vaughan and Pia Guerra
 – Fables – Bill Willingham
 – Hellblazer – Jamie Delano, John Ridgway et al.
 – Constantine
 – A History of Violence
 – V For Vendetta
 – Stardust
 – Lucifer
 – Wonder Woman
 – Swamp Thing
 – Superman
 – Batman Beyond
Podcast: Play in new window | Download