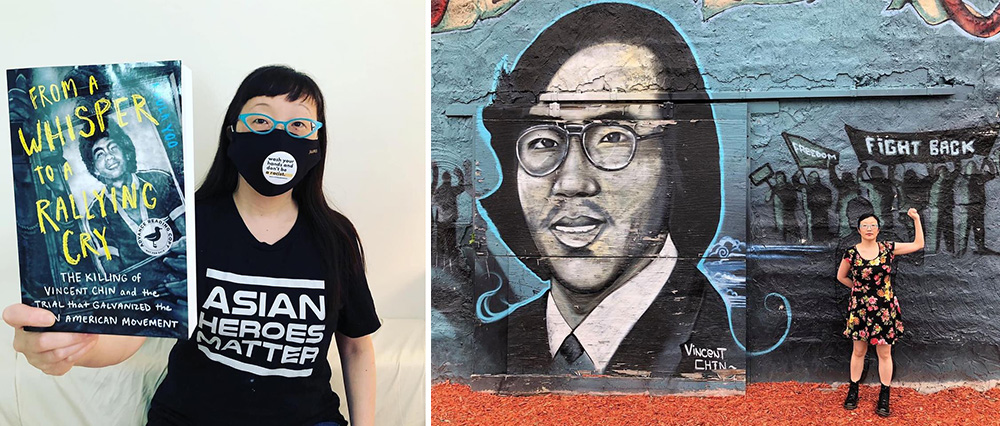 Paula Yoo (photos via Instagram)
Paula Yoo joins Alice Meichi Li and Kat Bittner for The Asian in America Episode, moderated by Sherin Nicole. 
From A Whisper to A Rallying Cry
Author, TV writer/creator/producer, all round amazing person and friend of GGR, Paula Yoo joins us to discuss her new book From a Whisper to a Rallying Cry, a YA non-fiction historical account of the killing of Vincent Chin. She gives a rundown on the case, how it galvanized the Asian American Movement, and why Chin's killing was a seminal moment in AAPI history. Our Rioters also reflect on how the timing of this book came during a resurgence of anti-Asian racism that has always been here. From a Whisper to a Rallying Cry is out on April 20th, be sure to pre-order it now.
Anti-Asian Misogyny, Fetishization, Hypersexualization
Alice Meichi Li leads the next segment, talking about the Atlanta spa shootings and how misogyny, when directed at people of color, is always wrapped up in layers of racism too. Hypersexualization and stereotyping cruelly affects Asian women and Alice, Paula, and Kat share their experiences facing these issues.
The Perpetual Foreigner
Kat Bittner takes over to break down the myth of the "perpetual foreigner." Our hosts share stories about how they have been made to feel like outsiders in their own country—and how the "model minority" stereotype amplifies that.
EXTRA: Breaking Down Racist Barriers in the Media
Our hosts had so much to say on this episode so we've added an extra innings segment for all you podcast listeners. They talk about how the rise of internet streaming has allowed Asians and Asian Americans to produce the content they've always wanted without (as much) gatekeeping from traditionally white-led entertainment industries. They also share some Asian-led music and TV shows that they're loving now and the ones they loved growing up—and what seeing Asian representation means to them.
Tune in to Geek Girl Riot on idobi Radio every Tuesday at 11pm ET / 8pm PT for your dose of late-night geekery from our team of Rioters. 'Til next time, see a list of everything our Rioters talked about below:
LINKS:
 – From a Whisper to a Rallying Cry – Paula Yoo
 – Who Killed Vincent Chin?
 – Q: Into the Storm
 – Full Metal Jacket
 – Breaking The Bamboo Ceiling – Jane Hyun
 – The Baby-Sitters Club
 – Hook
 – Crazy Rich Asians
 – Ghost in the Shell 
 – The West Wing
 – Supergirl
 – Fresh Off the Boat
 – Good Enough – Paula Yoo
 – To All the Boys franchise
 – Never Have I Ever
 – The Mindy Project
 – The Half of It
 – Saving Face
 – Always Be My Maybe
 – Patriot Act with Hasan Minhaj
 – Avatar: The Last Airbender
 – Living Single
 – Martin
 – A Different World
 – 90210
 – Friends
 – Seinfeld
 – Eureka
 – The Joy Luck Club
 – Harold & Kumar
 – The Wolf of Wall Street
 – 21
 – Bringing Down the House – Ben Mezrich 
 – Doctor Strange
 – Memoirs of a Geisha
 – The Good Place
 – Crazy Ex-Girlfriend
 – Cobra Kai
 – The Karate Kid
 – The Karate Kid Part II
 – Minari
 – Parasite
 – Awkwafina is Nora from Queens
 – Kung Fu
 – Warrior
 – Kung Fu (1972)
 – LiSA – Kimetsu No Yaiba theme song "Gurenge" (紅蓮華, Red Lotus)
Podcast: Play in new window | Download