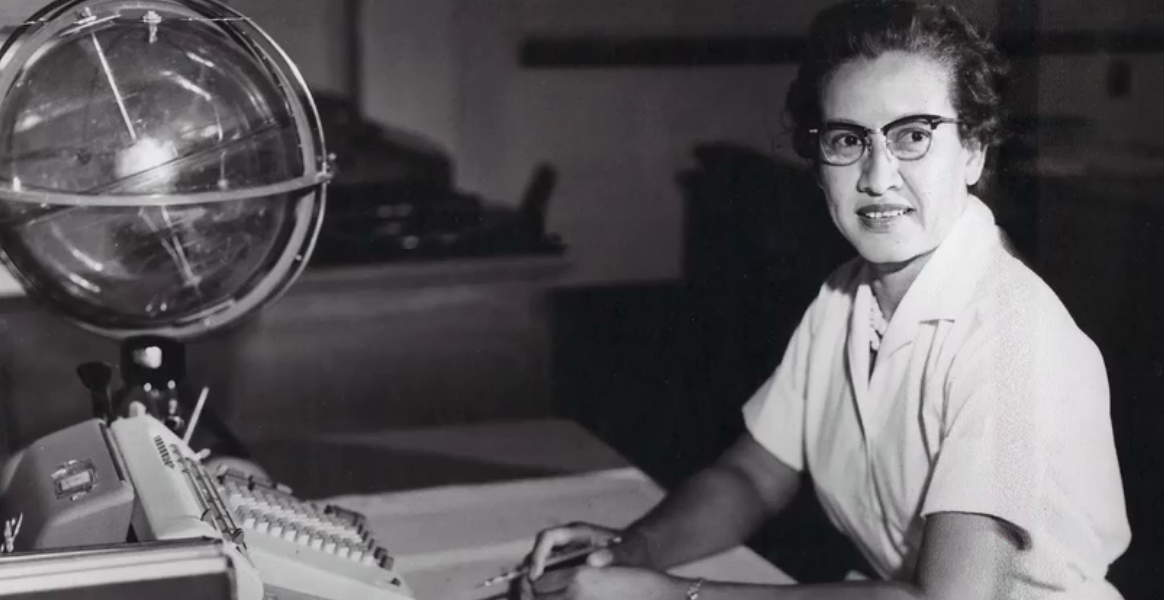 Just because history, law, and society told us we couldn't, doesn't mean we never did. Ever since women have been around, they've been kicking ass—and She Did It, a superpowered team up of Geek Girl Riot and La Femme Collective, is here to shine a light on those ladies whose amazing accomplishments men took credit for, or were automatically attributed to men, throughout history.
We couldn't think of a better way than to kick off our very first episode with mathematician and NASA "supercomputer", Katherine G. Johnson. Hear all about her life and her incredible contributions to science, space technology, and the moon landing.
Transcript:
You know how we say, "rock it out"? How about space rocketing it out?
She Did It Opening Theme
You've heard the names that form the legend of NASA: John Glenn, Apollo 11, Neil Armstrong, Buzz Aldrin and so on. But what about her? There were many hers in the story of the early days of NASA, when it was still called the National Advisory Committee for Aeronautics. But today let's talk about Katherine G. Johnson.
In early 2016 NASA dedicated a building to her: The Katherine G. Johnson Computational Research Facility at NASA's Langley Research Center – located in Hampton, Virginia
Hang on to the word "computational" while I tell you more. The retired mathematician was also awarded the Presidential Medal of Freedom in 2015. She and an entire department of Black-American female NASA super computers aided significantly in taking our astronauts up and bringing them home again. These women Katherine G. Johnson, Dorothy Vaughn, Christine Darden and Mary Jackson are so badass that the book about them, Margot Lee Shetterly's "Hidden Figures" has been adapted into a movie starring Tarahji P. Henson, Octavia Spencer, and Janelle Monae.
Ms. Johnson particularly should be legendary. She worked at NASA Langley from 1953 until she retired in 1986.
Let's hop in the DeLorean and go back in time.
This amazing woman graduated high school at 14, college at 18, and this after skipping several grades throughout her education.
But she didn't begin to major in math until the second semester of her sophomore year in college—at what is now West Virginia State University. That was where her professor, Dr. Clayton first told her about becoming a research mathematician.
When she applied to Langley in '52 they had done their hiring for the year. She came back in 1953.
Ms. Johnson started working on airplanes. That's what Langley was at the time, a national advisory facility for aeronautics. And she has said she didn't feel the segregation of the time, because at Langley the focus was on the research.
She was in her element.
Of course, when the space program started she asked for permission to go. And of course she was was told "the girls don't usually go." But Katherine Johnson pushed, asking "Well, is there a law?" There wasn't and her boss finally said "let her go."
Her genius knowledge of geometry made calculating the trajectories of space ships "a very, very easy transition" she says.
You've got to love that "it was easy" is something that Ms Johnson repeats. She was a born mathematician with a brilliant mind.
Later, when John Glenn was to be the first astronaut to go up into the atmosphere, Langley wanted him to come down in a specific geographic location and Katherine Johnson was the one who calculated his path.
At one point she said, "It was an assignment and it was simple. You had to consider the rotation of the earth. Equally important, you had to know the location of the moon. Where it was when you took off, and where it was going to be when you got there, because you wanted to intersect the moon at a certain place. It was intricate but it was possible."
Hear that, ladies? "It was intricate but it was possible." Hold on to that too.
Mind you back then electronic computations weren't trusted as much as people—those people were mostly women—and Katherine Johnson was the most trusted person,  when it came to calculating trajectories for the space program. That's huge. If you want to break it down, NASA put men on the moon but Katherine Johnson mapped their path and brought them back.
She has said, "Girls are capable of doing everything men are capable of doing, sometimes they have more imagination than men."
NASA says they felt women were more accurate than men and Katherine Johnson supports this theory by saying, "Men don't pay attention to the small things." Let me pause while all the ladies give each other a fist bump. Girl, you know…
John Glenn trusted Katherine Johnson implicitly. At one point he said, "Call Katherine, if she says the computer is right I'll take it."
Katherine confirmed the computer was correct. John Glenn took it. And so did we. We, the American people, took it all the way into space and back, due to the brilliant mind of Katherine Johnson. So if you're wondering if a man did it? No. She Did It! And she did it well.
Big thanks to our sources:
– What Matters on WHRO TV
– NASA.gov
– Timeline News
– The New York Times
Podcast: Play in new window | Download