Top row L–R: Dash & Lily (photo courtesy of Netflix © 2020) // Jingle Jangle (photo: Gareth Gatrell/Netflix) 
// Alex Rider (Photo by Des Willie/Sony Pictures Television - © 2019 Eleventh Hour Films) // Lupin III: 
The First (photo © MONKEY PUNCH / 2019 LUPIN THE 3RD FILM PARTNERS) 
Bottom row L–R: Digimon Adventure (image: Toei Animation) // Ted Lasso (photo courtesy of Apple TV+) 
// Song Exploder (photo: Matt Sayles/Netflix © 2020) // The Forty-Year-Old Version (photo: Netflix © 2020)
Settle in for a remix reloaded episode, packed full of some of Geek Girl Riot's fave binge-watches of 2020.
Dash & Lily, Jingle Jangle, Alex Rider
Pour yourself some eggnog and get festive with Netflix's Dash & Lily. Sherin and Alex tell you whythis warm & fuzzy YA romance needs to be at the top of your Christmas [watch] list. Then they get even more spirited with Jingle Jangle, a Netflix Christmas film starring a Black family that's sure to become a magical holiday classic. To close out the segment, Sherin switches from festive cheer to mystery thrills to talk about Alex Rider, the IMDb TV + Amazon adaptation of Anthony Horowitz's beloved spy saga.
All Anime, All the Time
Julian jumps on with Sherin to chat all things anime. They show some love to Lupin III: The First and introduce you to the (in)famous character. They also hype up Kimetsu No Yuigon: Mugen Train which is coming next year to make you squeal in delight. Julian then gives a shoutout to Digimon Adventure, before the dynamic duo break down the recent Webtoons x Crunchyroll team up.
Ted Lasso, Song Exploder, The Forty-Year-Old Version
Alex returns to talk with Sherin about Ted Lasso, the sparkling new comedy series starring Jason Sudeikis on Apple TV+. Then they share their feels about Song Exploder, the enthralling Netflix music documentary based on the popular podcast of the same name (S2 is out Dec 15). To close us out, our Rioters tell you why you need to watch Radha Blank's gorgeously made Netflix film The Forty-Year-Old Version.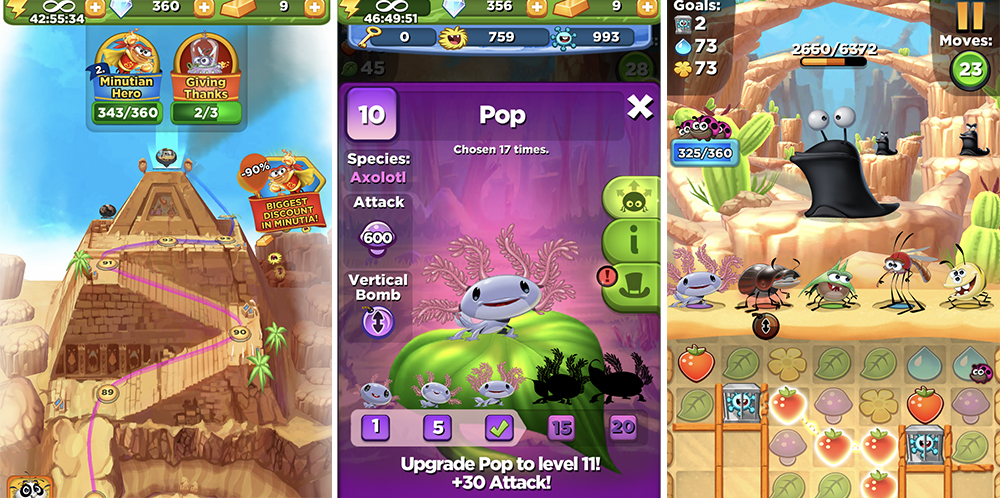 Best Fiends (keep scrolling to find out more!)
What's a great way to relax? Playing the endless puzzle adventure Best Fiends! The mobile puzzle game is so full of levels and cute Fiends that it's officially boredom's worst enemy. Come join us and thug those slugs: Download Best Fiends FREE on the Apple App Store or Google Play.
Tune in to Geek Girl Riot on idobi Radio every Tuesday at 11pm ET / 8pm PT for your dose of late-night geekery from our team of rioters. 'Til next time, see a list of everything our Rioters talked about below:
LINKS:
 – Dash & Lily (read our review)
 – Jingle Jangle
 – Alex Rider
 – From the Mixed-Up Files of Mrs. Basil E. Frankweiler – E.L. Konigsburg
 – Friends
 – Chitty Chitty Bang Bang
 – Charlie and the Chocolate Factory
 – Cinderella
 – The Wiz
 – Short Circuit
 – Brave
 – Alex Rider series – Anthony Horowitz
 – Lupin III: The First (read our review)
 – Lupin III – Monkey Punch
 – Cowboy Bebop
 – The Great Pretender
 – Black Panther
 – The Boys
 – Joker
 – Indiana Jones
 – Leverage
 – Kimetsu No Yuigon: Mugen Train
 – Kimestu No Yaiba: Demon Slayer
 – Kimetsu No Yaiba – Koyoharu Gotouge
 – Shampoo
 – The Legend of Hei
 – The Legend of Luo Xiaohei
 – Digimon Adventure
 – Pokemon
 – Dragonball Z
 – Power Girl Mob – Julian Lytle, Sean Causley, illustrated by Tressa Bowling 
 – Lore Olympus
 – Tower of the God
 – The God of High School
 – Noblesse
 – Hunter x Hunter
 – Naruto
 – Bleach
– Ted Lasso
– Song Exploder (read our feature)
 – The Forty-Year-Old Version
 – The Forty Year Old Virgin
 – She's Gotta Have It
 – Hamilton
 – In the Heights
Podcast: Play in new window | Download