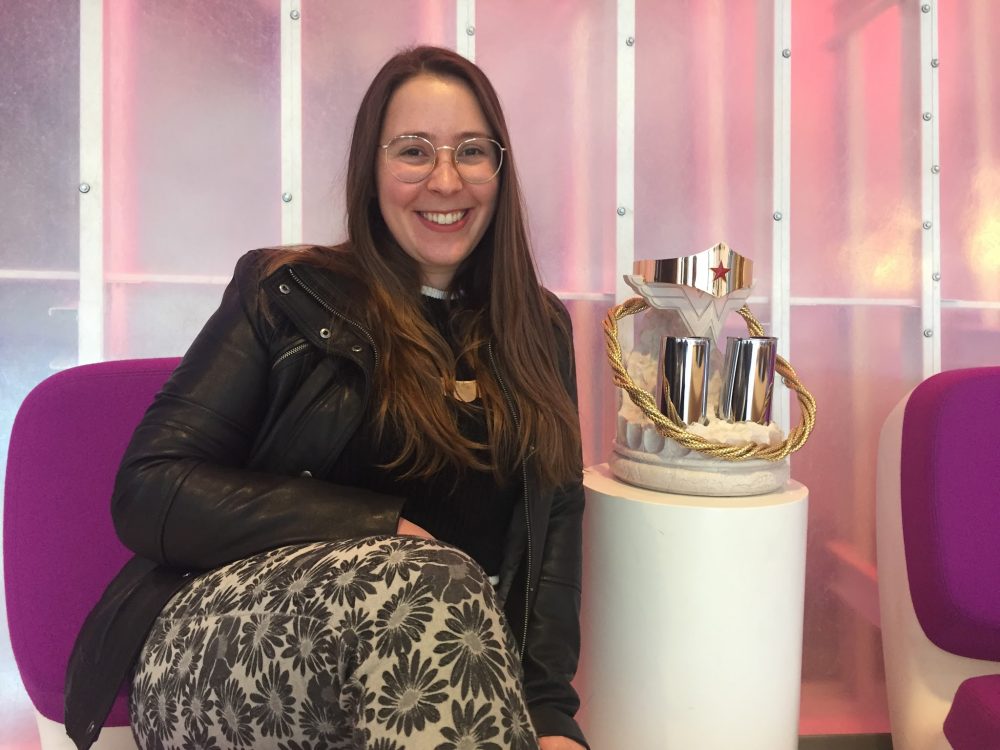 Who runs the world? Girls. Onscreen and behind-the-scenes, female creators lead the way and we're applauding them on Geek Girl Riot. Speaking of leading ladies, our Rioters are joined by special guest host Sara Miller, the talent development manager at DC Comics. She runs the talent development workshop for artists and writers, professional masterclasses for high profile talent, and edits the annual DC new talent showcase anthology, as well as other projects. Yeah, in a nutshell, she's awesome. Let's get into it…
Beyond Two Archetypes
Which one are you: The brainy girl or the strong woman? The lead girl or the BFF? None of the above? Turns out, there are more to women than these archetypes (who knew!) and we're seeing that change represented onscreen and on the shelves. Sherin, Erin, Soma, Day, and Sara talk who's getting it right and what needs to be made better.
Women of DC Comics on the Page and Screen
Of course DC is on the agenda because there are a ton of leading ladies in our favorite comics, movies, and shows. Our Rioters talk DC girl crushes and why these femmes are so important…and then dig into who they want to see in live-action next (c'mon, Storm movie).
Feminist Iconic Characters and Creators
We wouldn't have made such strides in the arts and entertainment if it wasn't for our trailblazing heroines showing us the way. Sherin, Erin, Soma, Day, and Sara shout out their favorite iconic women of geekdom to close us out on a high.
Tune in to Geek Girl Riot on idobi Radio every Tuesday at 11pm ET / 8pm PT for your dose of late-night geekery from our team of rioters. Til next time, find out more about Sara Miller, and see the list of everything our Rioters talked about below:
Sara Phoebe Miller is a New Yorker living on the outskirts of Hollywood with her cat Nora, and boyfriend, Alex. By day she's the Talent Development Manager at DC Comics where she runs the Talent Development Workshops for aspiring comic book artists and writers, professional Master Classes for high profile talent, and edits the New Talent Showcase anthology as well as other DC projects. Sara joined DC Comics over five years ago as the Assistant Editor at Vertigo where she helped edit numerous titles including The Wake, Trillium, Sandman Overture, and edited the Eisner-Nominated short story written by Tom King, Black Death in America. Before becoming a superhero, she studied English and Creative Writing at Barnard College and was a member of the hip hop dance crew Raw Elementz. She's currently an MFA candidate at Antioch University studying Writing for Young People. Her favorite novel is Sloppy Firsts by Megan McCafferty, her favorite color is purple, and her favorite musical is Cats.
LINKS:
– Vertigo comics
– The Wake
– Trillium
– The Sandman: Overture – Neil Gaiman
– Black Death in America – Tom King
– Cats
– Sloppy Firsts – Meghan McCafferty
– Scooby Doo
– Nancy Drew
– Veronica Mars
– Trevor Noah NPR interview
– Virginia Hamilton
– Shelly Laurenston
– This Is Us
– In The Unlikely Event – Judy Blume
– The Marvelous Mrs. Maisel
– Amy Sherman-Palladino
– Supergirl – Jessica Chen, Steve Orlando
– Fresh Off the Boat
– Wonder Woman
– Cliff Chiang
– Wonder Woman: The New 52
– Black Orchid
– Batgirl
– Batman
– Batgirl: The New 52 – Gail Simone
– Barbara Gordon
– Oracle
– Birds of Prey
– John Ostrander
– Kim Yale
– Chuck McCabe
– Vixen
– Catwoman
– Julie Newmar
– Eartha Kitt
– Darwyn Cooke
– Ed Brubaker
– Death
– Black Mary
– Doctor Who
– Joelle Jones
– Catwoman's wedding dress
– Batman – Tom King
– Super Friends
– Gotham City Sirens
– Louise Simonson
– Karen Berger
– Mary Shelley
– Octavia Butler
– Miss Marple
– She-Hulk
– J.K. Rowling
– Nichelle Nichols
– Bjo Trimble
– Jodi Picoult
– Bloodchild – Octavia Butler
– The Xenogenesis series / Lilith's Brood – Octavia Butler
– Clay's Ark – Octavia Butler
– Alice Walker
– The Edible Woman – Margaret Atwood
– The Movement – Gail Simone, 12 issues
– Welcome to Tranquility – Gail Simone
– The Mists of Avalon – Marion Zimmer Bradley
– Batwoman – Carol Jade Williams, Greg Lekka
– The Question
– Big Barda
– Sana Amanat (Marvel)
– Calista Brill (First Second)
– Riyoko Ikeda
– Jess Chen
– The Sensational She-Hulk vol. 1 no. 18 – John Byrne
– She Hulk vol. 2: Superhuman Law – Dan Slott
– Star Trek: Discovery
– Michael Burnham (Sonequa Martin-Green)
– The Bionic Woman
– The Six Million Dollar Man
– NCIS
– Jag
Podcast: Play in new window | Download