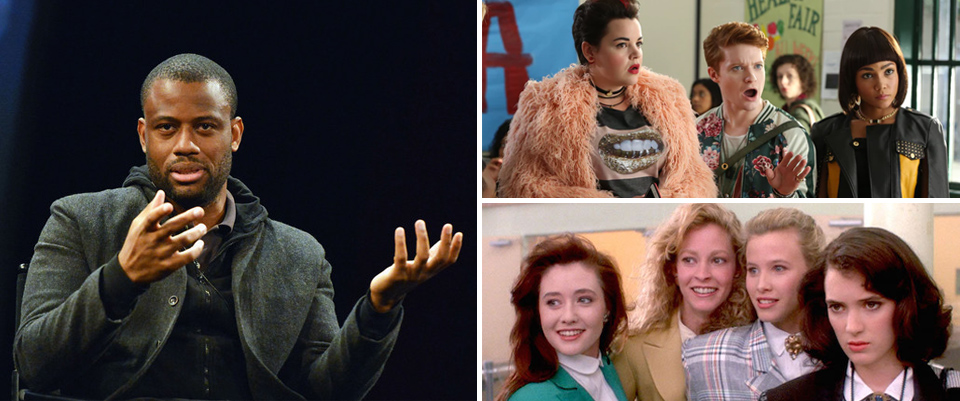 We here at Geek Girl Riot spend a lot of time on the internet reading about all things geeky. One of our most trusted sources to peruse is Shadow & Act and this week's episode features the site's founder, Tambay Obenson. Having recently sold Shadow & Act and looking to get back into filmmaking, he joins Rioters Sherin, Monique, and Day to talk the next chapter—including his most recent work, the fresh changes to the horror genre, black cinema and representation, and what drew him to film. Get ready to fall in love with cinema all over again with this week's Whachudoin'? with Tambay Obenson.
Then Sam comes in to do what she does best: Talk about YA books. Just in case you missed it on air last night or on last week's podcast, you can hear her winter YA roundup again—and find her reading list below!
To close us out, we're writing an open letter: Dear Diary, our teen-angst bullshit now has a body count, and it's every single thing about the new Heathers TV show. Yes, you heard that right, the much beloved classic is getting a remake. Sherin and Philip compare the original with what we know so far of the upcoming series—including this interview with showrunner Jason Micallef—and ask (like the AV Club did) what's the damage?
You'll find everything Tambay and our Rioters talked about, along with a transcript and reading list from Sam, below:
Watchlist + Links:
– 5 Deep Breaths
– American Koko
– The First Time I Saw Me
– Beautiful Things
– The Strain
– Get Out
– Night of the Living Dead
– Spike Lee
– John Singleton
– Robert Townsend
– Julie Dash
– Hav Plenty
– Love Jones
– The Wood
– Brown Sugar
– Ava DuVernay
– Ryan Coogler
– Gina Prince-Bythewood
– Tina Mabry
– Victoria Mahoney
– Amma Asante
– Death Wish
– The Exorcist
– The Sound of Music
– My Fair Lady
– Seven Brides for Seven Brothers
– Jean-Luc Godard
– François Truffaut
– Éric Rohmer
– Federico Fellini
– Juliet of the Spirits
– Michaelangelo Antonioni
– Peter Greenaway
– John Ford
– John Hughes
– Chinatown
– Macro Ventures – Charles King
– Mudbound – Dee Rees
– Denzel Washington's Fences
– Will Packer
– Girls Trip
– Shonda Rhimes
– Issa Rae
SAM'S YA WINTER ROUNDUP – TRANSCRIPT:
Hey Rioters!
It's Sam here with even more young adult novel recommendations. A lot of people have been putting out their year end lists, but since I already talked about the books I read in the first half of 2017 back in June, this time I'm focusing on everything I've read in the last six months. Well, not everything, but the ones I think you need to pay attention to.
First of all: as you may—or may not—recall, at the end of my Spring round-up, I mentioned a handful of books I'd been looking forward to. I think I actually managed to get my hands on each of those books, so let me refresh your memory and tell you about them.
In September, I was lucky enough to meet a trio of amazing lady writers when they were in Toronto: Angie Thomas, author of The Hate U Give, Becky Albertalli, author of Simon vs the Homo Sapiens Agenda and The Upside of Unrequited, and Julie Murphy, author of Side Effects May Vary, Dumplin', and Ramona Blue. With the exception of Sides Effects May Vary, I've read all of those books and I recommend you do the same, but the one I wanted to talk about was Ramona Blue. I'm not gonna lie, it's a pretty hefty book, but it's an easy read and one that I think is needed. The protagonist, Ramona, has always identified as a lesbian, but when she starts to fall for her male childhood best friend, she realizes that she doesn't have to limit her sexuality. It's very much a character study so while there is a plot, it's almost secondary to the character development, but Ramona and her friends—including Freddie, her new love interest—are interesting enough to keep you turning the pages.
And if you liked Angie Thomas' The Hate U Give, you should pick up Nic Stone's Dear Martin. It also talks about racial profiling and touches on the Black Lives Matter movement, but it's done in a totally different style than The Hate U Give. It's a lot shorter for one thing, and there are passages that are structured more like a script than a novel, which makes it a quick read. The title comes from the protagonist's pet project—to live his life the way Martin Luther King Jr. did, which involves him writing imaginary letters to Dr. King in times of distress.
A book I absolutely loved was Francesca Zappia's Eliza and her Monsters. I borrowed a digital copy from my library, but I'm going to need to invest in a physical copy for myself soon—this is the type of book I'll want to revisit. Basically, Eliza leads two lives—the one where she's a social outcast in school, and the other where she's the creator of a wildly popular webcomic. Nobody knows about Eliza's secret online life, until the comic's biggest fan starts at her school and Eliza finds herself wanting to open up to him. The book combines traditional prose with panels from the webcomic and online correspondence, and it's so much fun.
Another book that I want to invest in is Mackenzi Lee's The Gentleman's Guide to Vice and Virtue. A bisexual British lord goes on a grand tour of Europe with his best friend who he also happens to be in love with. Honestly, do I have to say anymore? It's historical and fabulous, and I'm pretty sure there's a sequel in the works that focuses on a secondary, possibly asexual character, and I'm so ready for it.
A book that had a couple of us Rioters squealing was Maurene Goo's I Believe in a Thing Called Love. Inspired by the Korean dramas that she frequently binge watches, Desi Lee sets about trying to win the heart of the attractive Luca with hilarious mishaps along the way. I don't want to talk about it too much because it will spoil the fun, but it's one of those stories that make you smile and giggle to yourself in public while everyone else on the bus gives you a weird look.
If you have any sort of handle on the young adult literature world, there's a strong possibility you've heard of Adam Silvera, a talented young author who tends to make people cry with his stories. I read both his 2017 release, History is All You Left Me, and his debut, More Happy Than Not, and I'll admit they made me tear up. I will say, however, that I preferred More Happy Than Not—the plot twist devastated me and I liked the characters more than the ones in History Is All You Left Me. But they're both good LGBTQ narratives that cover multiple angles: discovering your sexuality and mourning the loss of a loved one, respectively.
At this point in 2017, it's hard to talk about "teen" books without mentioning John Green. Believe it or not, despite being a huge YA nerd and working in the children's book industry, I'd never read John Green until I got a free copy of his latest, Turtles All the Way Down…and then instead of reading that one first, I picked up his debut, Looking for Alaska. I have a lot of mixed feelings about Alaska, but I know it's near and dear to a lot of people's hearts so I won't linger too long—mostly, I feel like if I'd read it as an actual young adult, I'd probably have loved it. But as a jaded twenty-something…eh, it's not my fave. Turtles is actually a pretty hard book to get through because it can definitely mess with your head since it deals a lot with anxiety and depression—but I think it's great that an author with as big a profile as John Green is using his popularity to shed light on mental health. It might not be the most shocking or unpredictable narrative, but since John Green is so popular, it's more likely to get into the hands of the young adults who need to read a relatable book, and I can't really be mad about that.
One of my very favorite books of 2017 was Robin Benway's Far From the Tree. Let's just say that there's a good reason it won the National Book Award for Young People's Literature. Far From the Tree tells the story of three adopted siblings—all growing up in completely different situations—who decide to find their biological mother. That's the simplest description I could give you, but it's a book with a lot of heart and a lot of depth and I'm not ashamed to admit that I started crying on the subway because I was so invested in these characters. I might be biased because Benway has always been one of my favorite contemporary YA authors, ever since her debut, Audrey Wait!, which I've read more times than I can count, but it truly was a beautiful story.
Working on this list, I realized that I read a ton of contemporary YA this year, but there were some great fantasy offerings as well: Julie C. Dao's debut, Forest of a Thousand Lanterns, is a fantastic and somewhat gory East-Asian inspired Snow White retelling from the point of view of the Evil Queen. We so rarely get stories that focus on the villains and this one was really well done. The sequel, Kingdom of the Blazing Phoenix, comes out next fall, and it's definitely worth investing your time in a new talent like Julie Dao.
Finally, I can rarely get through a conversation about books without referencing my personal queen, V.E. Schwab, but instead of dwelling on her for too long—believe me, I could go on for days—I'll just tell you to pick up her Monsters of Verityduology, if you're looking for lighter fantasy fare. And when I say "lighter", I don't mean the subject matter—it's actually quite the dark story, but the mythology is easy to get a handle on.
There's still so many books that came out in 2017 that I haven't read yet: I've just started the third book in Libba Bray's Diviners series, Before the Devil Breaks You, and I still haven't had a chance to pick up Maggie Stiefvater's All the Crooked Saints, but based on what I've seen from the hours I spend scrolling through Goodreads, 2018 is going to be an equally excellent year for young adult literature. I'm always interested in seeing what other people have read and loved, so tweet me your recommendations on Twitter at GeekGirlRiot and I'll catch up with you next year once I make a dent in my stack of To Read books.
YA READING LIST:
– The Hate U Give – Angie Thomas
– Simon vs the Homo Sapiens Agenda – Becky Albertalli
– The Upside of Unrequited – Becky Albertalli
– Side Effects May Vary – Julie Murphy
– Dumplin' – Julie Murphy
– Ramona Blue – Julie Murphy
– Dear Martin – Nic Stone
– Eliza and Her Monsters – Francesca Zappia
– The Gentleman's Guide to Vice and Virtue – Mackenzi Lee
– I Believe in a Thing Called Love – Maurene Goo
– History is All You Left Me – Adam Silvera
– More Happy Than Not – Adam Silvera
– Turtles All the Way Down – John Green
– Looking For Alaska – John Green
– Far From the Tree – Robin Benway
– Audrey, Wait! – Robin Benway
– Forest of a Thousand Lanterns – Julie C. Dao
– Kingdom of the Blazing Phoenix (upcoming) – Julie C. Dao
– Monsters of Verity duology (This Savage Song and Our Dark Duet) – V.E. Schwab
– Before the Devil Breaks You – Libba Bray
– All the Crooked Saints – Maggie Stiefvater
Podcast: Play in new window | Download