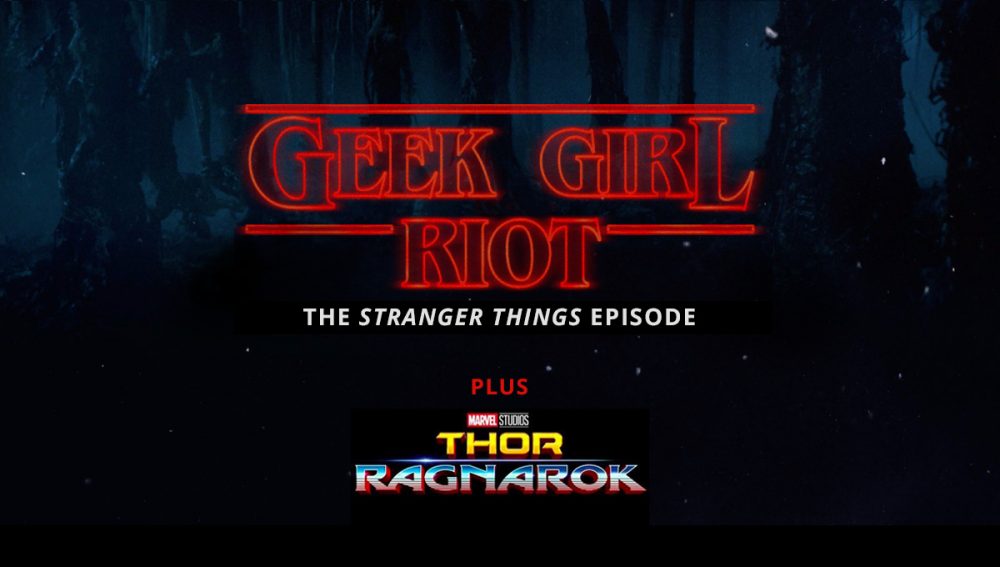 'Tis Halloween season geeks and ghouls, and it's also Geek Girl Riot's one hundredth podcast! So welcome to our most MEGA, EPIC, Strangest episode… From Hawkins to Asgard, we're all about otherworldly tales this week. Sherin and Drew had so much fun watching Thor: Ragnarok and they're here to tell you what to watch out for, the amazing cast appearances, and why this is THE Thor movie you need to see. No spoilers though, we don't want to make Mr. Banner angry. You wouldn't like him when he's angry.
Then it's time to head to Hawkins, Indiana for the main event: Stranger Things season 2. Listen in as Sherin and Soma break down the new additions to the cast, their favorite scenes, and why they're Team Steve this time 'round. Then Kat and Drew join the Stranger Things party for a She Said / He Said segment, digging into all the 80s movies references, and yes, those X-Men parallels (you saw it too right? Of course you did.)
We're about one hundred and eleven percent sure you've seen Stranger Things 2 by now, but we're warning you anyway: this episode is dark and full of spoilers.
If you need even more Stranger Things in your life, we got you—Rioters Sherin and Monique aka the unstoppable force MoRin, have written an ahh-mazing Stranger Things season 2 spec script with their version of events! You can read "The Promise" here, and until next time, we leave you with our new favorite meme:
Jim Hopper dancing to All The Small Things – Blink-182 #StrangerThings pic.twitter.com/3KDECiCAtB

— Hopper Dancing To (@hopperdancingto) October 31, 2017
If you haven't heard, Geek Girl Riot is now on idobi Radio, in a new timeslot! Tune in every Tuesday at 11pm ET / 8pm PT for your dose of late-night geekery from our team of rioters.
Podcast: Play in new window | Download