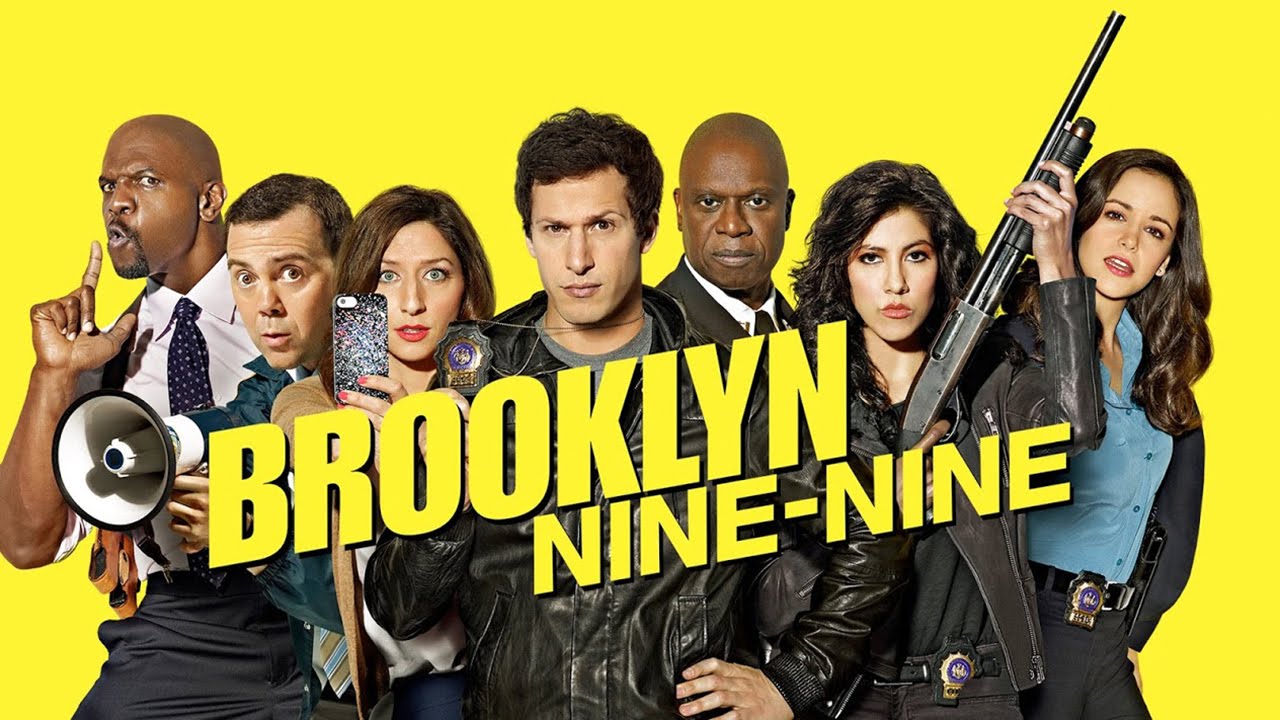 Just in case you haven't already enrolled as a squad member, we have nine reasons why Brooklyn Nine-Nine will be your new favorite show. And seeing as the show is a double 9, we have a double dose of B-99 goodness for you—before you scroll through Nine Reasons to Join the Nine-Nine, listen in as Geek Girl Riot's Sam Devotta gives you the lowdown on what the show's all about in a report so in-depth the Nine-Nine really need to hire her as a detective, stat. 
Nine Reasons to Join the Nine-Nine
1) The Theme Song
If the jazzy opening credits don't make you want to pop-and-lock, I don't think you're listening to it properly. Dan Marocco's horn-based score is so catchy, it will stick in your head for days! The only downside is there are no lyrics to sing along to…but that shouldn't stop you from humming along.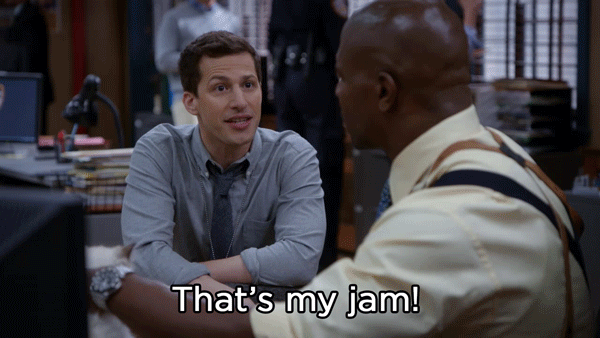 2) The Cast
Literally everyone on this show is hilarious: Andy Samberg as Detective Jake Peralta has some of the best facial expressions currently on TV; Terry Crews' (as Sergeant Terry Jeffords) habit of referring to himself in the third person is so addictive you'll find yourself mimicking him (and Sam totally approves); Joe Lo Truglio (Jake's best friend Detective Charles Boyle) is a master at physical comedy; and Scully and Hitchcock (Joel McKinnon Miller and Dirk Blocker, respectively), two bubbling veteran detectives, will make you laugh even when you find yourself relating to their love for food and comfy chairs. And those are just the guys!
3) Andre Braugher
Captain Raymond Holt (as played by Andre Braugher) is a man with a velvet voice and a ridiculous degree of stoicism. He's probably one of the funniest cast members because his poker face is perfect and you're never quite sure what to expect from him: a humiliating lecture or a sarcastic remark. (But even he can't help but crack a smile—figuratively, at least—at the antics of his squad.)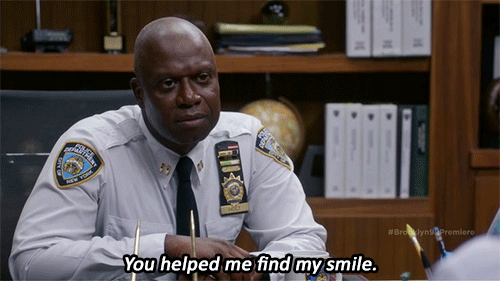 4) Strong Female Characters
There may be more men in the squad than women, but don't think the dudes get all the fun. The three leading ladies are more than capable of holding their own: from the tough knife-wielding Rosa (Stephanie Beatriz) to neurotic Amy (Melissa Fumero), an overachiever who is often the voice of reason, to the magical unicorn that is Holt's assistant Gina (Chelsea Peretti), each woman is a nuanced character and has her fair share of interesting story lines, including helping her fiance fake his death, going undercover in a prison, and just trying to exist in a room full of intellectually inferior people. You might start watching the show because of Jake Peralta, but seeing the way these three women subtly influence the squad will convince you to stay a while.
5) The Bad Guys
Whether it's The Vulture (Dean Winters) the terrible detective from another precinct who swoops in to snatch cases away from the nine-nine, or Canadian terrorists, or Doug Judy (Craig Robinson) aka the Pontiac Bandit, who gets away from Jake time and again but still manages to win the detective's respect by being able to keep up with his pop culture references, or even Terry's bully of a brother-in-law who makes fun of the Sergeant for being "tiny" (despite the fact that his muscles have muscles), the bad guys are always interesting and will more often than not make you laugh just as hard as the squad.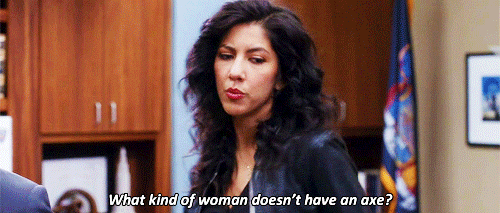 6) The Romance
Spoiler alert: Jake has a thing for Amy and I love it. He masks his feelings with sarcasm, but deep down, you know he'd take a bullet for her. And while Amy might not immediately reciprocate those feelings, she can't resist the Peralta charm. Also shout out to Charles Boyle for being an even bigger Peraltiago (Jake Peralta + Amy Santiago) shipper than I am.
7) The Laughs
The range of humor ensures that there's something for everyone. Whether you're secretly a twelve year old like me and find fart jokes hilarious, or prefer Shakespearean insults, you'll be sure to chuckle over at least one scene. You'll also probably end up quoting some of your favorite one-liners, much to the bemusement of people who are not yet part of the squad.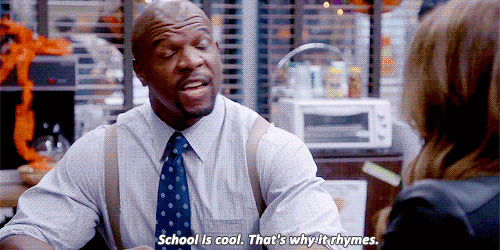 8) The Premise
New York cops who care about their community but still manage to get up to all sorts of crazy antics while keeping the streets of Brooklyn (relatively) safe? What's not to love? Even if you've never been to the state of New York, the squad, with their larger than life personalities, will make you feel welcome in no time. Though the show is full of plot twists, you're never more than a step behind the rest of the detectives as they solve their cases in twenty minutes or less. The cases themselves range from break-and-enters to murders to crime rings, but you'll feel safe knowing Jake Peralta and Co are on it.
9) The Gifs
Since Gina Linetti is the human equivalent of the 100 emoji, it's only natural that I turn to her in my GIF-fy times of need. You can pretty much count on a perfect reaction from any member of the cast for any occasion.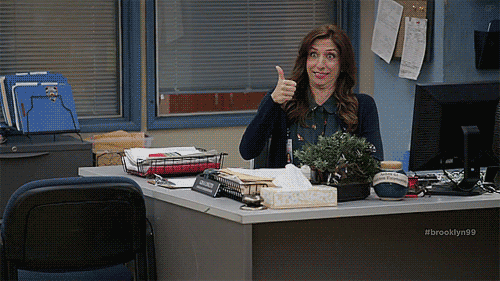 —
Download a transcript of Sam's report here, and prepare to get the themesong stuck in your head by watching the video below!
Podcast: Play in new window | Download