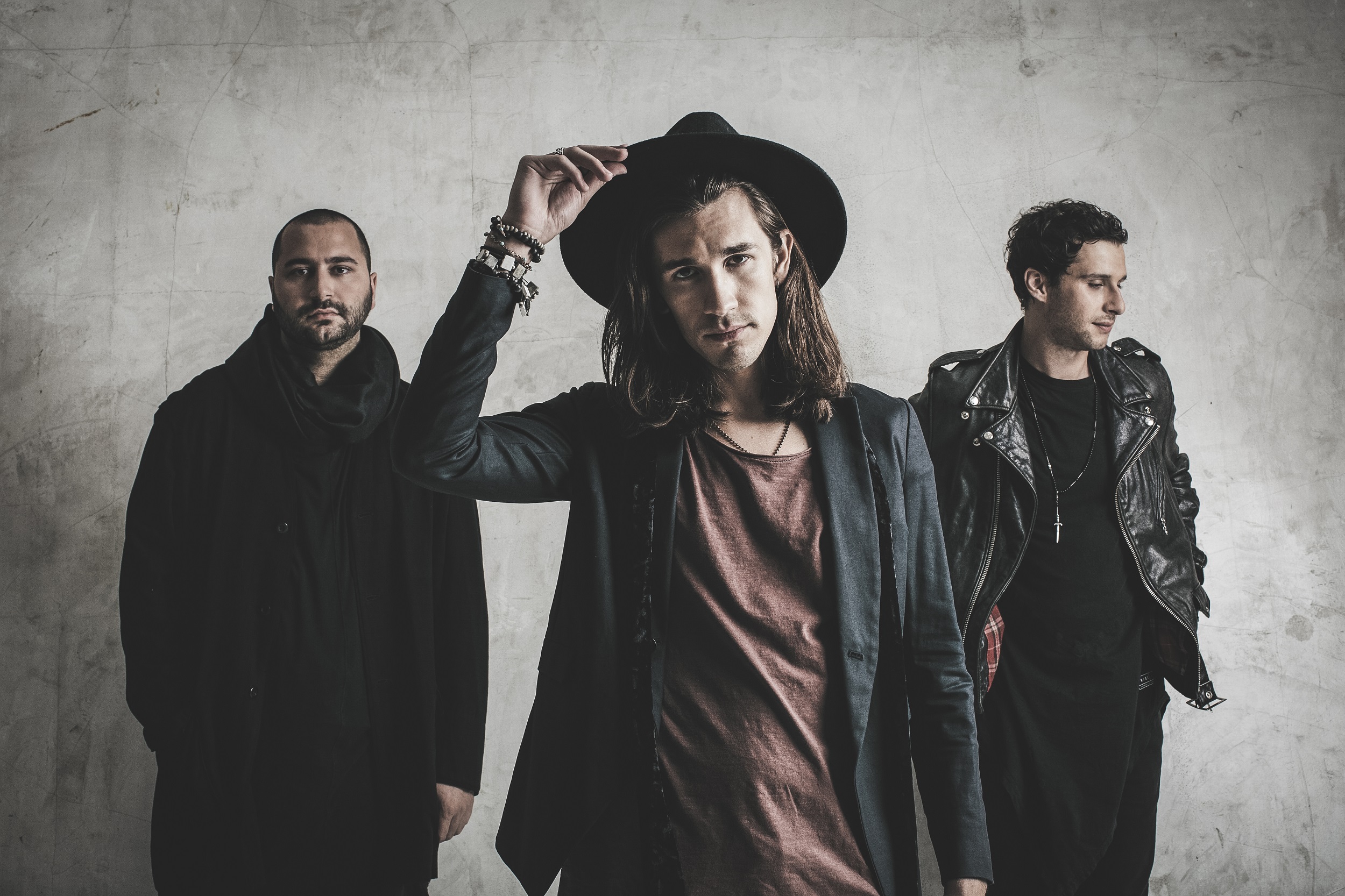 On this weeks episode of The Undiscovered Sound, Jeff speaks with Kiliyan from Charming Liars about touring with Dorothy & the bands music videos being featured at Sundance Film Festival!
Los Angeles by way of London Alternative Band Charming Liars have been building steadily since their inception. The band has been endorsed by no less an icon than Sir Elton John, who has featured the band's songs on his Apple Music "Rocket Hour" radio show. They have toured with a diverse array of acts such as Jane's Addiction, Night Riots, New Politics, Dorothy and You Me at Six. They are no strangers to big stages and have played at festivals both in and outside the U.S. With the release of addictive new single "Like A Drug" through Chartmaker Inc/TAC, the band is already making inroads: the song has been added to Spotify's New Noise Playlist, Pandora and Slacker radio's New Alternative channels and is currently impacting Alternative radio across the US and Mexico.
Charming Liars evolution began in London's West End when Karnig and Mike were still in their teens. They both came from homes with wide ranging and eclectic musical tastes, and that early exposure informed their approach to making music. They started writing and playing together in a series of bands and honed their musicianship with several tours up and down the U.K. In 2013 they decided to make the move to Los Angeles, in part spurred on by an encouraging social media message from songwriter and producer John Feldmann (Panic! at the Disco, Plain White T's, 5 Seconds of Summer, Blink-182) – who told them to look him up for a songwriting session if they were ever in town. They connected with Kiliyan through a mutual friend while he was attending The Musicians Institute in Hollywood. Through initial conversations that lead to songwriting and then recording sessions – the 3 realized that they had an organic musical chemistry that would lead to interesting possibilities. The current line-up was solidified.
Inspired by Alternative and Rock giants like U2, The Police, and Linkin Park, among others – the band pays tribute to their roots while carving out their own unique Alt.Pop sound. "We want to have a big effect on music listeners around the world," Karnig says, "whether it be through the feeling of the music, lyrical content, ideals or even simply friendship". Mike adds "We're most content when we get the opportunity to play the songs we wrote in a live setting. We take great pride in crafting our live show to reflect the recordings we so diligently work on in the studio, to really connect with our fans".
Having released a couple EP's since their arrival in the states, 2016 saw the release of their single "Soul" which reached number #40 on the Alternative Radio Charts and who's video has over 600,000 views on Youtube. A cover of Sir Elton's "I'm Still Standing" was released in the spring of 2017 in conjunction with the Grammy organization's MusiCares arm. The band continued to make inroads @ Alternative radio in the fall of 2017 with "Insomnia".
They have built a following with constant touring, and have played across the entire U.S. as well as South America, Mexico, the U.K. and Brazil. Their touring resume includes the Uproar tour, as well as opening for Night Riots, Kings of Leon, Weezer, and Jack White.
The band just finished a tour with Dorothy and will be out for two months with Welshly Arms starting September 25th in Kansas City Mo.
Tue 9/25/2018     Record Bar
Kansas City, MO   w/ Welshly Arms, The Glorious Sons
Wed 9/26/2018   7th Street Entry
Minneapolis, MN  w/ Welshly Arms, The Glorious Sons
Thu 9/27/2018     Chop Shop
Chicago, IL             w/ Welshly Arms, Glorious Sons
Friday 9/28/18    Saint Andrew's Hall
Detroit, MI             w/Welshly Arms, Glorius Sons
Sun 9/30/2018    The Hi FI
Indianapolis, IN    w/ Welshly Arms, The Glorious Sons
OCTOBER
Tue 10/2/2018     Velvet Underground
Toronto, ON          w/ Welshly Arms, The Glorious Sons
Wed 10/3/2018   Brighton Music Hall
Boston, MA           w/ Welshly Arms, The Glorious Sons
Thu 10/4/2018     Music Hall
Brooklyn, NY          w/ Welshly Arms, The Glorious Sons
Sat 10/6/2018      The Foundry
Philadelphia, PA   w/ Welshly Arms, The Glorious Sons
Sun 10/7/2018     Union Stage
Washington, DC   w/ Welshly Arms, The Glorious Sons
Tue 10/9/2018     Visulite Theatre
Charlotte, NC         w/ Welshly Arms, The Glorious Sons
Wed 10/10/2018 Exit/In
Nashville, TN         w/ Welshly Arms, The Glorious Sons
Fri 10/12/2018     Vinyl ATL
Atlanta, GA           w/ Welshly Arms, The Glorious Sons
Sat 10/13/2018   The Parish
New Orleans, LA   w/ Welshly Arms, The Glorious Sons
Sun 10/14/2018   House Of Blues
Houston, TX          w/ Welshly Arms, The
Tues 10/16/2018   Antones
Austin, TX             w/ Welshly Arms, The Glorious Sons
Wed 10/17/2018   House Of Blues
Dallas, TX               w/ Welshly Arms, The Glorious Sons
Fri 10/19/2018      Club Congress
Tucson, AZ             w/ Welshly Arms, The Glorious Sons
Sat 10/20/2018     Belly Up Tavern
Solana Beach, Ca    w/ Welshly Arms, The Glorious Sons
Tue 10/23/2018    Troubadour
West Hollywood, CA w/Welshly Arms, The Glorious Sons
Wed 10/24/2018  The Independent
San Francisco, CA      w/Welshly Arms, The Glorious Sons
Fri 10/26/2018       Harlows Nightclub
Sacramento, CA        w/Welshly Arms, The Glorious Sons
Sat 10/27/2018      Mississippi Studios
Portland, OR             w/Welshly Arms, The Glorious Sons
Sun 10/28/2018     The Crocodile
Seattle, WA               w/Welshly Arms, The Glorious Sons
Podcast: Play in new window | Download