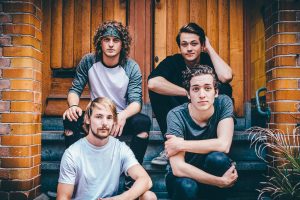 On the 4th Episode of The Undiscovered Sound, Jeff continues to bring you more music from all around the world! On this episode, The Overslept from The Netherlands are featured as well as a few entries from the Ernie Ball / Play Warped contest!
About The Overslept:
The Overslept is a Dutch pop-rock band, hailing from media-capital Hilversum. The band was formed in April 2014. Singer Sem Jonkhout, bassist Tommy van der Leer and drummer Daan van den Brink decided to join forces and give rebirth to "old school" pop punk by combining it with elements from today.  With this mindset they produced their debut EP 'Memory Lane'. The Overslept is not losing sight of what the future is holding for them, even though they are blessed with a roller coaster of experience from the past.
The band released a series of well-received acoustic covers including Simple Plan's "Summer Paradise". It was a coincidence that shortly after the release of this cover the band opened the show twice for the Canadian pop punk legends. Botch OLT Rivierenhof Antwerp (BE) and Paradiso in Amsterdam (NL) were sold out. They also were the support act for the rock pop sensation Set It Off  in Luxor Live Arnhem (NL). These actions have resulted in radio gigs and airplay on national radio.
After months of hard work with Producers, Robin van Loenen,  Bjøgen van Essen and Bram de Wijs, The Overslept released their first official single 'Where We Want To'  together with a music video on October 1st. The song was played repeatedly on 3FM and reached more than 4,000 views on YouTube within a week. On October 23rd, the band gave life to their second EP called 'Guidelines' with an impressive release show in The Vorstin in Hilversum. Dutch e-zines 'Dutchscene' and 'Smashpress' reviewed the EP and rewarded it with high ratings; an 8/10 and 9/10.
The release of this EP resulted in a tour all around The Netherlands, a spot as official after-show for Panic! At The Disco, a supporting slot for Busted and a signed deal with 8ball Music.
Upcoming shows:
April 14 – The B, Venray (NL)
April 29 – De Gooth, Ridderkerk (NL)
May 6 – Framed Festival, Arnhem (NL)
May 11 – Club Ziggo, Amsterdam (NL)
June 1 – Smashfest, Capelle a/d IJssel (NL)
The band will be releasing a new single later this summer 2017!
Music in the episode is featured from:
The Overslept
In Vein
Send Request
Two Birds
Friday Giants
Mira
Felicity
FS
Heart Means More
From States Away
Second Story
Not Today
Fire From The Gods
Aluxes
Podcast: Play in new window | Download