Even early in their careers, the Beatles led charmed lives. Sure, they spent hundreds of nights playing the clubs of Hamburg before their inherent talent and practiced skill were discovered. But once they were waved into the privileged sanctum of the signed recording artist, they commanded the world's attention.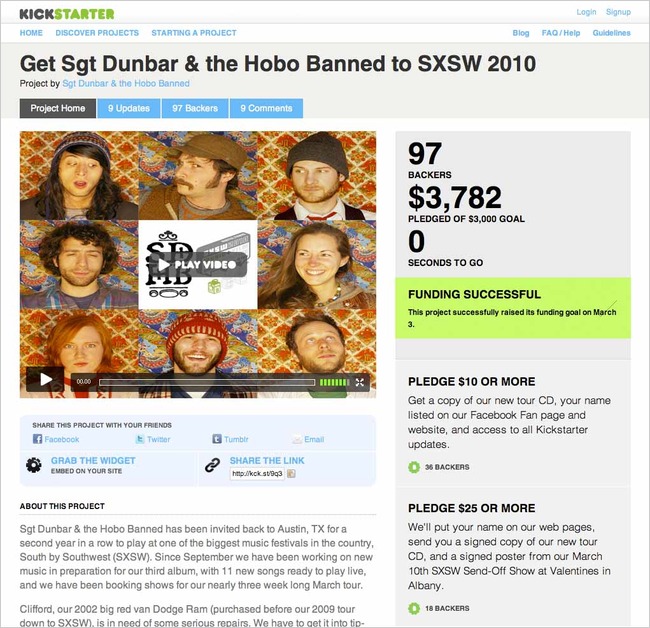 That's partly because of the scarcity of supply maintained by music's gatekeepers: the major labels and radio stations. The Beatles didn't have to share their stage with millions of other artists.
In the digital age, of course, every musician is free to make and sell music without gaining a gatekeeper's approval. But if the Beatles had a profile page on MySpace today, they'd be only one in a million – no, one in about 13 million. This is the boggling number of music profiles now on the site worldwide, according to a MySpace spokeswoman.
When millions of musicians clamber upon one very crowded stage, it's hard to stand out. Even the Beatles might be swallowed up by the chaos of choices.
The Beatles, of course, enjoyed the marketing muscle of the label. And so do signed artists today: the International Federation of the Phonographic Industry released a report last month that said record companies invest around $5 billion a year in musical talent. The sum spent on a new artist or group is typically $1 million, including an advance of $200,000, a package of three videos that cost an additional $200,000, and $300,000 in promotion and marketing.
The report did not point out that the approximately 4,000 lucky artists who are on the rosters of the major record companies represent 0.3 percent of the artists found on MySpace.
Some musicians who don't land a contract have been asking their fans to supply grants for developing new music – and Web sites like Kickstarter, SellaBand and Pledge Music aid the process by providing the software tools. The group, of course, must supply the fans.
Here's how it can work:
An artist group sets up a Kickstarter project page, for example, to raise a set dollar amount for a particular goal, like recording an album. Friends and fans make pledges with a credit card tied to the Amazon Payments system. But it's a conditional pledge: the cards are charged only if there are enough pledges to meet the fund-raising goal in 90 days. The site also hosts projects set up by photographers, filmmakers, writers and other artists.
Groups that offer to give a concert at the place of a supporter's choosing request an average of $600. A custom-written song goes for about $500; a signed, vinyl LP edition of a CD, $53. Fans "are not buying music, they're buying a personalized experience," said Yancey Strickler, a Kickstarter co-founder.
Since Kickstarter opened in April 2009, the average fund-raising goal for music projects has been $6,000, and 46 percent of them have met their targets, the company says.
One success story is that of Sgt Dunbar & the Hobo Banned, an eight-member group based in Albany. The group sought to raise $3,000 to help repair its eight-year-old van and to cover travel expenses to Austin, Tex., for the SXSW festival last month. It raised $3,782, including $100 each from 11 backers who got various goodies, like their name on the van as a tour sponsor.
I spoke with Alex Muro, a member of Sgt Dunbar, while he and his band mates were in the van, en route home from Austin. He said the group didn't need Kickstarter to finance its last CD; it was done in the house of two band members, and cost very little. A good thing, because revenue is meager. He said that in 2009 the group's 70 to 75 performances had brought in $6,000. Selling CDs added $2,000. For the year.
Failures' Union, a four-member indie rock band based in Buffalo, used Kickstarter to raise $2,170 toward issuing an LP version of its first CD. Jason Draper, a co-founder of the band, said that the Internet had made booking gigs much easier for the group, which could now take care of arrangements on its own.
"But at the same time, it also makes it easier for every other band that wants to go out," he said. "There are only so many clubs in each city and so many people who are interested in going out to hear live music."
The band's revenue covers travel expenses and rent while on the road, but is not enough for members to ditch their day jobs.
The Kickstarter model is attractive because it charges groups only 5 percent of proceeds – and only when the project succeeds. SellaBand, an older site for fan-financed music, based in Amsterdam, charges donors a 10 percent fee upfront and a 15 percent "success fee" if a goal is met. Project targets at SellaBand range from $10,000 to $100,000, and donors can move a donation from one group to another, though they are not permitted to get a refund after 14 days.
Four years in, the SellaBand model has not helped many groups. More than 15,000 artists have set up projects at the site, but fewer than 50 have been fully financed, said Michael Bogatzki, the new chief executive, who invested in the company early this year after it filed for bankruptcy.
Fan financing of music seems best suited to exceedingly small projects. While it is cheering to see the success stories at Kickstarter and other sites, it is dismaying to see just how modest are the goals of the most successful.
Support that is enough for full-time pursuit of music is still nowhere in sight. Gas money for Austin may turn out to be about good as it gets.
Randall Stross is an author based in Silicon Valley and a professor of business at San Jose State University. E-mail: [email protected].