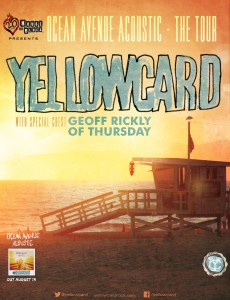 In celebration of the 10-year anniversary of their 2003 breakthrough Ocean Avenue, Yellowcard will be releasing an acoustic version of the album on August 13th. The band will also be performing the album acoustically from back to front on tour this fall with support from former Thursday frontman Geoff Rickly. Read a statement from the band below!
On July 22, 2003 our lives were changed forever. We didn't know what Ocean Avenue would become, but it is a chapter in our story that we will never forget. We knew that for the 10th anniversary of the release we wanted to do something more than just a tour.

In the US and Australia, we will be performing the entire record acoustically from start to finish, and then closing the show with an electric set that covers the other albums. In Europe, we will be playing the Vans Warped Tour, so the headlining shows will just be Ocean Avenue Acoustic. To hear the other records you'll have to get to the closest Warped date!
The band is also launching moment.yellowcardrock.com, "an interactive space for fans to share their favorite Yellowcard moments, both past and present" which fans can contribute to by using the Twitter and Instagram hashtag #YCMoment. You can also pre-order various album packages via the same link. Check out the album trailer and full dates below!
31-Aug Harley Fest Milwaukee, WI
4-Sep Theatre of Living Arts Philadelphia, PA
5-Sep Theatre of Living Arts Philadelphia, PA
6-Sep House of Blues Boston, MA
8-Sep The Dome Wallingford, CT
9-Sep Irving Plaza New York, NY
10-Sep Irving Plaza New York, NY
12-Sep Bogart's Cincinnati, OH
14-Sep Egyptian Room Indianapolis, IN
15-Sep St. Andrews Hall Detroit, MI
17-Sep House of Blues Cleveland, OH
18-Sep The Fillmore Silver Spring, MD
20-Sep House of Blues North Myrtle Beach, SC
21-Sep The Fillmore Charlotte, NC
22-Sep House of Blues Lake Buena Vista, FL
24-Sep House of Blues New Orleans, LA
26-Sep House of Blues Houston, TX
27-Sep House of Blues Dallas, TX
29-Sep Summit Music Hall Denver, CO
30-Sep The Complex Salt Lake City, UT
2-Oct The Fillmore San Francisco, CA
4-Oct House of Blues San Diego, CA
5-Oct House of Blues Los Angeles, CA
6-Oct House of Blues Anaheim, CA
Tags:
Yellowcard