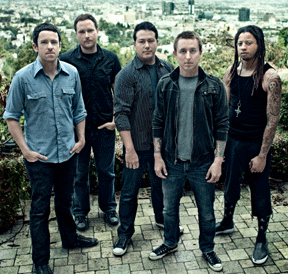 Fresh out of the studio from recording the new record When You're Through Thinking, Say Yes, Yellowcard are getting ready for a busy first half of 2011 on the road. With UK and Asian tour dates already announced, the boys have announced the U.S. portion of  its tour. Kicking off on the East Coast in Sayreville, NJ's Starland Ballroom on March 25th and circling around the country, the band will be direct support for Hopeless Records labelmates All Time Low on "The Dirty Work Tour", with Hey Monday and The Summer Set in the opening tour slots.
"This is our first U.S. tour in three years and we are so stoked on how it's all coming together," wrote the band in a joint statement. "We are all just as anxious as you are for next year to get here. It will be worth the wait, for all of us."
Gearing up for the release of their seventh album When You're Through Thinking, Say Yes on March 22, 2011 via Hopeless Records, Yellowcard have called this record "the product of thousands of miles of traveling to write together, hundreds of emails containing demos and new ideas, and finally, eight weeks of twelve hour studio days, working together again as a full band."
With over three million of their previous records sold, Ryan Key (vocals/guitar) and original members Sean Mackin (violin) and Longineu ("LP") Parsons (drums) continuing with Ryan Mendez (guitar) will be joined by longtime friend of the band Sean O'Donnell (bass), whose addition has been described as a "natural fit" for the current mindset and progression of the group. When You're Through Thinking, Say Yes was produced by Neal Avron, the "sixth member of the band" who has produced three of their previous albums including their breakthrough Ocean Avenue.
All Yellowcard tour dates can be seen here.
Tags:
All Time Low
,
Hey Monday
,
The Summer Set
,
Yellowcard