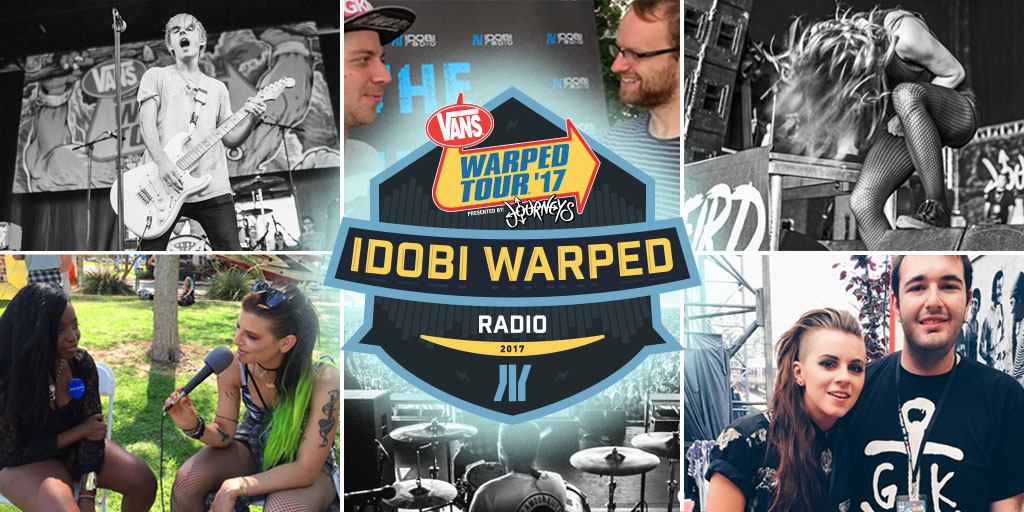 Pack Your Bags, You're Headed to The Vans Warped Tour with idobi Warped Radio.
We're packing for the best road trip ever, and we're bringing each and every one of you along. Lather on the sunscreen and jump on the idobi bus, because it's Vans Warped Tour season baby, and idobi Warped Radio 2017 is bringing the road to your headphones for the fourth time.
Programming
If you only catch one date of the punk rock party, you'll miss a lot of epic happenings, which is why we swoop into the pit to bring Warped Tour to you all summer long. With punk rock superheroes scheduled to blow your mind across seven stages, we're getting ready to Clark-Kent the trek and report on everything that goes down during the 22nd edition of the Vans Warped Tour.  We'll crash your favorite band's tour buses, grab vital info from VWT rookies + repeat offenders while grabbing vital nutrition at catering, give you the sidestage 411, and more every Monday, Wednesday, and Friday at 4pm ET. It all starts on 6/19, so mark your calendars, and get ready to be written into a comic book of rock star proportions.
From the ever-present villain (ahem, 110 degree days) to the saviors of all things rock and roll (who else is stoked to check out Anti-Flag + TSOL on the same day), it's shaping up to be a summer for the (comic) books. Join us on ido.bi/player for one of a kind programming that's as close to being there as you can get (without entering our Warped Stories contest and actually, y'know, getting to be there). We won't miss a single second of the summer, and neither will you.
Pre-Gaming
Can't wait for the 19th? Us either. Pre-game the tour with us starting on 6/12, where we'll bring you interviews with everyone you'll be watching on stage this summer, and catch on demand coverage all summer long on idobi.com/warped.
Tags:
idobi Warped Radio
,
vans warped tour