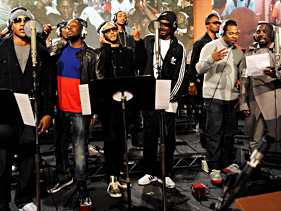 Despite some big-name detractors, "We are the World: 25 for Haiti" debuts at No. 2 on the Billboard Hot 100 chart just days after the all-star charity single premiered during the televised opening of the Vancouver Winter Olympics.
The song, a remake of the Michael Jackson- and Lionel Richie-powered original, was only bested by Ke$ha's "Tik Tok," which tops the chart for the ninth straight week.
The "WATW" remake produced by RedOne and featuring the collective Artist for Haiti – a group that comprises a number of musicians and actors, including Jamie Foxx, Justin Bieber, Pink, Usher, Kanye West and Celine Dion, among others – is the latest charity effort to rise on the charts.
The Hope for Haiti Now album, which featured covers by artists like Justin Timberlake and an original song by Jay-Z, U2's Bono and The Edge, Swizz Beatz and Rihanna, topped the Billboard 200 album chart. The project was the first all-digital album to land at the top of the charts.
Both Hope for Haiti Now and the "We are the World" remake provide much-needed funds for various Haitian earthquake relief efforts.
The new "We are the World" video was helmed by Oscar-winning director Paul Haggis, who described the shoot as "chaos" but noted it was a remarkable experience.
"You hear these stories about people checking their egos at the door, and it really is true," Haggis told MTV News. "They came and stood forever and were glorified extras a lot of the time. They just stood in the corner and waved. It was hot and it was crowded. When there's chaos, there's friction. Where there's fiction, there's drama, and I knew I'd have fun things to shoot. Unfortunately, there wasn't as much drama as I expected. People really got along very well."
Tags:
Hope for Haiti Now
,
Michael Jackson