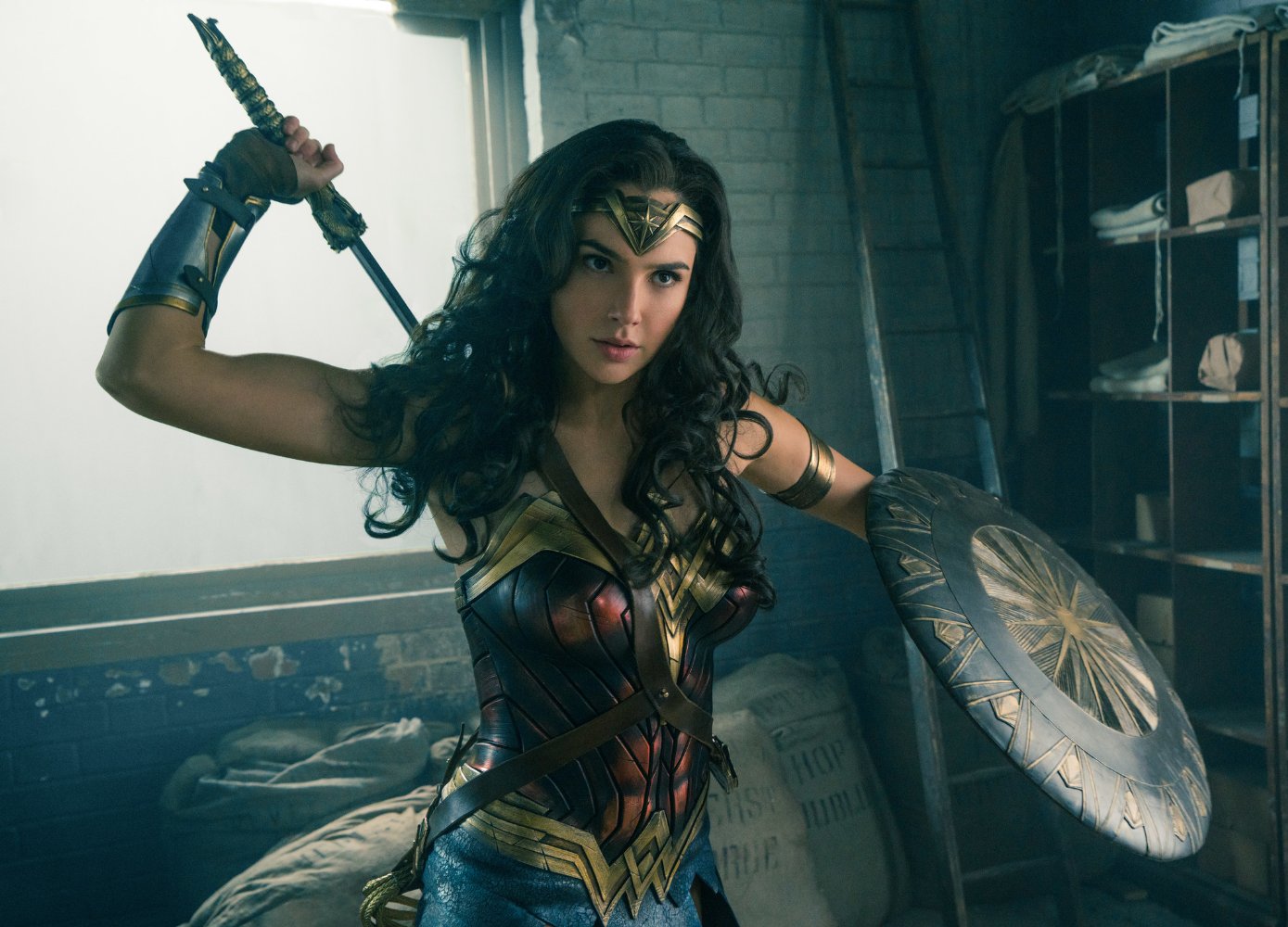 This week: Wonder Woman, IT, Spider-Man: Homecoming, Snatched, King Arthur: Legend of the Sword, The Wall, Meri Pyaari Bindu, The Wedding Plan
This week we're going to the movies. Not only do we have big releases like Guy Ritchie's action-adventure retelling of King Arthur and the return of Goldie Hawn in Snatched but there are also fabulous new trailers for the latest adaptation of Stephen King's IT, first female director to lead a $100M+ film—Patty Jenkins with Wonder Woman, and multi-culti teen superhero fun with Spider-Man: Homecoming.
IT
NEW TRAILER // Sept 8 – New Line Cinema
"When children begin to disappear in the town of Derry, Maine, a group of young kids are faced with their biggest fears when they square off against an evil clown named Pennywise, whose history of murder and violence dates back for centuries.
New Line Cinema's horror thriller "IT," directed by Andrés Muschietti ("Mama"), is based on the hugely popular Stephen King novel of the same name, which has been terrifying readers for decades.
A presentation of New Line Cinema, "IT" will be released worldwide beginning September 8, 2017, by Warner Bros. Pictures, a Warner Entertainment Company."
Wonder Woman
NEW TRAILER // June 8 – Warner Bros
"From Warner Bros. Pictures and DC Entertainment comes the epic action adventure starring Gal Gadot, Chris Pine, Connie Nielsen and Robin Wright, directed by Patty Jenkins.
Before she was Wonder Woman, she was Diana, princess of the Amazons, trained to be an unconquerable warrior. Raised on a sheltered island paradise, when an American pilot crashes on their shores and tells of a massive conflict raging in the outside world, Diana leaves her home, convinced she can stop the threat. Fighting alongside man in a war to end all wars, Diana will discover her full powers…and her true destiny."
Spider-Man: Homecoming
NEW TRAILER // July 7 – Columbia Pictures
"A young Peter Parker/Spider-Man (Tom Holland), who made his sensational debut in Captain America: Civil War, begins to navigate his newfound identity as the web-slinging superhero in Spider-Man: Homecoming."
Starring: Tom Holland, Michael Keaton, Zendaya, Donald Glover, Jacob Batalon, Laura Harrier, Tony Revolori, Tyne Daly, Bokeem Woodbine, with Marisa Tomei and Robert Downey Jr.
Directed by: Jon Watts
Screenplay by: Jonathan Goldstein & John Francis Daley, Jon Watts & Christopher Ford, Chris McKenna & Erik Sommers
SNATCHED
May 12 – 20th Century Fox
"After her boyfriend dumps her on the eve of their exotic vacation, impetuous dreamer Emily Middleton (Amy Schumer) persuades her ultra-cautious mother, Linda (Goldie Hawn) to travel with her to paradise. Polar opposites, Emily and Linda realize that working through their differences as mother and daughter – in unpredictable, hilarious fashion – is the only way to escape the wildly outrageous jungle adventure they have fallen into.
Amy Schumer and Goldie Hawn star in the new comedy adventure SNATCHED, which also features Ike Barinholtz ("Neighbors"), Wanda Sykes ("Bad Moms") and Joan Cusack ("Working Girl")."
King Arthur
May 12 – Warner Bros
"Acclaimed filmmaker Guy Ritchie brings his dynamic style to the epic fantasy action adventure "King Arthur: Legend of the Sword."  Starring Charlie Hunnam in the title role, the film is an iconoclastic take on the classic Excalibur myth, tracing Arthur's journey from the streets to the throne.
When the child Arthur's father is murdered, Vortigern (Jude Law), Arthur's uncle, seizes the crown.  Robbed of his birthright and with no idea who he truly is, Arthur comes up the hard way in the back alleys of the city.  But once he pulls the sword from the stone, his life is turned upside down and he is forced to acknowledge his true legacy…whether he likes it or not.
Starring with Hunnam (FX's "Sons of Anarchy") and Oscar nominee Law ("Cold Mountain," "The Talented Mr. Ripley") are Astrid Bergès-Frisbey ("Pirates of the Caribbean: On Stranger Tides") as Mage; Oscar nominee Djimon Hounsou ("Blood Diamond," "In America") as Bedivere; Aidan Gillen (HBO's "Game of Thrones") as Goosefat Bill; and Eric Bana ("Star Trek") as Arthur's father, King Uther Pendragon."
The Wedding Plan
May 12 – Roadside Attractions
From IMDB:
When her fiancé bows out on the eve of her wedding, Michal refuses to cancel the wedding arrangements. An Orthodox Jew, she insists that God will supply her a husband. As the clock ticks down.
Meri Pyaari Bindu
May 12 – Yash Raj Films
From IMDB:
Fed up with the lack of critical appreciation despite being a successful writer, Abhimanyu Roy (Ayushmann Khurrana) returns to his roots in Kolkata to write more meaningful literature and decides on an old-fashioned love story – which was now, 3 years in the making. This writer's block is called Bindu (Parineeti Chopra). How do you contain this unpredictable, crazy, restless, larger than life, live wire in the pages of a book? As Abhi says "You know when a song comes on and you just have to dance? Bindu was that song. That silly infectious joyful tune you couldn't get out of your head – even if you wanted to." So where should he begin? Where should he end? But when Abhi stumbles across an old audio cassette of their favorite playlist, it sends Abhi down memory lane – and as he waltzes in and out of his past and present through the songs in the mixed tape, he finally faces reality and reconnects with his roots, with his family and his novel starts writing itself. Of course, life in its usual scheming manner surprises him yet again and changes the ending of his book and his life, as he once again finds himself being pulled back into the center of that crazy little thing called love. He realizes, that love, is neither time- nor place-dependent. – All we need is the right person next to us and of course the right soundtrack.
The Wall
May 12 – Amazon Studios
From Amazon:
The Wall is a deadly psychological thriller that follows two soldiers pinned down by an Iraqi sniper, with nothing but a crumbling wall between them. Their fight becomes as much a battle of will and wits as it is of lethally accurate marksmanship. Directed by Doug Liman (Mr. & Mrs. Smith, The Bourne Identity, Live Die Repeat (Edge of Tomorrow)), The Wall stars Golden Globe winner Aaron Taylor-Johnson (Nocturnal Animals, Kick-Ass, Savages, Godzilla, Avengers: Age of Ultron) and WWE star John Cena (Trainwreck, Daddy's Home).
Tags:
IT
,
King Arthur: Legend of the Sword
,
Meri Pyaari Bindu
,
Snatched
,
Spider-man Homecoming
,
The Wall
,
The Wedding Plan
,
Watch This Week
,
Wonder Woman