This week:  Stranger Things, This Is Us, The Good Place, Mom, Life In Pieces, Blindspot, Dirk Gently, Shameless, The Walking Dead, Young Sheldon
STRANGER THINGS 2
Season 2, Now Streaming on Netflix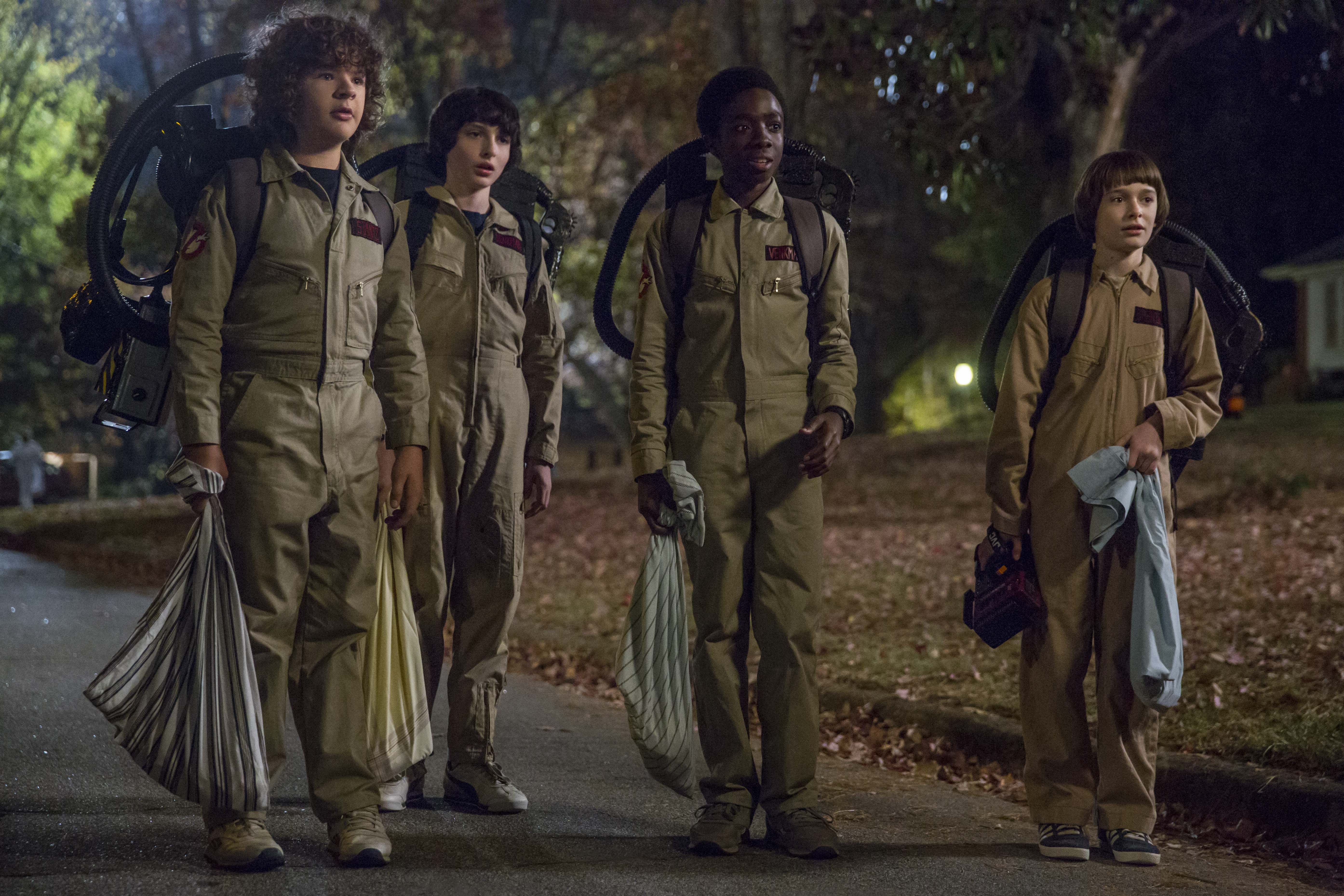 It's pretty safe to say binge-watching Stranger Things 2 was everyone's weekend plans—Netflix's strangest show came back and turned it up to Eleven. The follow-up season has clearly listened to its fans (#JusticeForBarb is still going strong, y'all), bringing charm and a whole lotta mystery while exploring the characters' backstories. Even Steve gets his time to shine. Yup, we're officially Team Steve this season. But for us, the highlight of S2 was all the references: Ghostbusters, Alien, Goonies (which left us squealing with delight…not just because of our soft spot for Sean Astin). And, well, we're not going to lie…we did end up hiding behind a cushion when the show went all Jurassic Park. Stay tuned for our thoughts on Season 2 on Geek Girl Riot, and make sure to update your Halloween costumes accordingly.
From Netflix:
It's 1984 and the citizens of Hawkins, Indiana are still reeling from the horrors of the Demogorgon and the secrets of Hawkins Lab. Will Byers has been rescued from the Upside Down but a bigger, sinister entity still threatens those who survived.
THIS IS US
"The 20's" – Season 2, Episode 6 – Tues Oct 31 – 9PM
On NBC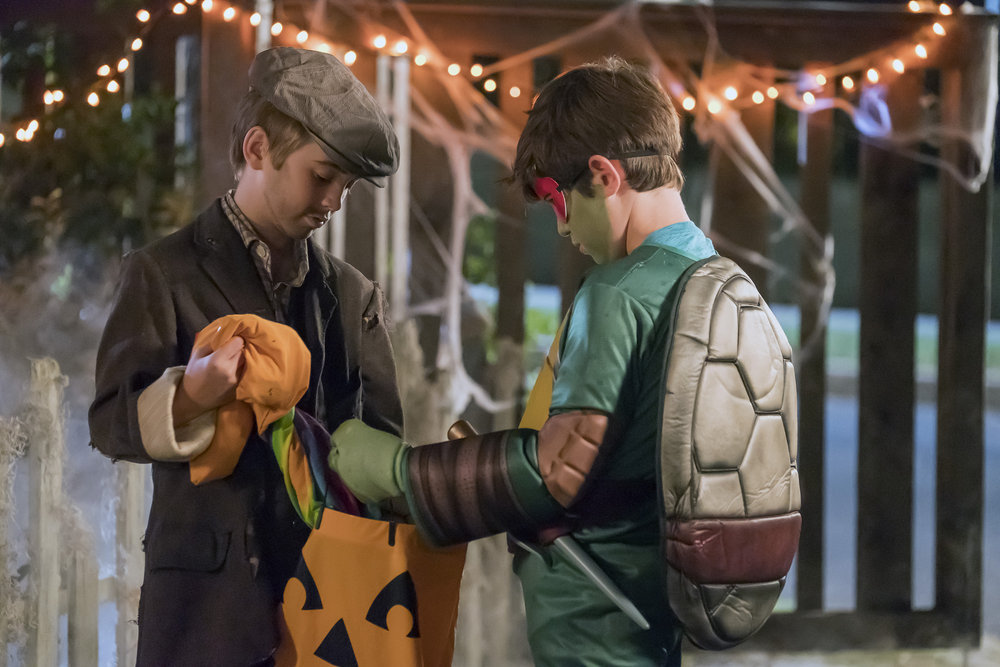 Halloween, Milo Ventimiglia, and deep emotional plot lines? Grab the candy and the tissues, because we're in for yet another episode of the heartwarming family drama. For  the first time we see The Big 3 in their 20s, and if we thought they have problems now…well, hello conflict. All the neurotic seeds we saw take root in the youngsters blossom full bloom in the twenty-somethings. We also get more insight into Randall's bout with hysterical blindness and the "cool" way Tess got her name. Be warned, though, when This Is Us treats us to a new episode the trick is making you ugly cry the night away.
From NBC:
Trick-or-treating with the 10-year-olds goes awry for Jack and Rebecca. Randall, Kevin and Kate have life-changing Halloweens.
THE GOOD PLACE
"Derek" – Season 2, Episode 7 – Thurs Nov 2 – 8:30PM
On NBC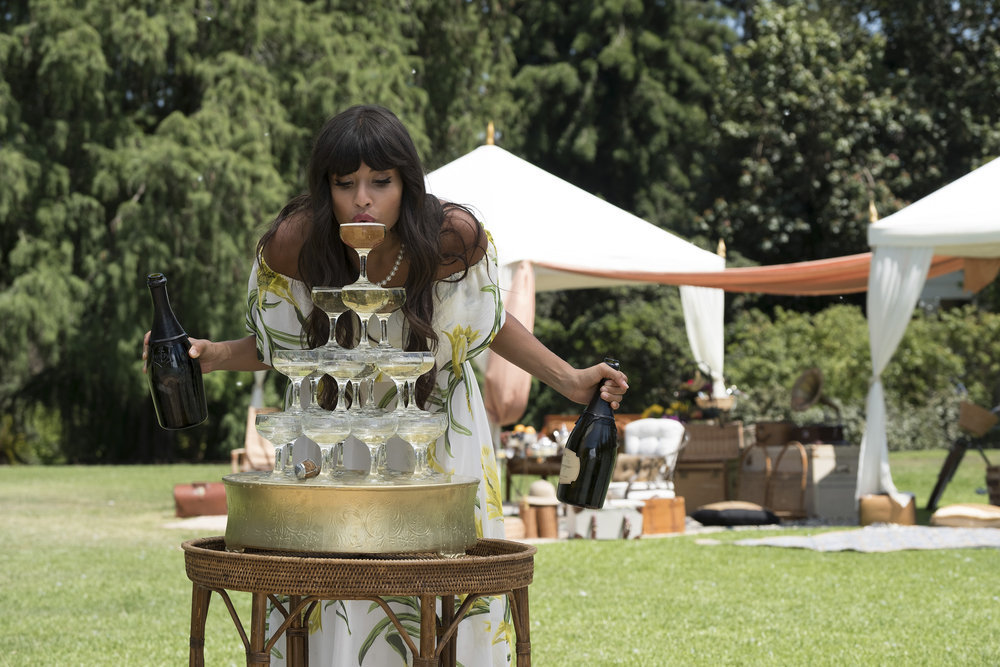 If you thought Eleanor and the gang caused Michael more than a mild headache, you ain't seen nothin' yet. This time around, Janet is the one creating a stir. Like, just imagine: If Google suddenly had a meltdown, what are you supposed to do when you can't, y'know…Google how to fix it? Yeah, exactly. Janet and Michael's relationship is one of our most beloved pairings in The Good Place, and seeing just how much Janet has learned from her time with the humans (and, err, not-so-humans) makes her all the more endearing—to us, and to Michael. We're not crying, you are!
From NBC:
SURPRISES ARE IN STORE – Janet (D'Arcy Carden) creates a big problem for Michael (Ted Danson). Meanwhile, Eleanor (Kristen Bell) lets Chidi (William Jackson Harper) in on a secret, and Jason (Manny Jacinto) puts Tahani (Jameela Jamil) in a difficult position.
YOUNG SHELDON
"Rockets, Communists, and the Dewey Decimal System" – Season 1, Episode 2 – Thurs Nov 2 – 8:30PM
On CBS
Time to take another trip down memory lane…one that may trigger some memories (or is it future-visions?) of Young Sheldon's Big Bang Theory future. In the new episode, Sheldon attempts to make friends the only way he seems to know how—by turning to science…or as close to science self-help books get. Sound familiar? Yup, this has happened (or will happen? Timeline wizards help us out here) before, and will make any TBBT fan giggle at the parallel of child-vs-adult Sheldon. In turn Young Sheldon's innocent love of the library and the Dewey Decimal System will have you aww-ing out loud. But as always, it's Sheldon's mom and her quick, blessed, wit that truly steals the show.
From CBS:
To appease his worried mother, Sheldon employs the techniques of a self-help book to try and make a friend, when YOUNG SHELDON returns in its new time period, Thursday, Nov. 2 (8:31-9:01 PM, ET/PT) on the CBS Television Network.
MOM
"Twinkle Lights and Grandma Shoes" – Season 5, Episode 1 – Thus Nov 2 – 9PM
On CBS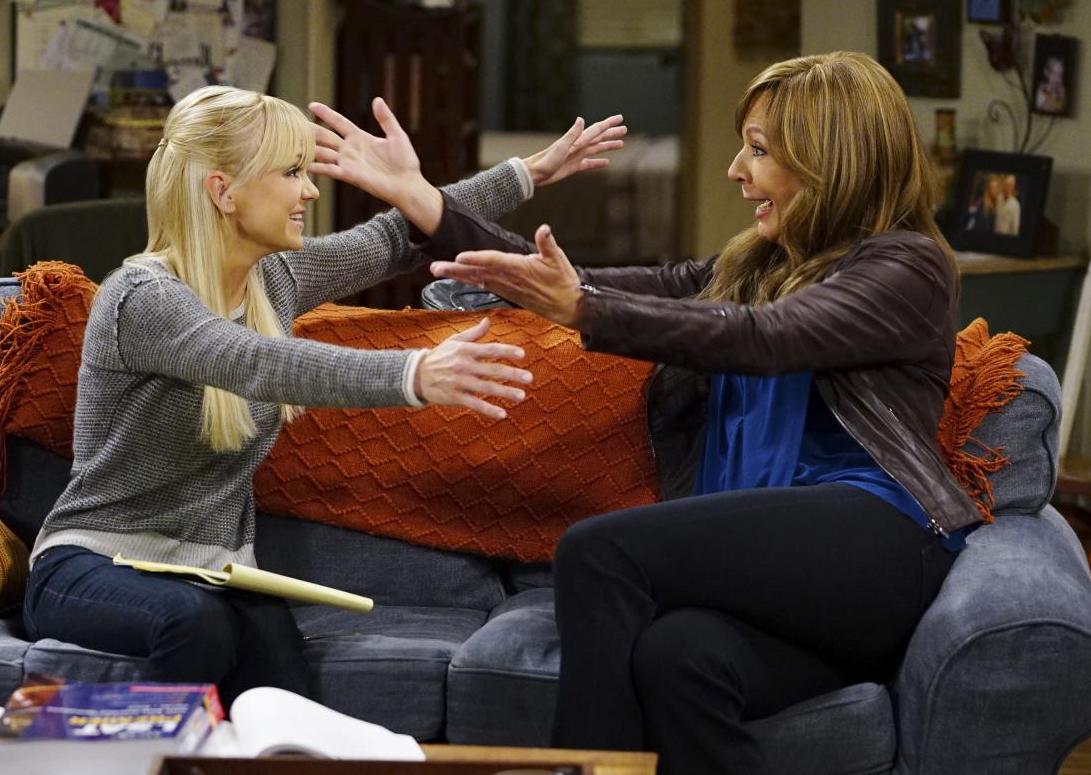 Ah, family dysfunction. We've all got it, and this season of CBS' Mom will too; it'll probably just be a little funnier. Catch up with three generations of Plunketts—dealing with everything from cold feet to maintaining sobriety—with this week's season 3 premiere.
From CBS:
"Twinkle Lights and Grandma Shoes" — Bonnie gets cold feet when considering her future with Adam, and Christy risks failing an important test in order to help a fellow alcoholic, on the fifth season premiere of MOM, Thursday, Nov. 2 (9:01-9:30 PM, ET/PT) on the CBS Television Network. Missi Pyle returns as Natasha, the birth mother of Jill's foster daughter.
LIFE IN PIECES
"Settlement Pacifier Attic Unsyncing" – Season 3, Episode 1 – Thurs Nov 2 – 9:30PM
On CBS
From CBS:
"Settlement Pacifier Attic Unsyncing" — When the entire Hughes family moves into John and Joan's home after their kitchen is destroyed, their presence creates chaos for Joan. Also, Matt and Colleen are set to receive a huge monetary settlement from Colleen's fall off the motel balcony on their wedding night; John tries to get Sophia back on track when she starts misbehaving; Tyler and Clementine make a surprise announcement to the family; and Jen and Greg attempt to persuade Lark to get rid of her pacifier, on LIFE IN PIECES, Thursday, Nov. 2 (9:30-10:00 PM, ET/PT) on the CBS Television Network.
BLINDSPOT
"Enemy Bag of Tricks" Season 3, Episode 2 – Fri Nov 3 – 8PM
On NBC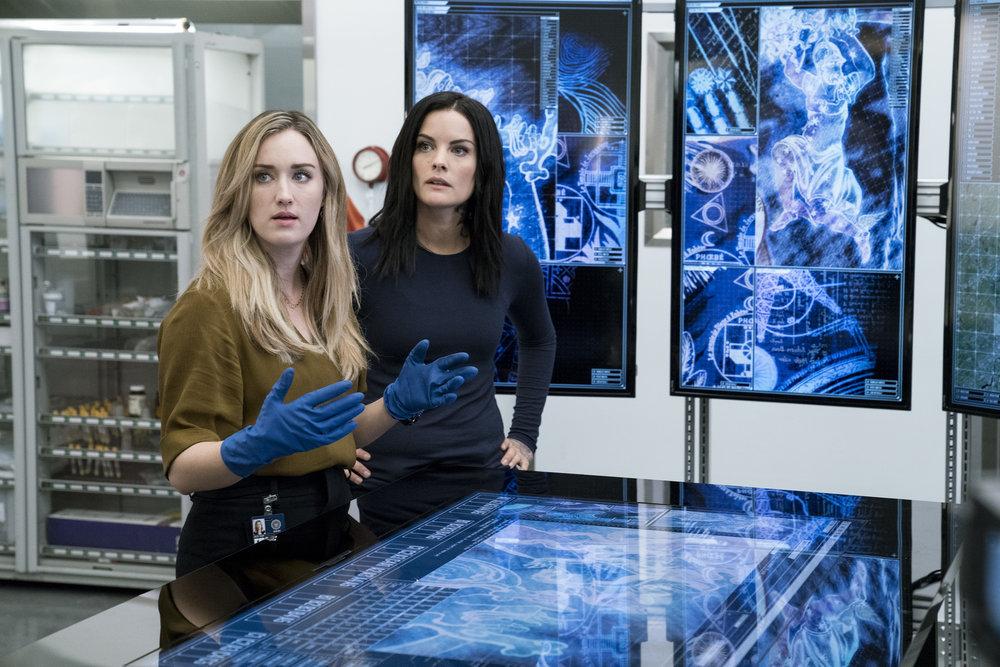 Our favorite inked-up heroine is back on our screens for another round, and the Blindspot gang dig deeper into Jane's dark past—and her new tattoos. The latest threat comes from a dangerous foreign power, who's trying to hijack a satellite. But as always, nothing is ever as simple as it seems, and the explosive season 3 premiere left us with more questions than Jane has tattoos: What happened in Berlin? What's with that dragonfly tatt? What has Jane been up to since she ran off? These questions are going to slow-burn-unfold over the season, but what we're most excited/terrified to see is the fact that Jane's brother Roman is back in the picture (you didn't think he'd just run off into the sunset now did you?). Revenge has never looked so good.
From NBC:
As the team adjusts to their new dynamic — and the new tattoos — they battle a dangerous foreign power that is trying to hijack a satellite.
DIRK GENTLY'S HOLISTIC DETECTIVE AGENCY
"The House Within a House" – Season 2, Episode 4 – Sat Nov 4 – 9PM
On BBC America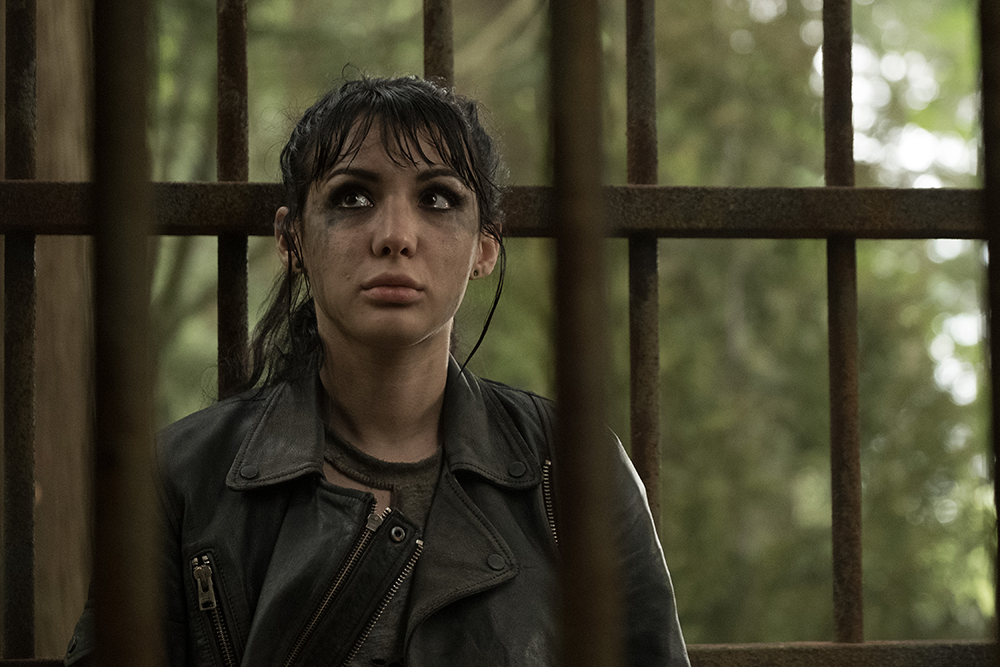 "We're somewhere else."
Yup, that pretty much sums up Dirk Gently, doesn't it? "The House Within a House" brings us armor-clad soldiers hellbent on conquering new lands, moons with faces in them, and awfully festive decorations that turn into a real-life Nightmare Before Christmas. Uhh, yeah, true story. This is a show you simply have to watch to wrap your fragile little minds around it…and even then it's better to just accept what's onscreen, maybe wash it down with a cocktail, as this wacky world takes you away.
From BBC America:
As our team's investigation leads to a startling discovery in the long-abandoned Cardenas homestead, Bart and Panto forge an unlikely and unusual relationship. In Wendimoor, Amanda takes steps towards understanding the powers that are hidden within her. Meanwhile in Blackwing, Ken continues to undermine Friedkin.
SHAMELESS
We Become What We … Frank! Season 8, Episode 1 – Sun Nov 5 – 9PM
On SHO
From Sho:
The Gallaghers find themselves with money to burn as Carl sells their inheritance from Monica. Meanwhile, Fiona swears off random hookups to focus on her new apartment building; Lip deals with the sacrifice that comes with sobriety; and Frank emerges out of a meth-induced haze to make amends for decades of depravity. Season premiere.
THE WALKING DEAD
"Monsters" Season 8, Episode 3 – Sun Nov 5 – 8PM
On AMC
From AMC:
Conflict with the Saviors leads to unintended consequences for the Hilltop, the Kingdom, and Alexandria; morality proves tricky in wartime.
Tags:
AMC
,
BBC America
,
Blindspot
,
CBS
,
Dirk Gently
,
Life In Pieces
,
Mom
,
NBC
,
Netflix
,
Shameless
,
SHO
,
Showtime
,
Stranger Things
,
The Good Place
,
The Walking Dead
,
This Is Us
,
Young Sheldon