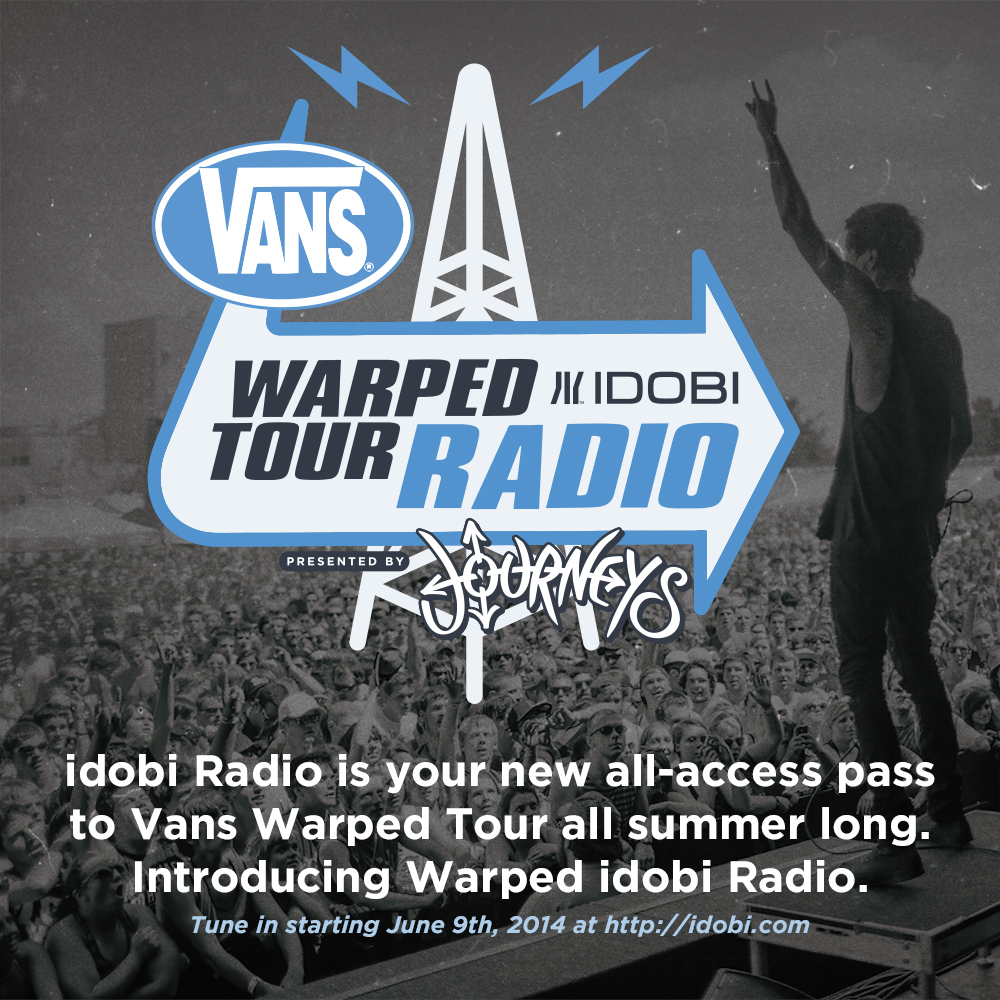 Washington, DC – April 16, 2014 — The 2014 Vans Warped Tour Presented by Journeys will get a signal boost from idobi Network when the two team-up for all new programming with Warped idobi Radio (WiR).
Now entering its 20th year, Vans Warped Tour is America's longest running concert festival tour, and is known for introducing the next big artists. From No Doubt to Katy Perry, Blink-182 to All Time Low, My Chemical Romance to Eminem, fans saw them first on Warped.
idobi Network is the perfect partner to Vans Warped Tour. For fifteen years and running, idobi has consistently premiered the next big artists over their online airwaves. From Good Charlotte to Fall Out Boy, Cassadee Pope to Imagine Dragons, idobi has earned a reputation for predicting what's next in punk-pop and alternative.
Seen first at Warped. Heard first on idobi.
Fans see their favorite artists first at Vans Warped Tour and hear them first on idobi Radio. It's fitting the two should come together for the ultimate summer mash-up. Warped idobi Radio will kickoff on June 9th 2014 with five original weekly shows, in a coveted two-hour daily afternoon block.
Up first is Music Monday. Various idobi personalities will journey back through the best of nineteen (19) years of Warped. Each Monday features a specific year and will flash fans back to the music and highlights of that summer.
Takeover Tuesdays will get hijacked by WiR's favorite artists. We Are the In Crowd, The Summer Set, Echosmith, and more will takeover the station to share an inside view of what's new, what's next, and what's Warped.
On Q&A Wednesday fans ask their burning questions via social media, and get the answers–no matter how weird or insightful–they haven't heard on any other outlet.
Talk in My Shoes (TIMS) Thursday is all about going behind-the-scenes for a walk on the Warped side. The first TIMS guest is not to be missed; Kevin Lyman will get the show rolling on Thursday, June 12th.
Feel Good Fridays give back by encouraging listeners to get involved. Each Friday, WiR will shine the limelight on charities, including Hope for the Day, MusicCares, It Gets Better Project, and many more.
Bookending the weekdays are The Best of Warped Weekend. Saturdays and Sundays feature recaps of the previous week's programming. WiR will make sure fans never miss a thing.
Music fans, Warped Tour faithful, and idobi lovers, tune-in starting June 9th, 2014 at http://ido.bi/player
Warped idobi Radio, it's like being there
About idobi Radio
idobi Radio (idobi.com) is the #1 alternative internet radio station in the world, providing a curated music experience focused on new music and artists. The station's original programs include Man of the Hour, Full Frontal, The Gunz Show, and more. idobi Radio reaches a worldwide audience of over 4.8 million listeners every month, making it one of the most listened to online broadcasters around the globe, as certified by Triton Digital. The station's average Time Spent Listening (TSL) far surpasses corporate giants like Clear Channel and personalized streaming services like Pandora in listener engagement–all while remaining an independent company. idobi Radio, "New Music. Unfiltered."
About Vans Warped Tour:
The VANS WARPED TOUR ® is well established as America's premiere music and lifestyle festival of the summer, breaking up-and-coming indie talent as well as both creating and showcasing major established artists since 1995. The nationally-renowned festival is the most eclectic traveling tour and features a diverse array of artists–with hotly tipped acts in every genre from punk, metal and indie to rock, hip-hop, rap, electronic, reggae and pop; as well as a variety of lifestyle attractions for its traditionally low ticket price. The tour has cemented its place in history by bringing punk rock/skate/action sports culture from the underground to the forefront of global youth culture, while at the same time helping those in need and being the first tour to consistently use groundbreaking environmental concepts every year on the road. The Warped Eco Initiatives (WEI) focus on making the tour more environmentally friendly whether it is through eco conscious catering for the artists and crew courtesy of Tada Catering or a solar-powered sound system on the Kevin Says Stage. Further, www.vanswarpedtour.com even showcases public transportation options for every tour date and carpool social media apps as well as exotic eco travel contests. For more information on the tour that Alternative Press readers voted the "Best Tour/Festival" of 2009/2010 and Rolling Stone called "America's most successful festival" (2005) go to: www.vanswarpedtour.com. Now in its 20th year, the 42-date tour will commence June 13 in Houston, TX and end on August 3 in Denver, CO.
Tags:
vans warped tour