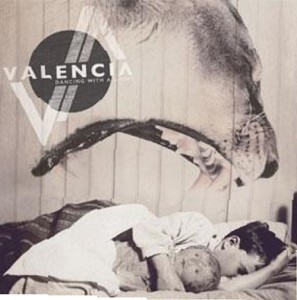 Not often does a band deliver on the mountains of acclaim piled on top of the music it has produced.   Then there is Dancing With A Ghost, where Valencia has perfected its craft and then some.   With the title track the pop rockers have kicked off an album with an incredibly catchy tune for the third time in as many tries.   It seems that the Philadelphia five-piece has settled into its comfort zone on this, the second release for I Surrender Records.
Instead of playing speedy pop punk as we saw on This Could Be A Possibility, the second album saw an overall progression in the band's sound.   That progression was the process of Valencia discovering its niche in this vast landscape of mediocre bands.   This is not a band that needs to break the mold to be successful in its third full-length effort.   The sound that had been established was extensively built upon with this 10-track effort.   In every way, the band has improved upon that sound discovered on 2008's We All Need A Reason To Believe.
Songs such as "Consider Me Dead" are reminiscent of New Jersey rockers Jimmy Eat World and how powerful song writing can include slow moving yet catchy songs.   This comparison is mostly due to the musical landscape of the album more than the lyrical content. The growth of lead singer Shane Henderson as a vocalist is one of the most notable things about this new record.   His range and ability have matured, putting the band in a position to break out.   His lyric writing seems to have progressed on this album, although he still reverts back to the death of his girlfriend in ultra literal "Friday Night" and "Days Go By".
It is instantly obvious that the guitar work of JD Perry and Brendan Walter has improved greatly; the pair even throws in some well-timed solos into the upbeat pop rock songs, many of which have excellent lead riffs.   Although the guitar work is very strong, Daniel Pawlovich's ability to lead a song with his sharp drumming is the glue that holds this album together, especially when the dual guitars drop out. In addition to the drumming chugging along, George Cuikurescu has bass lines that will keep your head bobbing as if the song were still in full swing.
Additional implements of music in addition on many of the tracks add depth beyond the 5 guys playing the standard implements of rock and roll and depth to songs.   These include gang vocals, piano and keyboard to expand the sound of the songs to have almost an ethereal nature to them.  The vocal and musical maturation of Valencia shows through clearly on Dancing With A Ghost and this is a pop rock album that solidifies an already sterling reputation. (3.5/5.0)
Buy the first single here, the album comes out on October 12th.
After many months off the road, Valencia is back for a few headline dates is set to open for Motion City Soundtrack, Say Anything, Saves the Day on an upcoming tour.
Tags:
Jimmy Eat World
,
Valencia