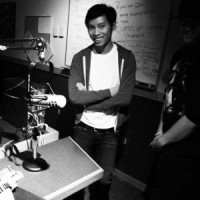 A motorcycle accident in Warwick, PA on Friday evening claimed the life of Maxim Soria, a 2001 Central Bucks West graduate and former member of Philadelphia alternative rock band Valencia, said family members.
Soria, 28, was killed at about 6:15 p.m. when he lost control of his motorcycle on York Road, between Valley and Sugarbottom roads, police said. Officials believe Soria was traveling north on York Road when his motorcycle left the highway and struck a guide rail. He was dead when officers arrived on the scene.
Bucks County Coroner Dr. Joseph Campbell said Soria, of Point Pleasant Pike in Plumstead, was wearing a helmet. He died of multiple traumatic injuries.
Although toxicology reports are pending, Campbell said "everything points to this being an accidental death."
Campbell said Soria's driver's license indicated he had only recently gotten his motorcycle license. Soria's brother, Mel Soria, 30, also said Maxim had not been riding a motorcycle very long.
He remembered his brother as a "real" person who didn't subscribe to a "traditional" way of doing things.
"If the measure of a person is how many people he or she touched, then Max was truly a rich man," said Mel.
As a drummer with Valencia, which was signed to Columbia Records for several years, Maxim traveled the world a number of times, said his brother. "But he always loved being in Bucks County and coming home."
He was near graduation with a degree in communications at Temple University, when he left school to tour with Valencia, his family said.
Melvin and Joy Soria, Maxim's parents, who live in Warrington, immigrated to the United States from the Phillipines when Maxim was four, said Mel Soria.
"My son is a very gentle, very quiet boy," said Joy Soria. "He never smoked or drank."
Anyone who witnessed the accident is asked to contact Sergant Vona at the Warwick Police Department at 215-343-6102 ext. 103.
Tags:
Valencia