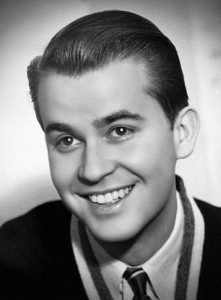 Dick Clark, the legendary TV producer and host, died Wednesday of a heart attack. He had suffered a stroke in 2004 and had struggled with the effects ever since.
The man known as "America's oldest living teenager," made rock music safe for Middle America and earned a place in the Rock and Roll Hall of Fame along the way.
Clark hosted "American Bandstand" for more than three decades starting in the 1950s as well as game shows and "The Dick Clark Show" (1958-60). His "Dick Clark's New Year's Rockin' Eve" show marked its 40th anniversary this year.
He started Dick Clark Productions in 1957 and sold it in 2007 for $175 million.
Clark was born Richard Wagstaff Clark on Nov. 30, 1929 in Mt. Vernon, N.Y.
His 1976 memoir was titled "Rock, Roll & Remember," a nod to a career inextricably intertwined with the history of rock 'n' roll.
"Dick Clark was significant in transforming the record business into an international industry," reads the Hall of Fame's citation. "His weekly televised record hops – which predated MTV by 25 years – played an integral role in establishing rock and roll, keeping it alive and shaping its future."
But rock music was only the half of it.
"He is the marriage of television and rock 'n' roll," said comedy writer Bruce Vilanch in a 1997 interview with The Times. "Those two things started at more or less the same time, and up to the point when MTV started, he was the most visible link between them, and the most powerful one."
Clark was proud of his financial foresight that led him to create a music business empire by the age of 30 that made him a millionaire, and then to start over, rebuild and diversify when a television network and a congressional subcommittee forced him to give up his initial holdings.
"I'm basically a businessman," he once said. "I'm not in it for the glory."
Despite a stroke that left the famous host struggling to speak, Clark remained in the public eye, determined to appear on his New Year's Eve show, now hosted by Ryan Seacrest.
Clark called the show — most recently titled "Dick Clark's Primetime New Year's Rockin' Eve With Ryan Seacrest 2012" —   a labor of love and "not really a job."
"It's a fascinating life," he said in 1997. "And it's a reflection, probably, of my odd nature. I'm a case study for a Type A personality. I have a short attention span, I love activity, I'm into all sorts of strange and wonderful things."
Tags:
Dick Clark