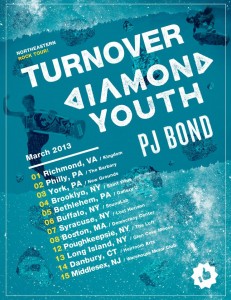 Turnover and Diamond Youth will be heading out on co-headline tour in March. The tour will hit up the northeast section of the U.S. and support will come from PJ Bond. Check out the tour dates below.
Fri/Mar-01 Richmond, VA Kingdom
Sat/Mar-02 Philly, PA The Barbary
Sun/Mar-03 York, PA New Grounds
Mon/Mar-04 Brooklyn, NY Saint Vitus Bar
Tue/Mar-05 Bethlehem, PA Gallery U
Wed/Mar-06 Buffalo, NY SoundLab
Thu/Mar-07 Syracuse, NY Lost Horizon
Fri/Mar-08 Boston, MA Democracry Center
Tue/Mar-12 Poughkeepsie, NY The Loft
Wed/Mar-13 Long Island, NY Glen Cove Moose
Thu/Mar-14 Danbury, CT Heirloom Arts
Fri/Mar-15 Middlesex, NJ Warehouse Motor Club
Don't forget Diamond Youth will also be playing our Meltdown Festival March 9th in Silver Spring, MD!
Tags:
Diamond Youth
,
PJ Bond
,
Turnover