Have you ever watched a music video that makes you feel like you might have accidentally ingested some sort of hallucinogen that just now kicked in? Music videos are an interesting art form – they can be beautiful interpretations that reveal the inner meanings of the music, or they can make so little sense that they leave your brain feeling like scrambled eggs. We pay tribute to some of the biggest culprits in the latter category in this week's Tuesday Ten.
idobi Radio assumes no legal responsibility for any brain scrambling that may occur after watching these videos. Please view at your own risk.
Duck Sauce – Big Bad Wolf
Duck Sauce's music video for "Big Bad Wolf" is about as weird as it gets. Beginning with a tinge of perversion and ambiguity, we see a bunch of average people with a one thing in common- a giant bulge in their pants. As Duck Sauce repetitively sings in tribal fashion, "the big bad wolf," these well-endowed normies can't help but move their hips to the beat in an uncomfortable, yet extremely suggestive fashion. And as soon as your curiosity reaches its climax, pants fly off, and what is revealed is far from phallic: a human head. That's right, a human head has supplemented genitalia. This "head crotch," for lack of a better term, is an exact carbon copy of its owner's actual head. It must be groomed and maintained–teeth brushed, hair combed, face shaved, you name it. But at the same time, these head crotches must act as human sex organs. Head crotches are attracted to other head crotches, bodily functions occur, and sex is seen from a whole new perspective. Literally and figuratively. Words can't truly describe the personification of genitalia. You have to see it to believe it, and I cannot guarantee how you will feel about it. (Ethan Rose)
Fall Out Boy – I Don't Care
It's an attest to Fall Out Boy's fame that they managed to get so many celebrity appearances in their video for "I Don't Care". Or perhaps it's an attest to their creativity that these cameos are in ways you could never have guessed. Ex-Guns N' Roses guitarist Gilby Clarke starts the video by asking, "What the hell happened to rock and roll?"–and his question is answered in the most bizarre of ways, which will probably leave you more confused than ever. There are prank-pulling shenanigans that could put Blink-182 to shame: dropping water balloons, stealing a walker from an old guy, even Pete Wentz and Patrick Stump shoplifting while dressed up as nuns. You do get a one-second break from all the madness in the form of a cat eating spaghetti, which is left completely unexplained–reportedly to censor gestures even more obscene than Joe Trohman's flashing. But while these pranks are impressive, the real "what the hell?" moment comes right at the end and will hit you harder than that security guard hit Pete. Each of the band members do a "big reveal" by taking off their masks to show their true identities: Andy Hurley grows about a foot in size and turns out to be Mark Hoppus, Stump is Pharrell, Trohman is Gabe Saporta, and Wentz is former Hills star Spencer Pratt. And what of Gilby Clarke? He's actually Sarah Palin–bet you didn't see that coming. (Alex Bear)
Forever The Sickest Kids – She Likes
In real life, we have the Professional Golfer's Association of America (PGA), but in the life of Forever the Sickest Kids, we have the Putt Putt Professional Golfer's Association of American (PPPGA). You're already thinking WTF, right? In their video for "She Likes (Bittersweet Love)", the pop punk kids tee off and turn the PGA tour into a PPPGA tour where the guys compete in a putt putt golf tournament full of absurd shenanigans. The video begins by introducing each member as if they are a professional golfer–ehm, excuse me, professional PUTT PUTT golfer–and the video proceeds to take us through a faux tournament complete with golf carts in clouds and even in outer space. The biggest mystery is how this all ties in to a love song, but who are we to question the mystery and power of love. The "golfing" is rigorous and intense, which I suppose mimics aspects of love. AND we see a cameo by FTSK member Kyle Burn's real-life girlfriend Mindy White (which I'm sure you guessed is my favorite part), but really..the video is so bizarre that you find yourself so absorbed to find out just what happens next. A couple members are disqualified and other declared winners, and while the song is really one of their catchier tunes, it's difficult to understand just what is going on exactly. But having followed FTSK for years and seeing a number of their shows, you realize this group of guys just want to be goofy and have fun, and the video premise most likely derived from frontman Jonathan Cook's love for golf. FORE! (Alyson Stokes)
The Front Bottoms – Backflip
What is there to do in the suburbs of Staten Island, you ask? Not much. Just like the suburbs of anywhere, you need to make your own fun – the more dangerous, the better. The Front Bottoms take this mantra to heart in their video for "Backflip" which shows the band (as well as cameos from friends such as Kevin Devine and Chris Gethard) goofing off on trampolines, playing with silly string, and eating pizza. It all seems innocent and light-hearted until…wait…hold on a second…did Kevin Devine just get impaled with a tiki torch?! The merriment continues as two more of their friends meet untimely deaths by way of flammable silly string and a peanut allergy. Aside from the gory deaths (don't worry, they use blow-up dolls as stunt doubles), the best part of the music video has to be the oblivious, purposefully bad acting from the band members as they watch their buds bite it. Well, that and Kevin's pelvis shimmy about twenty seconds in. So remember, it's easy to have a good time, but if you hang out with The Front Bottoms you might wanna make sure you have 911 on speed dial. (Alyssa Dempsey)
Hands Like Houses – A Tale of Outer Suburbia
As far as wacky videos on YouTube go, this one might not top the charts, but it still packs a healthy dose of weird. It looks like we've got a pretty typical suburban mom doing some laundry, and eerily singing Hands Like Houses' "A Tale of Outer Suburbia." When the music kicks in, and she starts dancing erratically…well, it starts to look familiar, right? This is you blaring music and singing out loud when you're home alone! The thrashing arms, high-kicks, headbanging hair whip, and top-of-the-lungs belting out is all part of the fun. That's how I do it, anyway, although perhaps not quite as violently. If the roles were reversed, a mom might say that her teenager was just going through a phase, or maybe practicing interpretive dance. This woman's kids, however, have no words when they peer at the insanity taking place on the other side of the locked glass door. This could be what's in store for us, kids. While it's totally likely that someday I'll be screaming this song whilst tending to the monotony of laundry and maybe even suburbia in general, I can only hope that I'll have teenage daughters to backup dance in the background as I thrash in a sea of foam from my exploding washing machine. Is that an acceptable form of a mid-life crisis? (Hannah Pierangelo)
Hedley – Anything
When it comes to partying hard, Hedley could give Andrew W. K. a run for his money. It's a standard in this industry to throw wild parties, but their video for "Anything" is a whole new level you couldn't get on even if you were insane enough to try. The video starts with everyone waking up the morning after the big blowout–cue dramatic monologue–but before you think it's actually going to be dramatic, this happens: "it's like you're awake, but nobody can see you…mostly because they're still asleep." The song is all about telling the world, "I can do anything", and the video definitely lives up to that. It has everything–a bath full of Fruit Loops (and one very pleased guitarist Dave Rosin), sock puppets, and a cake bearing the hashtag "suck it". And when vocalist Jacob Hoggard takes a chainsaw to said cake? Well, it's time for a food fight/make-out session, of course. Try and spot all the pop video spoofs, which naturally have to include the infamous Blurred Lines, barbies on the barbecue Katy Perry-style, and twerking–Miley Cyrus eat your heart out–but it's safe to say their antics can even out-weird her. Every frame has a new distraction, each outdoing the last, to achieve the ultimate "what just happened?" factor. Even after watching it for the tenth time, you'll see things you never noticed before, and you'll have to ask yourself, "How high were they when they made this?" This is definitely Hedley's most revealing video yet, and not just because of all the (somewhat artful) nudity–this is one giant middle finger to any haters, 'cause Hedley just don't care. (Alex Bear)
The Offspring – You're Gonna Go Far, Kid
Being a musician isn't always easy–sometimes it's tough trying to attract an audience. However, The Offspring have a solution–as seen in their music video for "You're Gonna Go Far, Kid"–to bring in crowds: a golden guitar. It's granted by some sort of deity (who almost looks like she could be the sister of the Statue Of Liberty) to a man who becomes the epitome of a "rags to riches" kind of tale. He travels to villages and plays his guitar; his audiences can't help but dance along; the music magically cures the sick; money starts to rain down on him… nothing could possibly go badly, right? Wrong. Things quickly go sour when he abuses the guitar's power, like taking a girl's necklace or buying a fancy tuxedo to play at a luxurious hotel where people dance in gaudy costumes. That is, until the deity from before intervenes and forces him to spiral into the ground. The video is shot and edited in such a way that it feels like some sort of lucid dream, leaving us with the initial thought of, "What did I just watch?" But, perhaps it represents life in a way. The man starts from the bottom and is abruptly granted a ride to the top, until he lets his greed get in the way of the grand scheme of things. So, if there's one thing you should learn from The Offspring, it's this: don't let your ambitions get in the way of your morals. Oh, and if you ever do happen meet the deity seen in the video, you should probably stay on her good side if you don't want to get sucked into the ground either. (Emily Yee)
The Ready Set – Higher
"What the hell?" This will be your initial reaction to The Ready Set's music video for "Higher". Watch it a few more times, and find that your reaction has changed – to "what the freaking hell?" This response is entirely justified, seeing as the video takes you through a series of public service announcements, and while some are at least partly rational ("Don't text and drive, kids"), most are completely odd. For example: did you know there's a right way to impress your friends with knives? If not, never fear; The Ready Set will fill you in on all the protocols. The factor that makes this video even more strange is the song that goes along with it. A track about reaching goals, making dreams come true, and "swinging from the stars we were reaching for" definitely doesn't warrant a video of safety precautions. And to make things even more peculiar, the quirky vocalist has pulled a YouTube series of the PSA's out of his bag of promotions, each one clocking in at around twenty-one seconds of confusing instruction. There's not a single aspect of this video that will ever make sense, so you might as well just sit back and enjoy the wild and weird ride. (Emillie Marvel)
Thursday – Ladies and Gentlemen: My Brother, The Failure
First off, let me preface this by saying that "Ladies and Gentlemen: My Brother, The Failure" might actually be my favourite Thursday video. Based on David Cronenberg's adaptation of Naked Lunch, the video stars frontman Geoff Rickly as a writer slowly losing his mind in his filthy, cockroach-infested apartment. When the exterminators (guitarist Tom Keeley and keyboardist Andrew Everding) show up, they discover that Rickly has been sharing the squalid one-bedroom not only with the cockroaches, but also with his dead wife, dressed in her wedding gown. As the exterminators set to work on the cockroaches, Rickly obsessively types and tears up page after page, occasionally pausing to lie down next to his wife and sing to her. Clearly we're dealing with some fucked up shit here, but the dark and creepy atmosphere accentuates the intensity of the song and creates a mood that perfectly matches the music.
And then the giant cockroaches start dancing.
The moment the song switches gears from the relentlessness of its first two minutes to the calmer, gentler bridge, the apartment door swings open and giant cockroaches waltz in. These human-sized horrors (another allusion to the Cronenberg film) made brief appearances earlier in the video, but never for more than a few milliseconds, allowing them to fall into the backdrop of chaos – but the spotlight shines bright on them in this scene, and it is hilarious. The cockroaches prance around the apartment and slow dance with Rickly's wife, who is suddenly reanimated as Rickly fully disconnects from reality,  while the exterminators try in vain to gas them. To the band's credit, they do a remarkable job of selling this – Keeley and Everding struggle to beat the massive bugs down, while Rickly has a look of pure terror in his eyes as he wails out and cowers below them. And as the apartment fills up with a thick smog of gas and the song builds to its frenetic climax, we're pulled back into the haunting mood of the video's start. Still, the question that came in through the door with the cockroaches is left lingering on everyone's minds: "What the fuck just happened?!" (Eleanor Grace)
Blood On The Dance Floor – everything.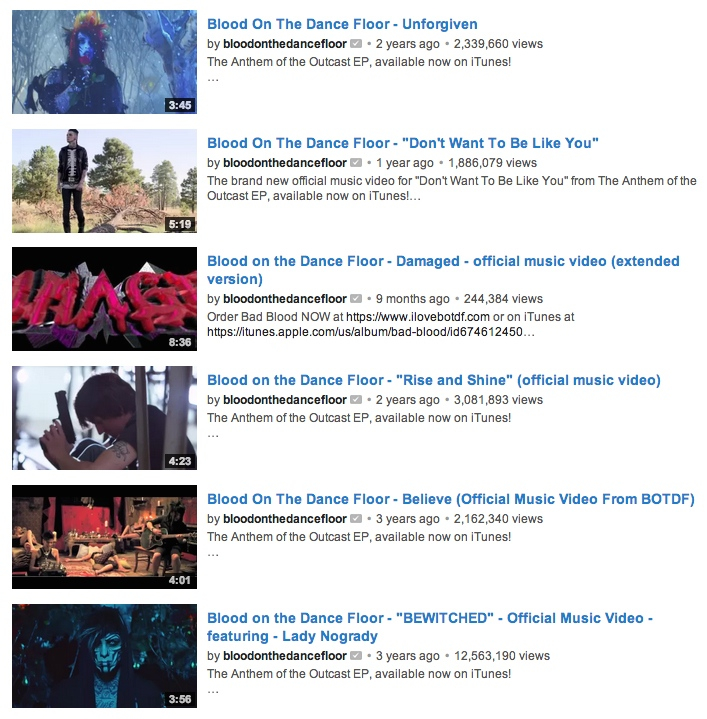 We couldn't bring ourselves to actually watch any of these videos, but trust me, we have no idea what's happening.
Tags:
Duck Sauce
,
Fall Out Boy
,
Forever The Sickest Kids
,
Hands Like Houses
,
hedley
,
The Front Bottoms
,
The Offspring
,
The Ready Set
,
Thursday