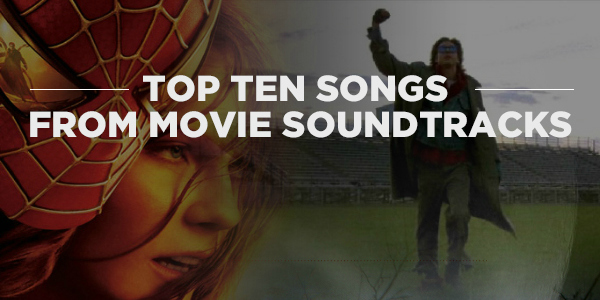 It's that time of year where all you want to do is curl up under a pile of blankets and escape the winter blues by watching movies until your eyes fall out. To celebrate the next month of your life being spent in bed watching Fight Club for the twentieth time, here's our list of the top ten songs from movie soundtracks – courtesy of idobi writers Alex Bear and Emillie Marvel – in this week's Tuesday Ten.
Paramore – Decode (Twilight)
Angst? Check. Ambience? Check. Gloom? Check. And what more is needed to provide the perfect soundtrack for Twilight, the moodiest vampire flick to ever hit theaters. "Decode" instantly transports you to stormy Washington, where you will subsequently begin to question the truth behind a facade – any facade. "Decode" is essentially Twilight in a song – only much, much, much better.
Cobra Starship – Snakes On A Plane (Bring It)
(Snakes On A Plane)
Whatever your opinions on Snakes On A Plane ("best movie ever, right?" or "dude, are you serious?"), this film gave us one of the greatest and most ridiculous songs in soundtrack history. "Snakes On A Plane (Bring It)" was the debut single from Cobra Starship, and what a way to launch their career. With help from William Beckett, Travie McCoy (Gym Class Heroes), and Maja Ivarsson (The Sounds), this was a star-studded recipe for success, adding to the soaring vocals and provocative lyrics to make it as uniquely compelling as the film it was made for.
Dashboard Confessional – Vindicated
(Spider-Man 2)
It's not very often that a song upstages a movie, but Dashboard Confessional's "Vindicated" did just that. No matter how much you may have loved Spider-Man 2, you can't deny that the song accompanying the rolling credits captivated you more than the movie could when you first saw it. Moody verses, soaring choruses, and mindblowing vocals left you on the edge of your seat in the theater, wondering who could pen a song this great and this fitting to the film. Chris Carrabba could; Chris Carrabba did.
Simple Minds – Don't You (Forget About Me)
(The Breakfast Club)
We couldn't have a list of movie soundtracks without talking about The Breakfast Club. Because who doesn't want their life to be like an eighties movie? "Don't You (Forget About Me)" is the ultimate sound of the cinema, its seductive new-wave melodies and pounding drums a resounding echo of a simpler time, a time when "the criminal" got "the princess" and teen films were at their finest. So turn up this record, put on that old denim jacket, and be transported back to the high school you wish you attended.
Counting Crows – Accidentally In Love
(Shrek 2)
Shrek was nothing short of an epidemic in the early 2000's, and what defines it more than the Shrek 2's "Accidentally In Love"? No matter how many years go by, the second the song starts your head is filled with memories of green ogres and waffle loving donkeys. Fun, loud, and slightly obnoxious, Counting Crows crafted the perfect anthem to the kids' movie series of the decade.
Simple Plan – Don't Wanna Think About You
(Scooby Doo 2)
http://www.youtube.com/watch?v=ahKF4e9Ct7U
Simple Plan have become part of the Scooby Doo brand, and the song "Don't Want To Think About You" is to blame. To this day, whenever Simple Plan is playing, you might find yourself taken back to the days of watching Scooby Doo 2 on VHS in your childhood bedroom. The relation is so strong that the band also performed the theme song for the animated series What's New, Scooby Doo? and had an entire episode of the show dedicated to them. If you're still not convinced Simple Plan are the Scooby Doo band, you're in some deep denial, my friend.
All Time Low – Toxic Valentine
(Jennifer's Body)
What is it about horror films that draw us in so much? Is it the black comedy? Is it the moments of sheer terror? For Jennifer's Body, it's the soundtrack. Released through Fueled By Ramen, what else would you expect? All Time Low are the pop punk heroes for the new generation, and they don't disappoint in this teen thriller. "Toxic Valentine" is the perfect manifestation of Jennifer's Body – dark and suggestive, with a rollercoaster of emotional lows and musical highs that will have you singing for days.
Panic! At The Disco – New Perspective
(Jennifer's Body)
Jennifer's Body continues with its musical seduction, spawning the incredibly catchy, slightly rose-tinted "New Perspective". The first song released by Panic! At The Disco after the departure of half their original lineup, its upbeat melody jars fantastically with the film, making it about as believable as the plot. There is something "pretty odd" about the choice of soundtrack for this film, but it only serves to compliment its twisted reality and dark humour. This is a song that has become bigger than the film it was written for, proving that Panic! At The Disco don't need to sacrifice any teenage girls to make a hit (…we hope).
Yellowcard – Gifts & Curses
(Spider-Man 2)
Spider-Man 2 was an emotional movie. Peter Parker quit his heroic alter ego, Mary Jane got engaged to an astronaut, and Doc Ock tried to take down the world. All of this is what makes Yellowcard's empathetic pop punk track "Gifts and Curses" a great addition to the flick. With lyrics that draw directly from the movie's plot, the song creates an atmosphere that puts you in Peter Parker's shoes, wandering the streets of New York City with the weight of the world on your shoulders. And not only is it one of the better movie tracks to ever exist, it can stand alone with resounding force.
Tenacious D – Pick Of Destiny
(Tenacious D in The Pick Of Destiny)
You probably won't hear Tenacious D on our airwaves anytime soon, but no soundtrack song defines a movie the way "Pick Of Destiny" does. In the big-screen epic that stars the band as themselves-but-not-really, the duo plays a variety of songs that tell the story of their journey to become rock legends. And this is exactly what happened – the film may have bombed at the box office, but its soundtrack won't be so easily forgotten. Title track and fan-favorite "Pick Of Destiny" tells the movie plot in less than three minutes, with some interesting rhyming and general rock nonsense to cement its place in soundtrack history.
Tags:
All Time Low
,
Cobra Starship
,
Counting Crows
,
Dashboard Confessional
,
Panic! At The Disco
,
Paramore
,
Simple Minds
,
Simple Plan
,
Tenacious D
,
Yellowcard