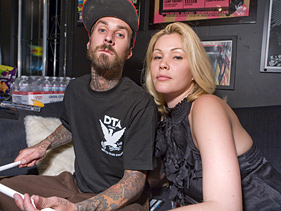 After a series of on-again, off-again reports, Travis Barker and Shanna Moakler have split up again, his publicist confirmed Wednesday.
The couple divorced in 2006, but reunited after Barker survived a plane crash last year. Unidentified sources told UsMagazine.com that the couple just couldn't make it work.
According to the magazine's sources, they decided to break up again "after a nasty fight broke out at his house last night and cops were called…[when] Shanna started freaking out and acting irrational."
Although no charges were filed, the source adds that "Travis confronted Shanna about her having an affair with Gerard Butler while he was in the hospital recovering."
Last October, the rumor mill sped up when it was reported that Moakler was seen with Butler at the Hollywood opening of Shin Korean BBQ.
The source added that Barker "just wants to focus on his music and his children right now. He is done with her drama. The babies are the most important thing right now."
Another insider said, "Shanna cheated on him and then told everyone they were in love again while she was having an affair and he was recovering from the accident."
Another friend of the former "Meet the Barkers" stars said, "It's over now and he just wants to move on."
Representatives for both Barker and Moakler gave statements to US Magazine.
"After surviving the plane crash, his driving force in life is the love he has for his kids. He is tired of all other drama and is ready to move on," the representative said.
Moakler and Barker have two children together, Landon Asher and Alabama Luella. Moakler has a daughter with Oscar de la Hoya.
In a statement, Moakler's representative said, "They did break up but Shanna never cheated on Travis while he was in the hospital. Furthermore, Shanna is tired of playing out their personal relationship in the press."
Blink-182, the band with which Barker made his name, recently announced they are reuniting for an album and tour.