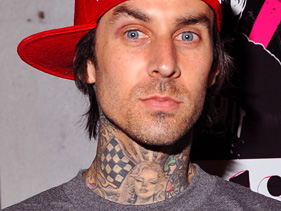 Travis Barker took to his Twitter account to defend himself on Sunday after a run-in with the paparazzi that ended with a scuffle and accusations of slashed tires.
"Bottom line, take photos at red carpets," Barker tweeted. "Take pics of hungry Hollywood starlets and douche bags that are out at clubs and bars that like it … Bottom line: I don't. I'm not a socialite out begging for that kind of attention. I'm a family man out wit my kids. Don't get the 2 twisted."
According to footage reportedly obtained by TMZ, Barker and his friends spat at the two photographers and videographers following them outside a Calabasas, California, restaurant on Sunday, then allegedly struck one's camera and slashed another's tires. Police were reportedly called out to investigate the incident and no arrests were made, though a vandalism report was taken.
The video posted on the site opens with Barker yelling, "Where's your homeboy?," seemingly at one of the snappers.
Barker reportedly got into it with one videographer on the way into the restaurant. Another videographer accused a member of Barker's entourage of taking his phone as the group exited. A person in Barker's entourage can be heard denying the lifting of the phone and the cops arrive on the scene shortly after.
TMZ also obtained what it claimed was footage of the initial shooter seemingly antagonizing Barker when he arrived for breakfast at the restaurant. In the clip, the videographer rushes up on Barker as the drummer is walking quickly into a restaurant carrying his daughter.
The shooter baits Barker, saying, "Why you speeding, whatcha gonna do?" to which a clearly annoyed Barker responds, "Get your camera [away] … I'll kick the sh– out of you, bro. If I didn't have my little girl in my hands? Gimme and hour and I'll meet you."
Barker tweeted about the bum rush a short while later. "When I'm out at breakfast at 8 a.m. in the morning the last thing I appreciate is some photographer threatening me 2 fight while he's 3 deep," he wrote.
"When I defend myself/my kids that don't make me a tough guy. I was outnumbered and threatened so I did what any man would … paparazzi cried like young girls when it was no longer 3 of them against me and my kids. Didn't they remember threatening me an hr. ago??
A spokesperson for Barker could not be reached for comment at press time, and it is unclear from the video what agencies the paparazzos work for. TMZ claimed that neither of the men Barker later confronted were in the first video.
Tags:
Blink-182
,
Travis Barker