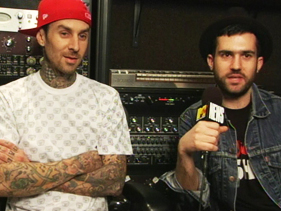 It's been nearly a year since Travis Barker performed with a DJ, but now, he's getting ready to hit the road again, this time with Kanye West's main man behind the decks.
Barker will be teaming up with turntablist A-Trak – West's touring DJ – for a run of shows, scheduled to kick off March 9-10 at Hollywood's Roxy Theatre. The gigs will mark the first time he's performed live with a DJ since the death of his partner DJ AM in August. But, as Barker told MTV News earlier this month, he had always considered working with Trak on a project of some sort. And after the two jammed a bit last year, both men knew they had to take their show to the stage.
"I had met A-Trak last year at Coachella, but I had seen a set of his at Avalon in Los Angeles maybe four years ago, with AM," Barker told MTV News. "He was a guy who I always wanted to work with in some way. So I gave him a call."
"When Travis hollered, I was definitely flattered. We started by jamming once, back in the fall, just came over to the studio, and we did, like, one hour of jamming, which we thought was maybe a half an hour," A-Trak added. "I just started playing records and scratching, and he was playing on top, and it went really, really naturally. It was very fluid. And we stopped and looked at the watch, and it was like, 'Oh, we've been playing for an hour and didn't even realize it.' And I think that solidified for both of us in our minds that we could do this pretty easily."
The duo will perform versions of each other's remixes (they've reworked tracks for everyone from Eminem and Soulja Boy Tell'em to MSTRKRFT and the Yeah Yeah Yeahs), plus new material they've been working on in Barker's Los Angeles studio. Or, at least, that's the plan right now.
"It's going to be a mix of everything," A-Trak said. "We're still kind of rehearsing it, but I think it's going to be some songs people recognize, some of the remixes Travis has done, some of my remixes. Just kind of mix it up."
Barker said the duo plan to start small, with the pair of shows at Hollywood's Roxy Theatre, before taking the show wide. Additional shows will follow later in March in Las Vegas, Austin's South by Southwest, and Miami.
"Our first shows are at the Roxy, and then South by Southwest will probably be a little bit bigger," Barker said. "The Winter Music Conference in Miami will probably be a little bit bigger. But the first ones will be really intimate."
"We might do a run of side shows in health clubs and saunas," A-Trak laughed. "Just set up in the steam bath and play. It was an idea we had yesterday."
Tickets go on sale Thursday. The show will kick off with Rob Roy and Kid Sister before Barker and A-Trak take the stage.
Tags:
A-Trak
,
Travis Barker