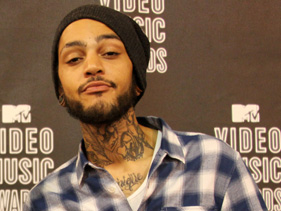 While Travie McCoy fans are no doubt excited to see him perform at the VMAs, we wondered, who does he most want to see perform at the awards show on Sunday?
"Definitely stoked to see Eminem," McCoy told MTV News of Slim Shady, the show's opener. "I'm really excited to also see what deadmau5 is doing. I know what I'm doing with him, but I'm excited to see what he's doing with everyone else."
Deadmau5, a house music icon , is the house artist for this year's MTV Video Music Awards. He follows performers like Wale, Mark Ronson, Travis Barker and the late DJ AM, all of whom kept the pace of the awards show going between musical acts.
Twenty-eight-year-old Toronto native deadmau5 (born Joel Zimmerman) is a hotly anticipated act at the show this year, as one of the most in-demand producers on the house music scene.
"Dance wasn't always considered pop, and people like Lady Gaga and [David] Guetta and those guys really brought it out to the commercial market," deadmau5 said about bringing his sound to the masses. "I'm just getting a lot more fans and God bless it, and that's the goal of being an artist is to get yourself heard by any means possible."
Other 2010 VMA performers include Eminem, Kanye West, Justin Bieber, B.o.B, Drake, Linkin Park, Usher, Paramore and Florence and the Machine, as well as McCoy, Jason Der
Tags:
video