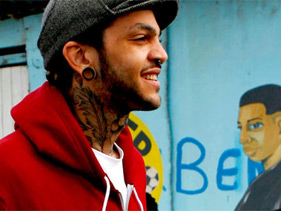 Gym Class Heroes' Travie McCoy will hit the road with pop princesses Rihanna and Ke$ha on this summer's Last Girl on Earth Tour, which kicks off on July 2 in Auburn, Washington. The tour will crisscross the U.S. and Canada and wrap up on August 28 in Syracuse, New York.
McCoy's addition to the lineup comes after the tour was originally announced in April as a girl-power outing, with Young Money's Nicki Minaj as one of the openers. Minaj later dropped out of the tour, saying she was going to focus on wrapping up her debut instead.
"Barbz I'm sorry 2 say I will not be going out on RiRi's tour. I've decided 2 use that time 4 the completion of my album. Hope u understand," the star tweeted just days after the tour was announced.
McCoy will rock stages this summer in support of his solo debut, Lazarus, which features the single "Billionaire" with Bruno Mars. The hip-rock star, who goes by Travie instead of Travis for his solo work, premiered the video for his new single "The Manual" featuring T-Pain and Young Cash online on Friday.
Travie recently said that the solo effort is just one of the many side projects he tinkers with while still being a part of the Gym Class Heroes.
"Since the beginning of Gym Class Heroes, we've all kind of had side projects," he said. "This is just an extension of that."
Tags:
Gym Class Heroes
,
ke$ha
,
Rihanna
,
Travis McCoy