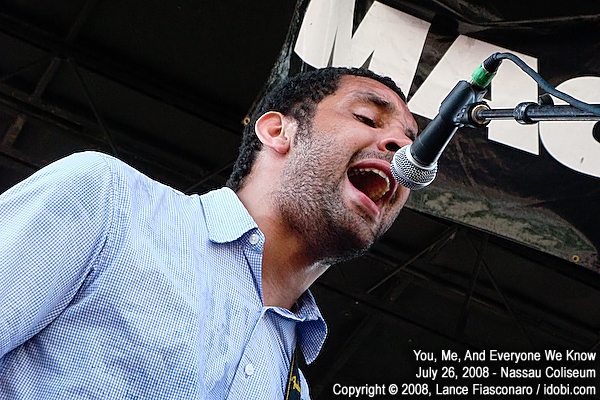 One of the more thoughtfully named tours in recent memory has embarked on its journey.
That is Avatour, headlined by You, Me and Everyone We Know. The District of Columbia four-piece only found out that it was the headlining act when the tour was announced.
"We didn't find out we were headlining the tour until the poster for it was released!" singer Ben Liebsch said in an interview with idobi. "But I'm fine with it, and I'm confident."
The three-week-long east coast trek will hit 21 venues in 21 cities in 21 days, with support from bands We Are the In Crowd, Breathe Electric and Stay. Breathe Electric, a studio side project started by Grant Harris, is from musical hotbed Lake County, Ill, while We Are the In Crowd hails from Poughkeepsie, N.Y., home of the popular music venue The Chance Theatre. Stay calls the notorious ska-punk city of Boston home.
The members of all four bands seem to be fans of each other's work and expressed their excitement to participate in the tour.
"We have wanted to tour with all three of these bands for quite some time and we couldn't be happier to hit the road together" said Steve Ackles, who is the guitarist for Stay.
That band has recently gained some recognition as one of Purevolume's top bands of 2009. Having gone through over 20 member auditions to arrive at the lineup, the Boston foursome rounds out the quartet of pop-punk bands on Avatour. According to members, recording new material  is set to begin in June.
We Are the In Crowd is another band in its infancy, and so far without a full-length album. However, it has recently finished recording its debut EP, which is slated for a summer release.   The sudden and immediate exposure partially came from a hacked Myspace page and an Absolutepunk post.
Vocalist Tay Jardine attributed the band's sudden exposure to its association with Hopeless Recods.
"We…started talking to Hopeless and built an awesome relationship with them off the bat. Without them behind our backs I'm not sure where we would be right now," Jardine said.
But this exposure would not have happened if this were your average band, but this DIY female fronted outfit does not hear as many comparisons to Hey Monday and Paramore as expected.
"We actually don't hear too much of it. I think people are finally expecting the fact that none of us [female fronted pop punk bands] are trying to reinvent the wheel.   We also have two vocalist one being a male which I think sometimes makes people not compare things as much," said Jardine.
Even though this band will be on board for the entire Warped Tour, this upcoming tour will be the longest time spent on the road thus far.   The tour is certainly something not to be overlooked, especially when lead singer Tay Jardine expressed her excitement to tour with You, Me and Everyone We Know and Breathe Electric.
Also coming a long since its beginning is Breathe Electric. Started as a side project to a band that Grant Harris was in a few years back, Breathe Electric began to take form as that band slowly began to fall apart. Though Harris does all of the studio recordings by himself, he says that he prefers playing live with a full band.
In fact, Grant has had quite a few different lineups to grabble with over the course of the band's existence. Its first live crew started with Grant and a couple of his close friends, but all the members went in separate directions over the next few years. Now, after a couple more changes to the lineup, Grant is confident things are moving in a forward direction.
"The new band vibes really well together and is most definitely here to stay," Grant said.
Finally, there is the unsigned headlining band hailing from the nation's capitol: You, Me and Everyone We Know, which has been touring relentlessly on the strength of its two independently released EPs. The band, known for its unique songwriting and diverse musical tastes, was an obvious choice for headliner.
When asked about the proposed summer 2010 release of its first full-length album, lead singer and songwriter Ben Leibsch said that the production process behind the album was certainly a taxing experience, in more than one sense.
"We've been operating independently and that hasn't changed at all, so recording a full-length is a costly type of experience both financially and emotionally."
At the same time, though, he did not discount the corresponding benefits of the upcoming release.
"We just haven't had the ability to afford a full-length until now. We're going back into the studio with Trevor Simpson, who produced our first EP,  Party for the Grown and Sexy. We're just excited to be finally getting some new music out."
Tags:
Breathe Electric
,
Stay
,
We Are the In Crowd
,
You Me and Everyone We Know