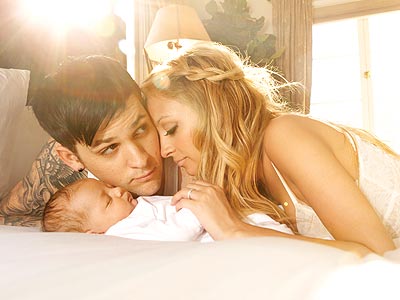 Nicole Richie is behind a new online gift registry that will provide baby products to moms in need.
Richie will launch the Website this fall through her Richie-Madden Children's Foundation, the charity she and boyfriend Joel Madden started last winter when she was pregnant with daughter Harlow.
"Nicole saw that even a clean blanket was out of reach for some of these new moms so she wanted to figure out an efficient way to connect them with companies and individuals who want to help," said foundation advisor Bruce Richman.
The registry will start off helping families in the Los Angeles and New York areas before expanding throughout the country and internationally.
"We take for granted the basic necessities. For some families, it's a serious struggle," Richie said. "This is one way to ease the financial burden, and help new babies have a good start in life. We are only working with companies and products that Joel and I would use. We're checking every product out for safety — and all products are BPA-free."
Here's how it will work: Families will sign up through local social service agencies. A list of baby products they need — such as cribs, strollers or blankets — will be posted on the Web site. Donors can view the wish-lists and choose what to contribute (much like a wedding or baby gift registry).
Richie and Madden hope to feature baby products that they would use with their own daughter, 7-month-old Harlow.
The foundation is still lining up sponsors for the as-yet unnamed registry site, which is being guided by DonorsChoose.org and Baby2Baby.org.