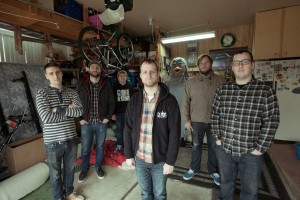 Philadelphia's The Wonder Years have returned with one of the most highly anticipated albums of 2011.   Inspired in part by Allen Ginsberg's 1956 poem "America," The Wonder Years' Suburbia I've Given You All And Now I'm Nothing is an introspective, heartfelt, and honest journey that tells the story of a growing culture of people in America trying to find their place in the world without compromising the beliefs that make them who they are.   With intelligent lyrics accompanied by the catchy, raw, and driving pop punk that fans identify with The Wonder Years, Suburbia is both a cultural manifesto and a great summer album that will serve as the anthem for anyone questioning where home really is.
Suburbia I've Given You All And Now I'm Nothing, was produced, engineered and mixed by Steve Evetts at Omen Room Studios, Garden Grove, CA. The record is set for a release date of June 14 on Hopeless Records.
"Making this record was one of the most challenging and rewarding experiences we've had as a band," explains frontman, Dan "Soupy" Campbell. "From putting it together in a cold, dirty basement in the Philadelphia suburbs to getting into the studio with Steve Evetts who is a legend in our eyes, we've poured every ounce of ourselves into this and we couldn't be more excited to share it with everyone."
The Wonder Years are confirmed for the entire Vans Warped Tour which runs June 24-August 14th.   The band's Manscout Jamboree tour with Make Do and Mend and Living with Lions kicked off last weekend and runs through May 7.
Track Listing:
Came Out Swinging
Woke Up Older
Local Man Ruins Everything
Suburbia
My Life as a Pigeon
Summers in PA
I Won't Say the Lord's Prayer
Coffee Eyes
I've Given You All
Don't Let Me Cave In
You Made Me Want to be a Saint
Hoodie Weather
And Now I'm Nothing
Tags:
The Wonder Years