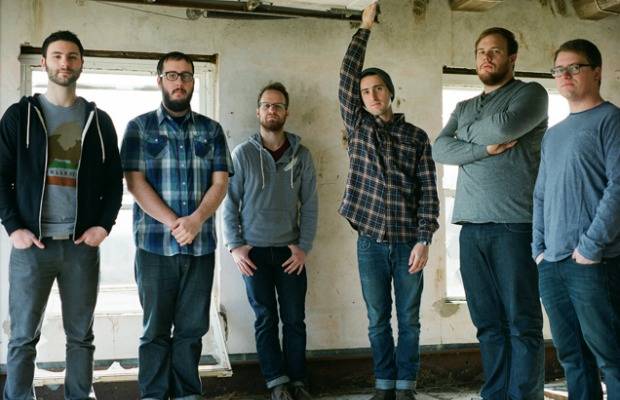 To celebrate 10 years of being a band together, The Wonder Years have announced three anniversary shows at the Union Transfer in Philadelphia, PA. For each show, the band will play a different album from their discography, including  The Upsides,  The Greatest Generation,  and Suburbia, I've Given You All And Now I'm Nothing.  Tickets go on sale this Friday, November 14th, at 10am EST. Check out the poster  below, along with a statement from the band.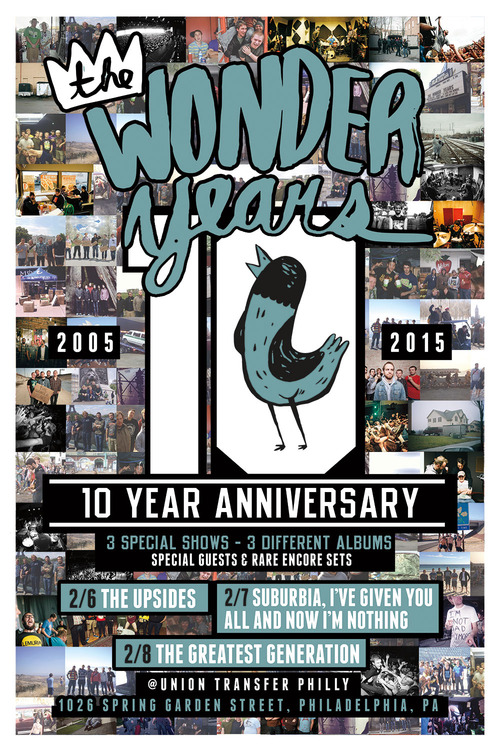 Damn. Ten years…for a band that was never planning to play a show, there are a lot of things to write here.

Things that can be said, things that should be said – Is thank you enough?   Words are never really going to put it into perspective because The Wonder Years as you know it was never a thing that was supposed to happen. We were going to hang out for a day, maybe write a song or two for fun and then move on with our post-high-school lives. We had other bands. We were going to college. We had plans, but plans change. I remember after our first weekend tour, Kennedy saying something like "What if this band gets signed and starts touring full time?" We all laughed at him.  

A few weeks ago, we got to stand in front of a crowd of 9,000 in Philadelphia and play songs we had written in basements and garages and places that were literally shut down for health code violations. It almost felt like we were crashing a party; like we didn't belong where we were. It's a feeling we've had a lot. We're playing with people who are, for all intents and purposes; rock stars. I don't mean that with any of the negative connotation it carries; I just don't know what else you'd call Blink-182 or Metallica. These guys are rock stars and we're the same idiots we've always been. We still feel closer to VFW Halls than we do arenas. I think we always will.

We've played 25 countries and 45 states. We had a record debut in the top 20 on Billboard's Top 200 (albeit number 20. It still counts!), but some of our favorite memories are always going to be sleeping on strangers' floors or lying about flat tires so that we could come to shows late after swimming in the ocean right off the highway.

So, we made it through ten unlikely years as a band and, god dammit, we're going to celebrate.  

We booked three back-to-back-to-back nights at Union Transfer in Philadelphia. The first night, we'll play "The Upsides", straight through. The second night, "Suburbia". and the third, "The Greatest Generation". Every night will also feature an encore (whether you want it or not) set of old songs and rarities. Chances are, we'll play songs that we won't ever play again, unless we make it to twenty years or something like that.

There will be three day passes if you want to attend all three nights or single day tickets if that's more your vibe. We're working on locking in some awesome other bands to celebrate with us and we've gotten discounted block rates for hotels for people that want to come from far away for the whole weekend (as mentioned above). We're also planning to reprint some of our earliest merch designs and have other throwback-centric surprises planned for everyone.

Seriously, we've had such an incredible time building this with you for a decade now. We can't say thank you, enough. It sure as shit wasn't easy. We certainly fought for it, but you all fought with us every step of the way. We're never going to forget having to hustle CDs to people at malls for gas money. We're never going to forget playing your friend's basement. We're never going to forget every time a crowd sang along to a song we wrote in our parent's houses halfway across the world. We're never going to forget and we're always going to be grateful.  

Love forever, TWY.
Tags:
The Wonder Years