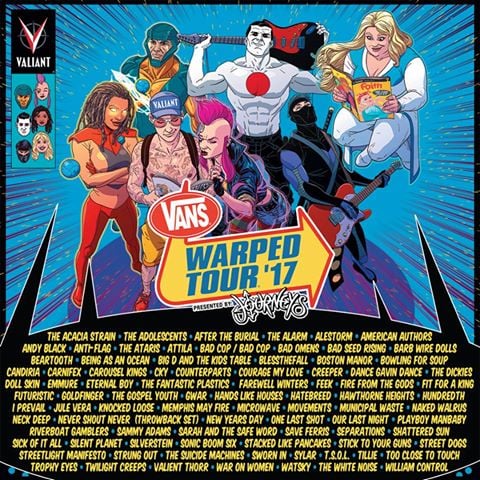 There's nothing better for a failing political system and a crumbling state of the world than punk rock—which is exactly what the Vans Warped Tour is serving up this summer. The legendary trek is back for a 2017 run, and they're bringing along their most brutal, most punk rock, and most warped line-up yet.
During tonight's live announcement at Full Sail University, festival founder Kevin Lyman took the stage alongside musicians like Hatebreed, Blessthefall, and Jule Vera to bring you a breakdown of every band you'll see throughout the summer. It's shaping up to be one hell of a tour, and we can't wait to rock with the Vans Warped Tour all season long.
Check out the full lineup below, and then hang out with us this summer as idobi Warped Radio returns to the airwaves to bring you closer to the fun than ever before.
—
Journeys Left Foot Stage:
I Prevail
Attila
Bowling For Soup
Watsky
CKY
Futuristic
New Years Day
Sammy Adams
Hawthorne Heights
Never Shout Never
Jule Vera
Hard Rock Stage:
The Adolescents
The Ataris
Fire From The Gods
Valient Thorr
T.S.O.L.
Municipal Waste
Strung Out
Sick Of It All
Bad Cop Bad Cop
The Dickies
Dollskin
Suicide Machines
Anti-Flag
The Alarm
Skullcandy Stage:
Big D and the Kids Table
Twilight Creeps
War on Women
William Control
Bad Seed Rising
Street Dogs
Alestorm
Barbwire Dolls
Riverboat Gamblers
SonicBoomSix
Stacked Like Pancakes
The White Noise
Microwave
Full Sail University Stage:
Bad Omens
Trophy Eyes
Shattered Sun
Boston Manor
Courage My Love
The Gospel Youth
Carousel Kings
Creeper
The Fantastic Plastics
Seperations
Tillie
FEEK
Playboy Manbaby
Farewell Winters
Naked Walrus
One Last Shot
Knocked Loose
Movements
Mutant Super Soda North Stage:
Stick To Your Guns
Sylar
Silent Planet
Fit For A King
Counterparts
The Acacia Strain
Candiria
Being As An Ocean
Hatebreed
After The Burial
Silverstein
Sworn In
GWAR
Too Close To Touch
Carnifex
Emmure
Hundredth
blessthefall
Journeys Right Foot Stage:
American Authors
Our Last Night
Save Ferris
Beartooth
Goldfinger
Streetlight Manifesto
Hands Like Houses
Neck Deep
Andy Black
Dance Gavin Dance
Memphis May Fire
Tags:
vans warped tour