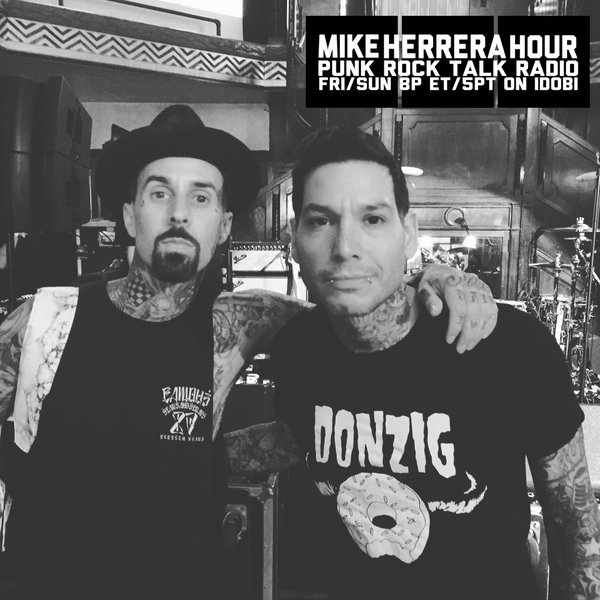 Drummer Travis Barker joins Mike this week!
Who knew Travis Barker has a favorite exercise other than owing the drum kit, or that Matt Skiba goes along for the ride? We did! Find out for yourself when Travis joins Mike Herrera tonight at  8pm ET/ 5pm PT  on the Mike Herrera Hour. Mike and Travis will talk why cruise ships are better than  airplanes, killer remixes, and the new Blink-182 record. Forget  Meet the Barkers  you're about to see a whole new side of Travis as he reveals the pleasures and the pain that shaped him into a music icon. Did we mention tune-in? Tune-in and tell your friends!
Find him on Twitter: @travisbarker and @blink182.
Things they chat about:
Blink-182 rehearsals, work ethic and passion for music, Travis' love for hip-hop and his career into that after Blink- 182 and The Transplants broke up. The benefit gig with Goldfinger, Mike and Travis. He also talks about recording with Matt Skiba after Tom Delonge's exit.   Business, Crossroads Restaurant in LA, family life with his kids, MTV reality show, how surviving a plane crash changed his life perspective, drug abuse, relationships and tons more!
Read more about this episode at  mikeherrera.net!
---
 Join the conversation on Twitter:  @mikeherreraTD
 Questions, comments, and good stories can all be sent to [email protected]
---
 The Mike Herrera Hour – every Friday & Sunday, 8pm ET/ 5pm PT here on  Idobi.com.
Tags:
addiction
,
Blink-182
,
cruise ships
,
Goldfinger
,
hip-hop
,
Matt Skiba
,
Meet the Barkers
,
MTV
,
remixes
,
The Mike Herrera Hour
,
The Transplants
,
Travis Barker