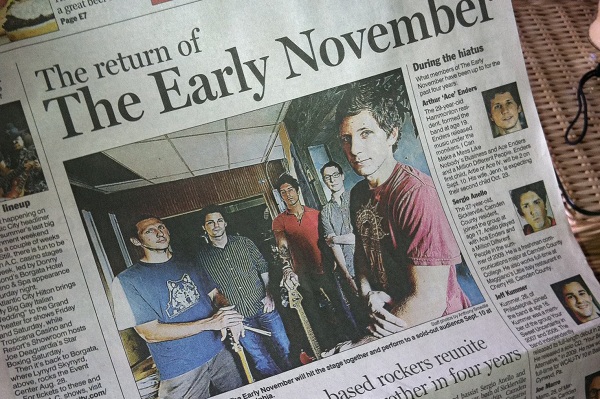 At their reunion show last night in New Jersey, Early November frontman Ace Enders announced that the band will be recording a new album. The band's last release was 2006's triple album The Mother, The Mechanic, and The Path. The as-of-yet untitled new album will be produced by Enders and released on Rise Records. A statement from the label can be seen below.
Rise Records is proud to announce the signing of The Early November. The influential New Jersey band is currently locked away at The Living Room Studio in Hammonton, NJ working on their first new record in six years, set to be released in the spring of 2012.

In a joint statement the band says, "We are pleased to announce that after a few years of rest and even longer since last recording, The Early November will be making another record to be released by the fine folks at Rise Records. Our very own Ace Enders will be recording and producing and even in these early stages, we are all incredibly excited and happy. Look for it and much more of The Early November in 2012. From the bottom of our collective heart, thank you all for the support all these years. It's truly overwhelming."

Lead singer and guitarist Enders also had this to say regarding the band's decision to sign with Rise: "When we decided to make this album we thought really hard about where to release it. Since so much has changed in the music business we were afraid that we wouldn't find a place that allowed us the artistic integrity that our label did in the past. After talking with Rise we were really happy to find that support and excitement from them so we can make the record that we want to make for the long time fans."
The band have been on hiatus since 2007 but reunited this past September in Philadelphia. They have several more reunion shows booked before the year is up, including a just-announced date in Vineland, NJ. The remaining reunion shows and a video announcement about the signing can be found below.
w/ Man Overboard  
December 26 – Boston, MA – Paradise Rock Club
December 28 – Pittsburgh, PA – Altar Bar
December 29 – Towson, MD – Recher Theater
December 30 – Vineland, NJ – Hangar 84