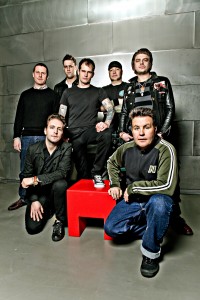 Dropkick Murphys will release the band's  seventh full-length studio album, Going Out In Style, March 1, 2011 on  its own Born & Bred Records (ILG).   Produced by Ted Hutt, Going Out In Style features the group's signature blend of punk rock energy, folk soul, Irish spirit and American rock 'n roll on tracks like "Memorial Day", "Going Out In Style," "The Hardest Mile," "Cruel," "Climbing A Chair To Bed," and a rousing rendition of "Peg O' My Heart" with guest vocals by Bruce Springsteen.
 
On Going Out In Style, Dropkick Murphys throw a 45 minute, 49 second party to end all parties, all the while reveling in the Irish tradition of telling tales of triumph, tragedy and celebration through music. The band revives the art of the album as a cohesive whole on this raucous and rollicking romp overflowing with punk rock energy, folk soul, and rebellious spirit.  
 
Fans will get a taste of the new music before it's released when Dropkick Murphys hit the road February 23 for their annual St. Patrick's Day U.S. tour.   The trek, featuring Against Me! as support on most dates, will wind up in Boston for the band's run of St. Patty's Day week hometown gigs.   Also look for the Murphys to tour Europe in April and August, with additional U.S. dates planned for May and June.
Tags:
Dropkick Murphys