The Almost Famous Tour Hits The Road This Saturday!
By Emillie Marvel | April 15, 2015 at 8:06 PM
This Saturday marks the beginning of the Almost Famous tour. The Big Time, An Honest Year, and The Resolution will be rocking stages as the tour winds its way from Georgia, to Michigan, to New York, with plenty of stops in between.
You can check out a full list of dates and pick up tickets to see the bands rock your town below. Then, while you wait (im)patiently for the show, you can occupy yourself with the official Spotify playlist of the tour.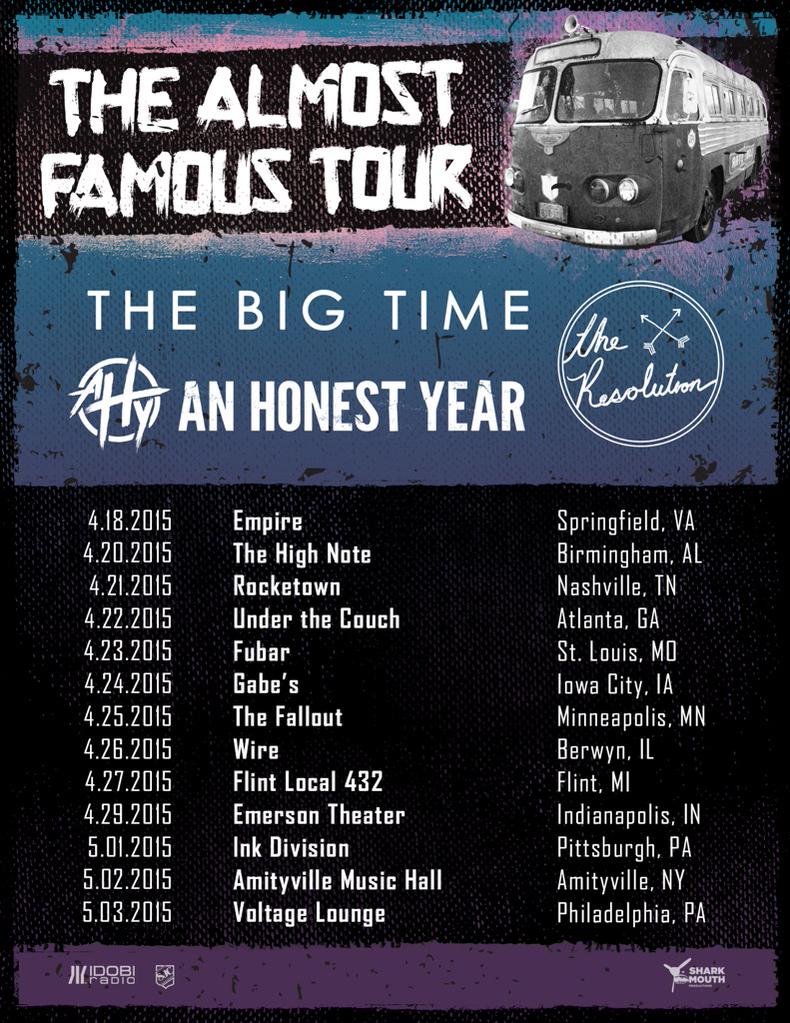 Dates:
4/18 – Springfield, VA @  Empire | Tix: http://bit.ly/AFT-DC
4/20 – Birmingham, AL @ The High Note |  Tix: http://bit.ly/AFT-AL
4/21 – Nashville, TN @ Rocketown | Tix: http://bit.ly/AFT-TN
4/22 – Atlanta, GA @ Under The Couch |  Tix: http://bit.ly/AFT-ATL
4/23 – St. Louis, MO @ Fubar | Tix: http://bit.ly/AFT-STL
4/24 – Iowa City, IA @ Gabe's | Tix: http://bit.ly/AFT-Iowa
4/25 – Minneapolis, MN @ The Fallout | Tix: http://bit.ly/AFT-MN
4/26 – Berwyn, IL  @ Wire | Tix: http://bit.ly/AFT-Chicago
4/27 – Flint, MI @ Flint Local 432 | Tix: http://bit.ly/AFT-Flint
4/29 – Indianapolis, IN @ Emerson Theater | Tix: http://bit.ly/AFT-Indy
5/1 – Pittsburgh, PA @ Ink Division | Tix: http://bit.ly/AFT-Pittsburgh
5/2 – Amityville, NY  @ Amityville Music Hall | Tix: http://bit.ly/AFT-NY
5/3 – Philadelphia, PA @ Voltage Lounge | Tix: http://bit.ly/AFT-Philly