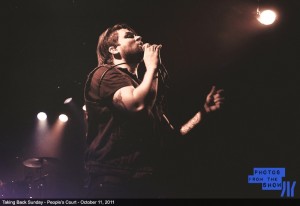 October 11 was a much anticipated day in Des Moines. Emerging amongst the endless cornfields came hundreds of Taking Back Sunday fans, giddy with excitement to see the freshly reunited original incarnation of the band. On their first major tour since returning to the band's 2002 lineup, Taking Back Sunday has been traveling with pop-rockers  The Maine  and groovy R&B/pop artists  Bad Rabbits. Much of the excitement around Taking Back Sunday's current tour rallies around the return of John Nolan and Shaun Cooper to the band, eight years after parting ways.
The band's critically acclaimed 2002 release  Tell All Your Friends  became a cornerstone of a genre and cemented Taking Back Sunday as legends and forefathers in the history books of the budding emo and pop punk scene. Bassist Shaun Cooper, as well as lead guitarist and backup vocalist John Nolan, parted ways with the band not long after that release, and the band picked up new members Matt Rubano and Fred Mascherino to take over their respective duties. The band's next two albums,  Where You Want To Be and Louder Now, were accepted with open arms, and even experienced more mainstream success, but the magic that Tell All Your Friends contained was no longer matched. Mascherino and the band headed in different directions following Louder Now, and Taking Back Sunday released New Again in 2009. The album experienced some disappointment, and it was apparent that something needed to change. That change came in early 2010 when the band unexpectedly gave the boot to Rubano and Mascherino's replacement Matt Fazzi in order to bring back Nolan and Cooper, whose band Straylight Run had broken up a few months before. These member changes effectively brought Taking Back Sunday back to its 2002 lineup.
As the doors opened Tuesday night, People's Court filled with new and old fans alike. Many had been following the band since Tell All Your Friends and jumped at the opportunity to see the same band they loved back in their younger years. But before they had the opportunity to sing along to their teenage anthems, openers Bad Rabbits and The Maine were set to take the stage.
After a local opener, Bad Rabbits kicked off their set. Though somewhat startled by the excitement and synchronized dance moves, the crowd quickly warmed up to the tasteful blend of R&B, pop, and soul. Even for those whom aren't particularly enticed by the description of Bad Rabbits, their show is downright entertaining; this cannot be argued. Though not precisely what you would expect in a Taking Back Sunday opener, Bad Rabbits grooved through a number of songs including "Stick Up Kids," "Booties," and finally closed their set with "Can't Back Down." Vocalist Dua Boakye's handling of an audience seems to come as second nature, as most of the crowd happily participated in sing-alongs and hand clapping – rare among openers at any show. The stark contrast between Bad Rabbits and the rest of the lineup was surprisingly irrelevant, as many attendees previously unaware of Bad Rabbits walked out of the venue as newfound fans once the night was over.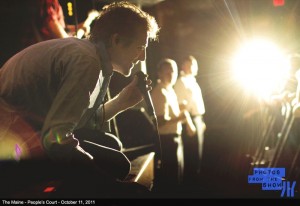 Following Bad Rabbits, pop-rockers The Maine took the stage. Led by vocalist John O'Callaghan, the band played through ten tracks including a number of new songs as well as past hits. Bassist and part-time whirlwhind Garrett Nickelsen's stage presence provided a highlight of the night as he buzzed around stage showing energy that resembled a child on Christmas morning. Perhaps the band should have rationed his sugar intake throughout the day. Their set was closed out with one of the band's hit songs, "Inside of You," off their most recent release  Black & White. It was apparent that a number of fans in attendance came to see The Maine specifically, but, as with Bad Rabbits, the rest of the crowd was welcoming to the band's catchy sound.
After two wonderful openers, the crowd was well prepared and properly energized to see the gentlemen of Taking Back Sunday. As the band jumped on stage, breaking into the first track from their most recent album (appropriately self-titled), "El Paso." One of the band's most dynamic songs, it provided the perfect opener, and set the mood for the night – aggressive. Though no longer in their energetic late teens and early twenties, Taking Back Sunday's members might as well have shaved ten years off their age, as they showed virtually zero signs of being a worn out and weathered band. There was no doubt that each member was exactly where they wanted to be – the 2003 lineup's dynamic was definitely back. Throughout the set, jest and conversation between members showed a chemistry that the band hasn't shown in years. Taking Back Sunday are definitely back.
Waves of nostalgia went over fans as the band blasted through old tracks such as "You Know How I Do," "Bike Scene," "You're So Last Summer," "Timberwolves at New Jersey," and finally closing out their set with "Cute Without The 'E' (Cut From The Team)." Mixed in with old tracks, songs from all but the band's album, New Again, were included in the setlist of seventeen songs. Nolan and Cooper's former band Straylight Run's song "Existentialism On Prom Night" was even performed, though by lead singer Adam Lazzara took over vocal duties rather than Nolan himself.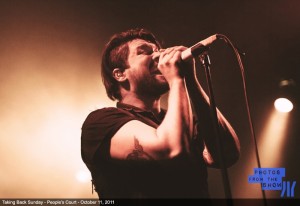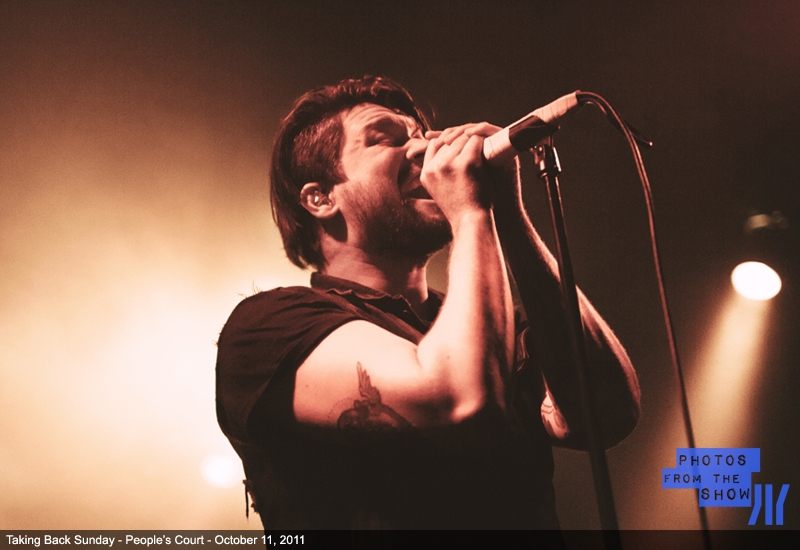 An impromptu jam session/cover of Earth Crisis which left Lazzara giggling gave way to three more songs before the band closed out their set. The fans wanted more, and almost all stuck around for an encore. They were treated with a song that, a few years ago, many would have never imagined seeing performed in their wildest dreams. Taking Back Sunday gave Des Moines one final ass-kicking in the form of "There's No 'I' In Team." Needless to say, everyone left the venue with nothing left to be desired, except for Taking Back Sunday to come back as soon as possible.
The reunion of the 2002 lineup seems to have breathed fresh air into a band that had slowly been losing steam. If anyone in attendance had doubts about the recently reformed Taking Back Sunday, they were certainly put to rest on October 11. Let's hope that Taking Back Sunday stays this way for a long, long time.
Photos of Taking Back Sunday and The Maine can be seen by clicking the links below:
Taking Back Sunday photo gallery – October 11, 2011
The Maine photo gallery – October 11, 2011
Tags:
Bad Rabbits
,
Taking Back Sunday
,
The Maine