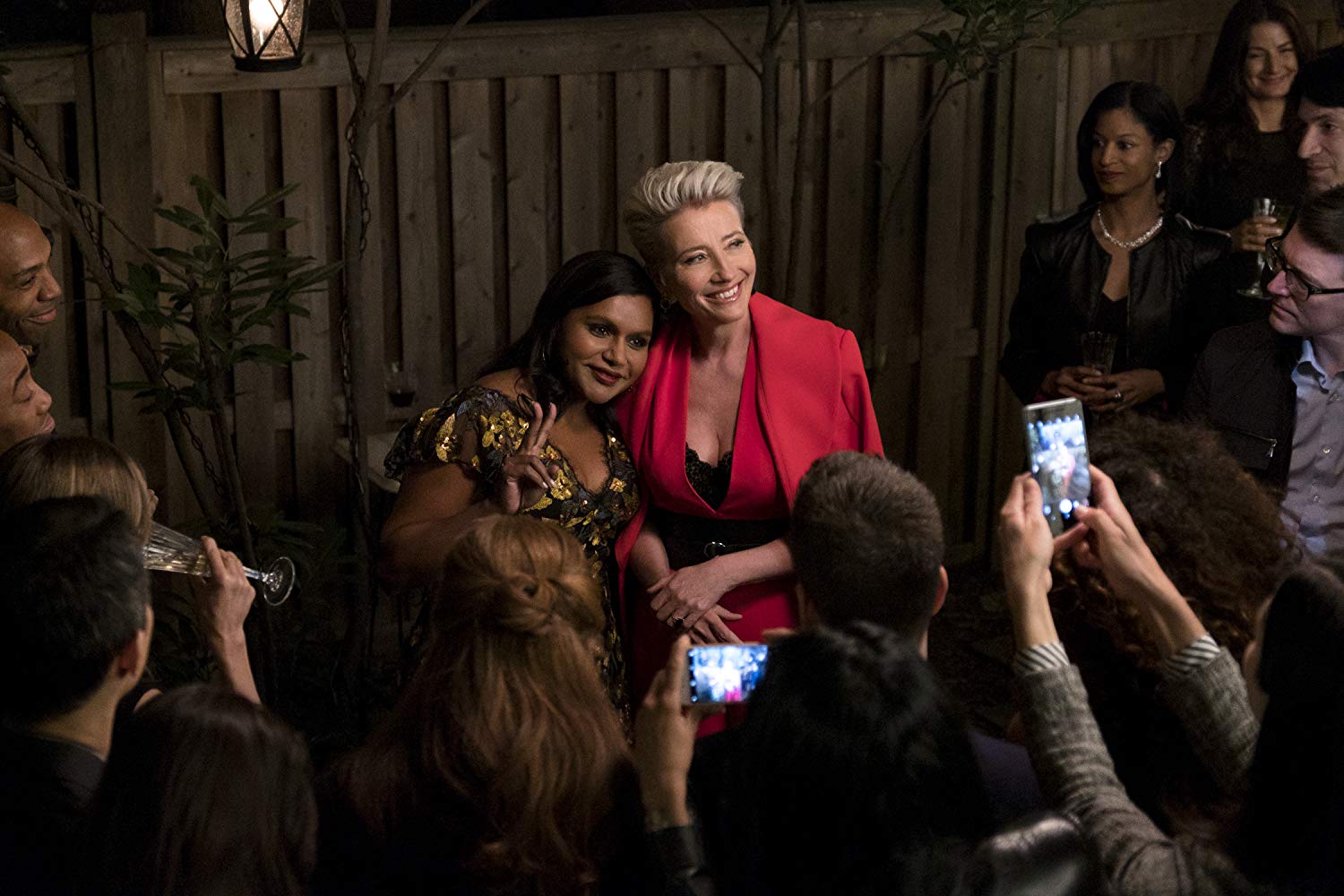 This weekend Late Night storms into theaters to win your hearts and give you a huge dose of femme-driven power. Yay for Mindy Kaling's first feature film! To celebrate, Amazon Studios is sharing some fabulous stories of women and people of color who are killing it in their respective fields of business, politics, media, sports, and entertainment. Cheers to that!
Late Night follows Katherine Newbury (Emma Thompson) as she fights to keep her award-winning late night talk show. The film tells the story of the bond created between her and Molly Patel (Kaling), the show's new quality control manager. It's only fitting that we hear some real-life stories that go hand in hand with the film. This collection is inspiring and truly wonderful. Keep scrolling to find out more from Amazon Studios and hear from these amazing pioneers in their own voices:
Mindy Kaling, in an appearance on CNN's the Lead with Jake Tapper, discusses breaking the glass ceiling and her own break through story that influenced Late Night.
Elizabeth Shuler is the Secretary-Treasurer of the AFL-CIO. She is the first woman and the youngest person to hold the position and the highest-ranking woman in the labor federation's history.
Anne Renninger just retired after 16 years as the Athletic Director at Sidwell Friends School in Washington, D.C. She grew up in rural Maryland and was a female athlete when the term had yet to exist. She went on to become the youngest female head coach in the nation and was the first women's basketball team coach at George Washington University.
Minyon Moore is the founder of Women Building for the Future, and heads Dewey Square Group's state and local practice. She was the CEO and COO of the Democratic National Committee, Assistant to the President of the United States, Director of the White House Office of Public Liaison, and Director of White House Political Affairs for President Bill Clinton.
Jon Dorsey is a native of Chicago and earned his B.B.A from the University of Michigan's Ross School of Business. He cut his teeth in Los Angeles working for BET, UTA, and Jamie Foxx before becoming one of the writers' assistants on "How to Get Away with Murder." Jon has written two episodes for "The Catch" on ABC, and is currently a staff writer for "This is Us."
No one rises to the top alone. Together with @LateNightMovie we sat down with @apalmerdc to hear about her experience breaking through barriers, taking chances, and leading a community that empowers women.

Join and #RuleWithUs: https://t.co/gzbuUCkWax #LateNightMovie pic.twitter.com/T1ZUIgdzFz

— POLITICO Press (@POLITICOPress) June 13, 2019
In a video, Anna Palmer tells her story about why she had some doubts about taking over Playbook and the advice her mom and friends gave her to seize the opportunity. Anna is a senior Washington correspondent for POLITICO and co-author of POLITICO's Playbook. She is also editorial director of Women Rule, a POLITICO platform that is dedicated to expanding leadership opportunities for women at all stages of their career.
Sarah Wartell has been the President of the Urban Institute since 2012. She was deputy assistant to the president for economic policy and deputy director of the National Economic Council and advised the federal housing commissioner at the US Department of Housing and Urban Development from 1993 to 1998. After her government service, Wartell was the founding chief operating officer and then executive vice president of the Center for American Progress.
Brandee Steger is an actor, journalist and screenwriter from Upland, California. She and her husband produced and co-directed The Wrights and No So Union. Brandee is currently in pre-production for White Like Me (www.WhiteLikeMethefilm.com), a film she wrote and is starring in. She has trained with Warner Loughlin and Martin Landau, and is a Lifetime Member of the Actors Studio.
Parag Mehta is the Executive Director of the Mastercard Center for Inclusive Growth. He leads a team of professionals who are dedicated to ensuring fair and lasting economic growth around the world and who work to leverage the core competencies and assets of Mastercard to achieve the same. As Executive Director, he is responsible for implementing the strategic vision of the Center and overseeing its global programs, data & research initiatives and strategic engagement.
Alex Levy is a comedy writer and Australian expat living in Los Angeles. She loves televisionmore than is strictly necessary, and when not endlessly re-watching early 2000s teen dramasshe can be found in the writers' room of "Grace and Frankie."
In honor of #LateNightMovie, watch @NeeraTanden talk about a moment with her mentor, then-Senator @HillaryClinton, that has stayed with her through her entire career. pic.twitter.com/d2mgKM7iga

— American Progress (@amprog) June 14, 2019
A video from Neera Tanden on the advice Hilary Clinton gave her about why women need to be proud of, and take credit for, their ideas and successes. Neera is the President and CEO of the Center for American Progress, where she focuses on how both organizations can fulfill their missions to expand opportunity for all Americans. Tanden has also served in both the Obama and Clinton administrations, as well as on presidential campaigns.
Tags:
alex levy
,
Amazon Studios
,
anna palmer
,
anne renninger
,
brandee steger
,
elizabeth shuler
,
Emma Thompson
,
jon dorsey
,
late night
,
Mindy Kaling
,
minyon moore
,
neera tanden
,
parag mehta
,
sarah wartell