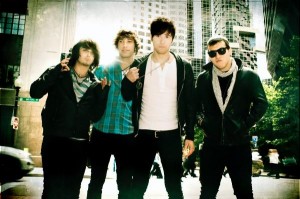 DETROIT – Boston pop/rock outfit Stay is a band on the move.
After wrapping up tours with acts such as You, Me and Everyone We Know, self-releasing two EPs and shooting a music video, Stay is giving fans more. Having just released a three-song summer sampler, the band continues to dominate the PureVolume charts, even drawing the attention of All Time Low.
If present times are any indication of things to come, the members of Stay plan on doing just what their band's name says. idobi recently had the chance to catch up with Stay vocalist Anthony Rainville, who answered a few questions about Stay's past, present and future.
Q: How are things with Stay?
A: Awesome, thank you!
Q: You recently released three new songs — "Power Lines," "Confection" and "Rooms" – on your summer sampler.    Will these be featured on an upcoming album?
A: Maybe! We're still figuring out what we want to do with the next record, so it's still a little too early to tell. It's definitely possible, though!
Q: Why the decision to release three songs in such rapid succession as opposed to waiting longer between each?
A: Our mentality with the timing of the release was just to try and give people something new every couple of weeks and hopefully keep the buzz going. I think had we done it differently the longest we would have waited between songs would have been a month.
Q: Where can fans buy these songs?
A: Definitely on iTunes! They can also grab them at any of our shows for even cheaper.
Q: Who did you record these songs with?
A: We recorded the songs with Gary Cioffi and had Zack Odom and Ken Mount mix them. We decided to work with Gary because we had previously tracked some songs together and felt confident in his ability to get something new out of us sonically. When we were choosing someone to mix the songs we decided on Zack and Ken because we were huge fans of a lot of records they had done and had mutually expressed interest in working with them in the past.
Q: The songs have been doing well on PureVolume charts, right?
A: Yes, and it feels great! We were really stoked on how well they did and how awesome everyone's reaction was to them. People were really receptive to the songs right off the bat and it helped us to get to the top of the charts, which is also awesome.
Q: As one of the top unsigned bands on PureVolume, did you feel any pressure with the release of these songs?
A: I think there's always some pressure when you're writing and releasing new material because you're always looking to outdo and top what you did before. I definitely felt some of that when we were writing and recording, but at the end of the day you can't let it get to you and affect what you're trying to accomplish.
Q: Has the fan response to the new material been positive?
A: Yeah, totally. Our fans have continued to be super supportive – the response was definitely overwhelmingly positive. Everyone seemed to really dig it.
Q: How can fans get in touch with Stay? Do you think that communication with them is important for your band's success?
A: Fans can reach us on any of our social networking sites, personal or band-related. I think communication is definitely a vital aspect of success for any band in today's music climate. Even putting the success aspect aside, I think it's something you should do because you want to be able to thank the people that make the band possible in the first place.
Q: How have the recent tours been?
A: They've honestly been some of the best tours we've ever done as a band. We just got back from touring with Down With Webster and the shows were such a blast! We also got to go out with You, Me and Everyone We Know this past spring and it was absolutely incredible. I was such a huge fan of that band going in so I was just super stoked when I heard we were going to do it. You, Me and Everyone We Know also has a new record coming out in August so make sure you pick that shit up!
Q: What's in store for Stay in the coming months?
A: I can't say too much yet because not everything's 100 percent confirmed, but we'll definitely be really busy. We're going to be doing some touring in the early fall and then probably take a couple months to focus on writing our next record. Then we'll be hitting the road pretty hard in support of it so I would definitely look for a full U.S. tour really soon after that. We might also release a music video or two pretty soon, so be on the lookout for that too!
Tags:
All Time Low
,
Down With Webster
,
Stay
,
You Me and Everyone We Know