Soundtrack Your Countdown to Warped with the 2017 Vans Warped Tour Compilation!
By Alex Bear | June 2, 2017 at 12:00 PM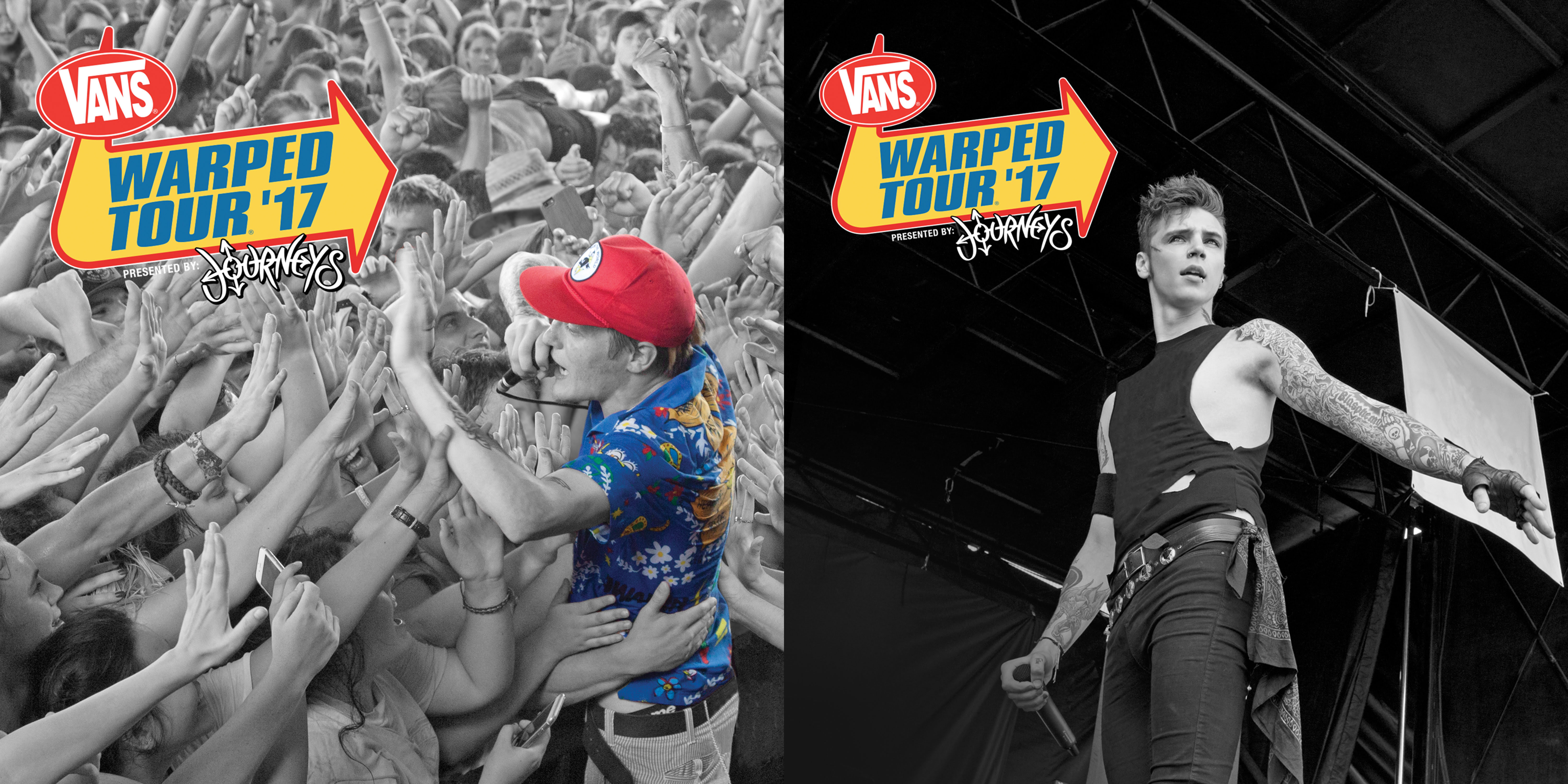 Vans Warped Tour is so close we can almost taste it, and your excitement level is about to go through the roof. You'll be able to get a preview of some of the festival's biggest names on a new compilation! The 2017 Vans Warped Tour Compilation comes out Friday, June 16, and features 50 huge tracks from the likes of Anti-Flag, Blessthefall, Hands Like Houses, Too Close To Touch, Stacked Like Pancakes, and more.
With a stellar lineup like this, how can you say no? There are two editions of the album, for which you can see the tracklisting below—and pick up both editions here. The collection is a great mix of new bands to discover, and Warped veterans that'll have you reliving your best festival memories and itching to get your tickets and go start the summer already.
Standard Disc 1:
1. Neck Deep "Can't Kick Up the Roots"
2. New Years Day "Relentless"
3. Blessthefall "Keep What We Love & Burn The Rest"
4. Microwave "Vomit"
5. Silverstein "Ghost"
6. Jule Vera "Scarlett Letter"
7. Anti-Flag "Without End"
8. Movements "Kept"
9. The White Noise "Brainwashed"
10. Hawthorne Heights "Common Crook"
11. William Control "Analog Flesg In A Digital World"
12. BEING AS AN OCEAN "OK"
13. Bad Cop/Bad Cop "Retrograde"
14. Boston Manor "This Song Is Dedicated To Nobody"
15. Hands Like Houses "Momentary"
16. tiLLie "pink + blue"
17. Trophy Eyes "Nose Bleed"
18. Big D and the Kids Table "Oi DJ (feat. The Doped Up Dollies & Maddie Ruthless)"
19. The Ataris "Trash Panda"
20. Stacked Like Pancakes "Sway"
21. T.S.O.L. "Sometimes"
22. Save Ferris "Anything"
23. Too Close To Touch "Sympathy"
24. Creeper "Black Rain"
25. Fire From The Gods "Diversion"
Target Exclusive Disc 1:
1. Andy Black "Beyond My Reach"
2. Neck Deep "Can't Kick Up the Roots"
3. New Years Day "Relentless"
4. Blessthefall "Keep What We Love & Burn The Rest"
5. Microwave "Vomit"
6. Silverstein "Ghost"
7. Jule Vera "Scarlett Letter"
8. Anti-Flag "Without End"
9. Movements "Kept"
10. The White Noise "Brainwashed"
11. Hawthorne Heights "Common Crook"
12. William Control "Analog Flesg In A Digital World"
13. BEING AS AN OCEAN "OK"
14. Bad Cop/Bad Cop "Retrograde"
15. Boston Manor "This Song Is Dedicated To Nobody"
16. Hands Like Houses "Momentary"
17. tiLLie "pink + blue"
18. Trophy Eyes "Nose Bleed"
19. Big D and the Kids Table "Oi DJ (Feat. The Doped Up Dollies & Maddie Ruthless)"
20. The Ataris "Trash Panda"
21. Stacked Like Pancakes "Sway"
22. T.S.O.L. "Sometimes"
23. Save Ferris "Anything"
24. Too Close To Touch "Sympathy"
25. Creeper "Black Rain"
Disc 2 (same on both versions):
26. Beartooth "Always Dead"
27. Memphis May Fire "Carry On"
28. Hatebreed "From Grace We've Fallen"
29. Attila "Moshpit (Feat. Ookay)"
30. War On Women "Servilia"
31. Hundredth "Break Free"
32. I Prevail "Come and Get It"
33. Emmure "Torch"
34. Halestorm "Drink"
35. Stick To Your Guns "Universal Language"
36. Municipal Waste "You're Cut Off"
37. Knocked Loose "Deadringer"
38. Dance Gavin Dance "Flossie Dickey Bounce"
39. Sworn In "Endless Gray"
40. Fit For A King "Cold Room"
41. Counterparts "Collapse"
42. The Acacia Strain "Model Citizen"
43. Valiant Thorr "Life Hands You A Demon"
44. Candiria "Opaque"
45. Carnifex "Necrotoxic"
46. After The Burial "Sway of The Break"
47. SICK OF IT ALL "DNC"
48. Silent Planet "Psychescape (Feat. Spencer Chamberlain)"
49. Sylar "Soul Addiction"
50. Strung Out "The Animal and the Machine"