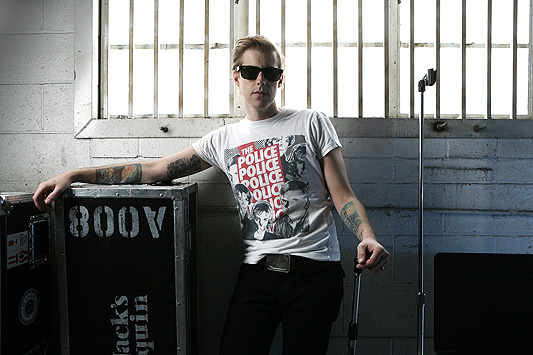 Good news for fans stoked about seminal Orange County alt-pop act Something Corporate reuniting for the first time in five years to headline the second day of Bamboozle on March 28.
The band, which blew up in 2002 with the smash "If You C Jordan," spent last week in a Santa Monica recording studio.
"We basically went back with this idea that we would kind of revisit a couple of demos that we never really ended up putting on the first two [Something Corporate] records but that we still loved and that we always wanted to get to," says piano-playing front man Andrew McMahon. "So, there's a song by Josh [Partington], my guitar player, called 'Wait' that we played acoustic before but went in and figured we'd do a full band version.
"We did 'Wait' and then did an old song of mine called 'Letters to Noelle,'" he continues while seated on a metal folding chair at the  rehearsal space for his other band, Jack's Mannequin, in Mates Studio of North Hollywood.  "We went back into the studio sort of with the idea that we wouldn't be bringing in brand new material so we could get it done quickly and not have to do a bunch of pre-production and stuff. We just hung out in the studio for a week. First time we had been in a studio together in, God, probably four or five years."
The demo versions of "Wait" and "Letters to Noelle" originally appeared on the super obscure  Galaxy Sessions EP, which McMahon gave away to members of Something Corporate's mailing list who sold more than five tickets to the band's May 11, 2001, show at House of Blues Anaheim. Something Corporate  became the first unsigned OC band to sell out the venue.
The freshly recorded versions of  "Wait" and "Letters to Noelle" will appear on an as-yet-untitled Something Corporate "best of" compilation scheduled for release in late April or early May on Universal Music Enterprises.
"We just did those two songs for the record," McMahon says. "We're working on possibly a couple of remixes, too, that are still kind of up in the air. I think there should probably be three or four tracks–whether people have heard them before or not I don't know–but that will be the new recordings, or new mixes."
McMahon and Universal are still debating a single or double disc release. "Yeah, we're still going back and forth on the double album," he says. "I'm sort of having trouble reconciling the fact we only actually put out two full-length records, how do you put out a two record best-of when you only put out two full-lengths?"
The 27-year-old singer/songwriter wrote much of the material for the upcoming compilation as a teenager. Not one to sit around and listen to his own tunes, McMahon had not listened to Something Corporate material in years.
"It has been a long time," he says. "It was definitely a trip down memory lane. Definitely a lot of, 'Oh my God I can't believe I said that.' You definitely have those moments but, I think, for the most part, it has been a celebration for us in a way. To have the four of us back together and just interacting on that level and putting things together for a record and getting ready to do a show. It's been exciting. It's been fun. It's been a good way for us to kind of, I think, in some ways, mend some fences from the time when we didn't completely reconcile."
Tags:
Bamboozle
,
Something Corporate