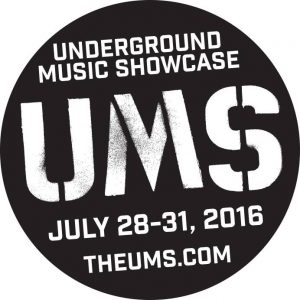 The Underground Music Showcase is a beloved annual staple that takes over Denver's Baker neighborhood (South Broadway) and spans over four non-stop and unforgettable days. Last weekend several bars, venues, and a big main stage played host to over 200 acts, some known and others not so well known. There's always something familiar to see or a new act to discover while stumbling upon sets by artists who've traveled sometimes thousands of miles to showcase their best. Here are a few of our favorites from this year's sixth annual event.
Risidual Kid
Never heard of Residual Kid? Let's fix that right now. The Austin, Texas three piece is led by super musician teenagers, who have more talent than science previously believed could fit inside a human being not yet old enough to buy a pack of smokes. The band says they play a sophisticated blend of rock equally influenced by early 90's grunge and today's more interesting underground music. During their energy packed performance on day three at the Main Stage, the teen rockstars debuted a new fourth member which added another layer to the already rich crunch. Watch the video for "Chill" below.
BANDITS
On day four, Denver-based stand out BANDITS took the intimate and loud stage at the Hi-Dive. Driven by the sibling chemistry of brother and sister John and LuLu Demtiro, with Andrew Oakley on drums, the trio says they're shot out of a homemade cannon that goes into the side panel of mid-80's Ford Bronco. We're not quite sure what that means, but we approve because rock n' roll. Watch the video for "Kill Tonight" below.
Edison
Denver favorites Edison feature Grammy nominated musician Maxwell Hughes, formerly of The Lumineers, and equally Grammy nod worthy Sara Slaton and Dustin Morris. The trio says their music is melodic, emotionally resonant and filled with vivid storytelling and playful harmonies. Although they've only been a band since 2014, they've made heads turn at the likes of SXSW, CMJ, and Folk Alliance International, and signed a deal with New York City based Rhyme & Reason Records. They played to an enthusiastic and receptive crowd on day three of UMS. Listen to "Civil War" below.
https://soundcloud.com/listentoedison/civil-war
Futurebirds
Day three of UMS saw Athens, Georgia based Futurebirds flock to the Main Stage. But this band isn't a spring chicken (bad puns intended). They've been actively touring and recording over the past six years, but in case the band dropped off the radar, here's a reminder that they still rock and are totally binge-worthy. The band is currently promoting their third full-length release, Hotel Parties and they say the record explores the toils, joys and struggles of solely focusing on one single project six years straight. Watch the video for "Deadbeat Hits" below.
Tags:
BANDITS
,
Edison
,
Futurebirds
,
Risidual Kid
,
UMS