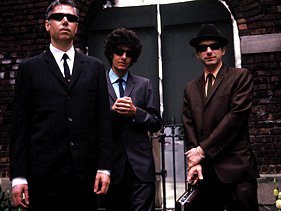 The list of 15 nominees for the 2011 induction into the Rock and Roll Hall of Fame is one of the most eclectic yet. It encompasses everyone from punk-inspired rap trio the Beastie Boys to one of rap's most enduring icons, LL Cool J, New Jersey rock warhorses Bon Jovi, original shock-rocker Alice Cooper and gravel-voiced troubadour Tom Waits.
Joining that group are such luminaries as crooner Neil Diamond, folk legends Donovan and Laura Nyro, New Orleans "Night Tripper" Dr. John, funky bar-band rockers the J. Geils Band, disco queen Donna Summer, funk act Chic, girl-group graduate Darlene Love, soul singer Joe Tex, and R&B singer and "King of the Stroll" Chuck Willis.
The nods are the first for Bon Jovi, Donovan, Cooper, and  Dr. John and Diamond. Chic, Beastie Boys, Cool J, Summer and Love have all  lodged a number of previous nods without making it to the musical promised land. The final list of a handful of inductees will be announced in December, and the 26th annual induction ceremony will take place on March 14 at the Waldorf-Astoria hotel in New York.
Artists become eligible for nomination 25 years after the release of their first album or single and more than 500 music professionals and industry members vote on the nominees. Among the 2010 inductees were Iggy and the Stooges, ABBA and Genesis.
Tags:
Alice Cooper
,
Beastie Boys
,
Bon Jovi
,
LL Cool J