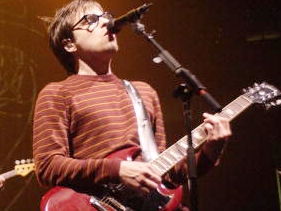 A month after he was hospitalized following an early morning tour bus crash, Weezer singer Rivers Cuomo announced Thursday that he has gotten a doctor's okay to get back on the road.
"The doctor says my lung is all healed and I'm cleared to fly to Florida for the show," Cuomo tweeted. "It turns out I broke five ribs!"
Weezer is scheduled to perform as part of a T-Mobile contest Wednesday at Florida State University in Tallahassee, its only gig before the spring-summer tour that's in the works. The band's next scheduled appearance is May 1 at the Bamboozle festival in East Rutherford, N.J. The original slate of Raditude dates was slated to wrap up Friday in Phoenix.
Earlier in the week, Cuomo told fans on Twitter it was likely the band would make it to the U.K. this summer for some shows, and he promised that Weezer would make up all seven gigs they had to cancel in the wake of the crash.
The singer also revealed that he's been writing "quite a few great songs during this unexpected break time." They apparently include a new tune Cuomo said the band started recording Tuesday for the upcoming "Shrek: The Final Chapter" movie, which is due in May.
Cuomo cracked his ribs and suffered a spleen injury and a small lung puncture in the Dec. 6 bus crash in upstate New York in the midst of a tour in support of their latest album, Raditude. After a week in the hospital, Cuomo took a bus ride back to Los Angeles to convalesce after doctors ordered him not to fly due to the damage to his lung.
Tags:
Weezer