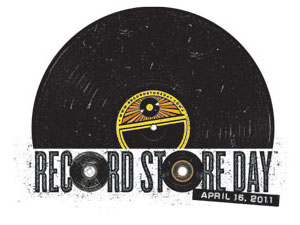 As Record Store Day approaches on April 16, the fourth annual event continues to be an increasingly valued channel through which to sell music.
The number of stores expected to participate will be about the same as last year: about 1,400 around the world. But the number of retail exclusives has jumped to about 250 from 175 in 2010. In addition, superstar acts like Bob Dylan and Pearl Jam are releasing vinyl reissues on Record Store Day a few weeks prior to their wider release.
The event is even going to New York's Lincoln Center, where Record Store Day is presenting two movies at the Walter Reade Theater: "Regina Spektor Live in London" and "Sound It Out," a British documentary about a record store in the northern English town of Teesside.
Record Store Day 2011 Releases: A Complete Guide
Buoyed by the success of Record Store Day, the event's co-founders and organizers — the Alliance for Independent Media Stores (AIMS), the Coalition of Independent Music Stores (CIMS) and Music Monitor Network (MMN) — continue to eye other ways to extend the brand to beyond just one day.
Last year, the indie-store groups joined forces to launch "Back to Black Friday," taking advantage of the heavy shopping traffic on the day after Thanksgiving to offer exclusive vinyl releases by Metallica, U2, Soundgarden, Cee Lo Green and other artists (Billboard, Nov. 27, 2011).
This year, Other Music in New York will present a performance by Spektor on April 16. The show will be recorded and "and if we capture the excitement of the show, we can release it for Back to Black Friday," MMN executive director Michael Kurtz says.
The organizers also plan to make announcements on Record Store Day about other special releases to be sold later this year through Record Store Day retailers.
"On so many levels, it has gone beyond our original expectations," says AIMS head Eric Levin, owner of Criminal Records in Atlanta, adding that "the international stuff, which wasn't a part of the original plan, is amazing and inspirational."
The Record Store Day website lists participating stores in nearly two dozen countries, including Canada, the United Kingdom, Australia, Japan, Brazil and Israel.
"This is the first year that France has really embraced it and they have created a compilation of what they consider to be their best artists," Kurtz says. "They hope to get it to us later this year so that we can sell it in our stores here. There is a second one coming from Sweden, but I don't know the details on that one yet. We are getting cultural exchanges to happen."
With Ozzy Osbourne serving as Record Store Day ambassador, about 600 artists will perform or make appearances on April 16 or during that weekend at participating stores. Artist appearances will include Foo Fighters at Fingerprints in Long Beach, Calif.; Duran Duran at Rasputin's in Berkeley, Calif.; and My Morning Jacket at CD Central in Lexington, Ky.
"This year we have seen an explosion of cool events scheduled for Record Store Day," says CIMS executive director Michael Bunnell, owner of the Record Exchange in Boise, Idaho. "Many of the stores have expanded the celebration to include the entire weekend and have also involved other businesses from their local communities."
In Maine, at the 10-unit Bull Moose chain, "we are focusing on local bands," VP of marketing Chris Brown says. "For the first three annual Record Store Days, we had bigger [national] artists that received all the media attention. So this time around the local guys will get the media attention."
One interesting development that Brown is seeing is that some of the local artists are timing their CD releases to align with Record Store Day. Skyler & the Band of Thieves will issue a CD EP titled "Take You Away," while Portland, Maine, rock band the Sophomore Beat will release a CD single, "Party Like a Lobster."
In Atlanta, Levins' Criminal Records will host powerhouse indie acts like the DB's, British Sea Power and Holly Golightly, but he adds that "we'll have the cream of the crop of the local artists in Atlanta," including Akuyou, Oryx & Crake, Turf War and Emily Kempf.
One of the largest events will be at the Record Store Day tent at Coachella, where 60-70 artists will be doing signings, Kurtz says.
"Events are happening a lot more naturally now," Kurtz says. "People are getting involved in their own way."
For instance, Jack White announced that Jerry Lee Lewis will perform at his Third Man Records in Nashville. Tickets for the show are $30 and the audience will get a a vinyl recording of the set within a few weeks.
Todd Rundgren will make an appearance at his local record store Hungry Ear Records in Kailua, Hawaii, which Kurtz says "is exactly the way you would hope it would happen."
The wide range of events being held around Record Store Day bodes well for its future, Bunnell says.
"We are excited to see the proliferation of ideas and encourage creative ways to link these cool events to independent music store retail, which of course is our core mission," he says. "This day has truly become a worldwide music festival."