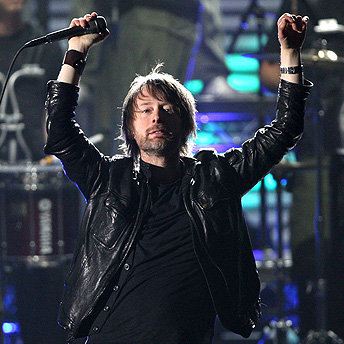 A pair of the biggest bands in rock, Radiohead and R.E.M., hit the studio recently to begin work on their next albums. While both groups are in the beginning stages of writing and recording, they offered up some early details in a series of interviews.
Radiohead have reconvened with longtime producer Nigel Godrich to start work on the follow-up of 2007's In Rainbows. The band is reportedly in the early stages of recording, according to bassist Colin Greenwood.
"It was very noisy and chaotic and really fun. It's at the stage where we've got the big Lego box out and we've tipped it out on the floor and we're just looking at all the bits and thinking 'What's next?'" said Greenwood to BBC's 6 Music.
Greenwood had some more vague details for NME.com, adding, "It's really cool and everything is sounding great. It's early days and it is a bit like having a scrapbook at the moment because everything is up in the air, but it's good to be back in the studio."
Considering the recent report that the band was encouraged by their management to "split up" during the tumultuous recording of In Rainbows, things thus far seem to be going smoothly. While the band provided no specifics, one of the tracks that may get the studio treatment is "Super Collider," which Radiohead premiered during concerts on their In Rainbows tour.
As for R.E.M., guitarist Peter Buck spoke to Pitchfork about the early stages of recording their follow-up to last year's Accelerate. Buck and bassist Mike Mills recently entered a Portland, Oregon studio to record skeletal tracks that they wrote while touring in the hopes of making some music that would "excite [singer Michael Stipe] about getting inspired."
Unlike the stripped-down Accelerate, Buck says that he wants the new record to have a wider musical range.
"This record, I want it to be broader; I think Michael [Stipe] is into that. So there are some really pretty acoustic things, some really total noisy rock, and some kind of poppy stuff. It runs the gamut."
While Jackknife Lee will likely serve as producer again, Tucker Martine, who produced the Decemberists' Hazards of Love also plans to assist Buck and Mills in laying down the demos.