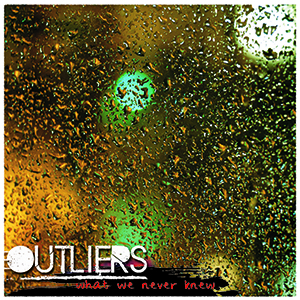 We're excited to bring you an exclusive stream of What We Never Knew from Outliers, the solo project of 17 year old singer Cade Garrett.
The band started in November of 2012 as a solo project, and Cade has been present in the Dallas music scene since he was 14, with previous bands. Cade started writing for Outliers with a series of songs about his life and created this EP. The songs were produced by John Roberts (former intern with John Feldman).
The EP is out tomorrow, January 8th, and you can purchase it on itunes. Check below for the EP stream and an interview with Cade.
Interview by Emillie Marvel.
When you first started to work on What We Never Knew, what were you aiming to create with it?
I wanted to release a collection of songs reflecting who I am and the message I want Outliers to deliver. You can also tell by listening I tried to expand genres on every song. Every song tells a story that all lead to one conclusion which is that change is sometimes a necessity no matter how difficult it can be at times.
Which song from the album means the most to you personally?
By far, the closing title track "What We Never Knew". It reaches a certain degree of catharsis and it includes a lot of self realization. The main point in the story of that song is that there are certain issues in my life that I have either improved on or changed but there are some parts that can't change. Some psychological flaws that will always be there and the better I become at coping with that, the better my life will become. It's kind of an open-ended conclusion to the record, saying the problems are far from over but I'm getting there. The song really brings back some memories that hit harshly and it is so far the most meaningful piece of art I have created.
What's your writing process like?
I have a very odd writing process. John [Roberts], my producer, said I write in the weirdest way he has ever seen an artist write. I start with a subject matter and most of the time, a song title. Then, I develop the melodies and vocal patterns for the verses, choruses, bridges, etc. Lastly, I write the lyrics. The reason I do lyrics last is that whenever I write lyrics or poems by themselves, I will become so attached to a line that I will force it into the melody which can come off sounding lazy. I get my lyrics from emotion and the melody and subject matter inspires that emotion. When writing and demoing vocals, John would press record and I would be singing dah-dahs and random words. Almost as if I invented my own language.
In what ways does the Dallas music scene influence your music?
It's just so amazing to be sharing the stage with incredible bands such as my good friends in Avion Roe or Fever Dreamer. Good new music seems rare these days and bands like them provide it. My friends and new music in the local scene are two big inspirations for me and it's an honor to say I am from such a lively scene.
What's next for Outliers?
Getting a solid band together and begin touring on this material, music videos and I've already began the pre-stages of writing the full length of which I am planning to start pre-production on this summer.
—
Feel free to follow Outliers on Twitter and be sure to pick up the EP on iTunes when it's released tomorrow!
Tags:
Outliers