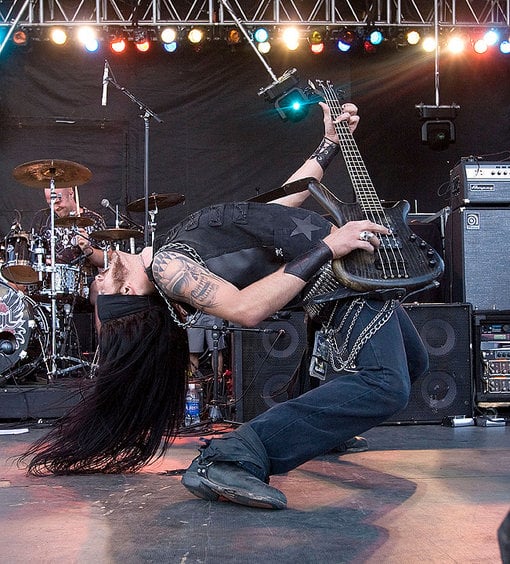 Fabled Michigan rock band Pop Evil has signed with Universal Republic Records and released  Lipstick On A Mirror  today.
The album has been re-mixed and re-mastered, with a brand new song, "Rolling Stone," and a riveting acoustic rendition of their signature song "100 In A 55," which is already gaining traction online, even before its official release to multiple radio formats.
In support of the release, Pop Evil will sweep the nation on a two month long tour supporting Judas Priest and Whitesnake beginning July 5th in Wallingford, Conn.
Led by larger-than-life frontman Leigh Kakaty, the band is already the stuff of legend in their native Michigan and throughout the Midwest for its pull-no-punches brand of searing rock. Billed as post-grunge and pre-revival of authentic-to-the core alternative hard rock, the fierce fivesome has earned their stripes as rigorous, crowd pleasing live rockers, criss-crossing the U.S. for years, rallying fans at dyed-in-the- wool rock vestiges such as the Intersection in their home turf of Grand Rapids, Mich. and the Rumble Rally in Mason, Ohio.
Pop Evil has sustained a formidable grassroots following thanks to constant touring and an intricately timed scattering of releases refining their trademark sound. Lipstick On A Mirror also features Pop Evil signature songs such as "Another Romeo & Juliet," "Hero," "Stepping Stone," And "Somebody Like You," among others.
Fans are encouraged to enter the Pop Evil guitar giveaway contest for a chance to win a Dean Z-X electric guitar signed by the band.
Lipstick on the Mirror  is now available on iTunes.
Tour Dates:
Jul. 05 — Chevrolet Theatre — Wallingford, CT
Jul. 07 – Comcast Center – Mansfield, MA
Jul. 08 – CMAC – Canandaigua, NY
Jul. 09 – Molson Amphitheatre – Toronto, ON
Jul. 11 – PNC Banks Arts Center – Holmdel, NJ
Jul. 12 – Nikon At Jones Beach Theater – Wantagh, NY
Jul. 15 – DTE Energy Music Theater – Clarkston, MI
Jul. 19 – Charter One Pavilion – Chicago, IL
Jul. 21 – PNC Pavilion (Riverbend Music) – Cincinnati, OH
Jul. 22 – Nashville Municipal Auditorium – Nashville, TN
Jul. 25 – Freeman Coliseum – San Antonio, TX
Jul. 26 – Concrete Street Amphitheatre – Corpus Christi, TX
Jul. 31 – Sleep Train Pavilion – Concord, CA
Aug. 01 – Sleep Train Amphitheatre – Marysville, CA
Aug. 02 – Gibson Amphitheatre – Universal City, CA
Aug. 04 – SDSU Open Air Theatre – San Diego, CA
Aug. 05 – Pacific Amphitheatre – Oc Fair – Costa Mesa, CA
Aug. 07 – Dodge Theater – Phoenix, AZ
Aug. 08 – Thomas & Mack Center — Las Vegas, NV
Aug. 11 – Red Rock Amphitheatre – Morrison, CO
Aug. 13 – Nokia Live Theater – Grand Prairie, TX
Aug. 15 – St Augustine Amphitheatre – St. Augustine, FL
Aug. 16 – St. Pete Times Forum – Tampa, FL
Aug. 22 – Merriweather Post Pavilion – Columbia, MD